From Sabang to Merauke, the most West and East part of Indonesia, the archipelago spans so many islands across its waters that some still bear no name and data. With some islands already becoming a hit in the Instagram world (including Bali), there are a few that need more credit. Here are seven mesmerising islands that have no duplicate anywhere else in the world.
1.Raja Ampat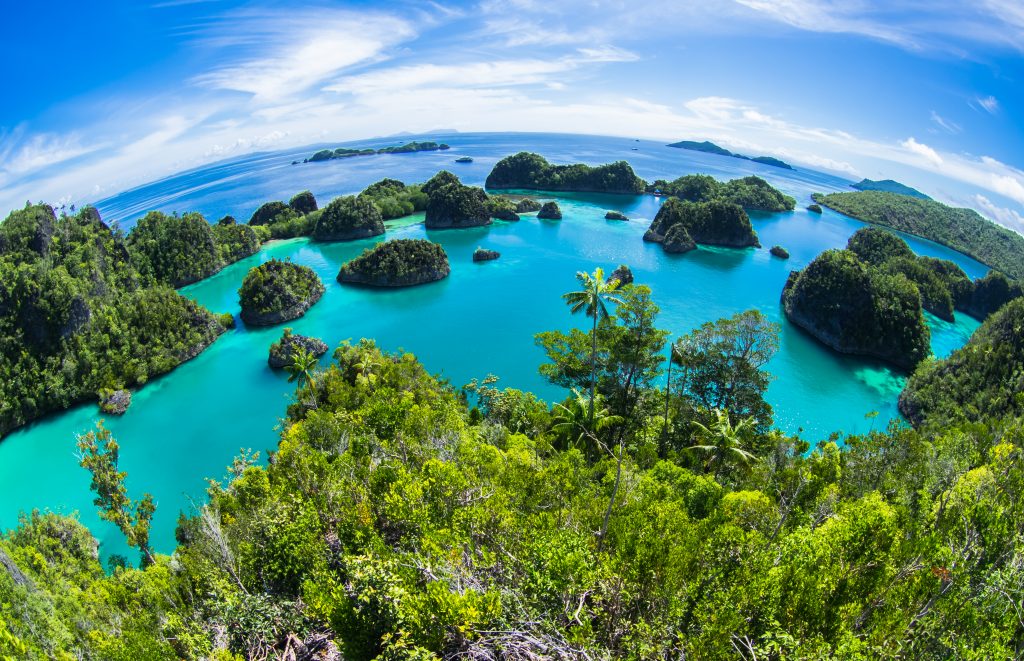 Deep inside the tranquil turquoise waters of Raja Ampat (Four Kings) lives the most diverse marine life found on earth. The vast archipelago consists of 1500 islands and is located in West Papua, far from urbanism, therefore making it a perfect escape from the city buzz. Raja Ampat is made up of four major islands, each offering a unique perspective on the world. The island also takes the crown for the best place to snorkel by CNN, due to its various species of marine biodiversity. Climb to the peak of Wayag to gaze at the panoramic view of a sea of blue sprinkled with leafy greens. Or go for a dip with the jellyfish at Lenmakana Lake.
Since Raja Ampat is located on the far East of Indonesia, it takes a few layovers, a little more than two cups of coffee and a neck pillow to reach. Visitors land in Sorong, the only gateway to the majestic islands of Raja Ampat. As for accommodation, prices range from $20 per night in a local's home to $2000 per night in a luxurious boat.
2. Lombok
Located just East of Bali lies the majestic island of Lombok. Bali's neighbouring island is well known for the roar of Mt Rinjani. The island takes the spotlight with its active volcano that sits at the heart of the land. Trek the challenging trail, camp by Lake Segara Anak and wake up to an astounding sunrise. Also, hike up to Bukit Pergasingan and see the beautiful fog that blankets the rice fields. The view of the rice fields resembles the patchwork quilt my grandma would knit in her spare time, but with the Mt. Rinjani gracefully standing in the background.
If hiking isn't your cup of tea, then delight in Senggigi beach or Mawun beach. Lombok has everything for everyone! Stay at Jeeva Beloam Beach Camp and enjoy a private beach, glistening white sand and the sound of crashing waves all to yourself.
3. Komodo National Park
If you thought you would never see a dinosaur in your lifetime, think again. Komodo National Park is home to the king of lizards, the Komodo dragon. The park is a UNESCO World Heritage Site and aids the protection of these majestic creatures who inhabit five of the islands in this dry and rugged area. With one of a kind islands scattered on the vast ocean, every step you take will be one for the books. The Komodo dragon roams freely in the wild and lives in harmony with the locals. During your trip, a local guide will guide you to explore the Komodo's stomping grounds.
Aside from the appalling factor of these lizards, the park also shows off its unique features in its original architecture. One of the islands is named Padar Island. It is made up of four beaches and looks like Jurassic Park in real life. Uneven terrain combined with the scorching sun above your head makes the already steep hike much more challenging. Other islands include Rinca, Gili Lawa, Kelor and the famous pink beach. Most of the islands provide a bird eyes view, but there is no gain without pain, so pack your hiking shoes, a bottle of water and get ready to hike!
4. Gili Islands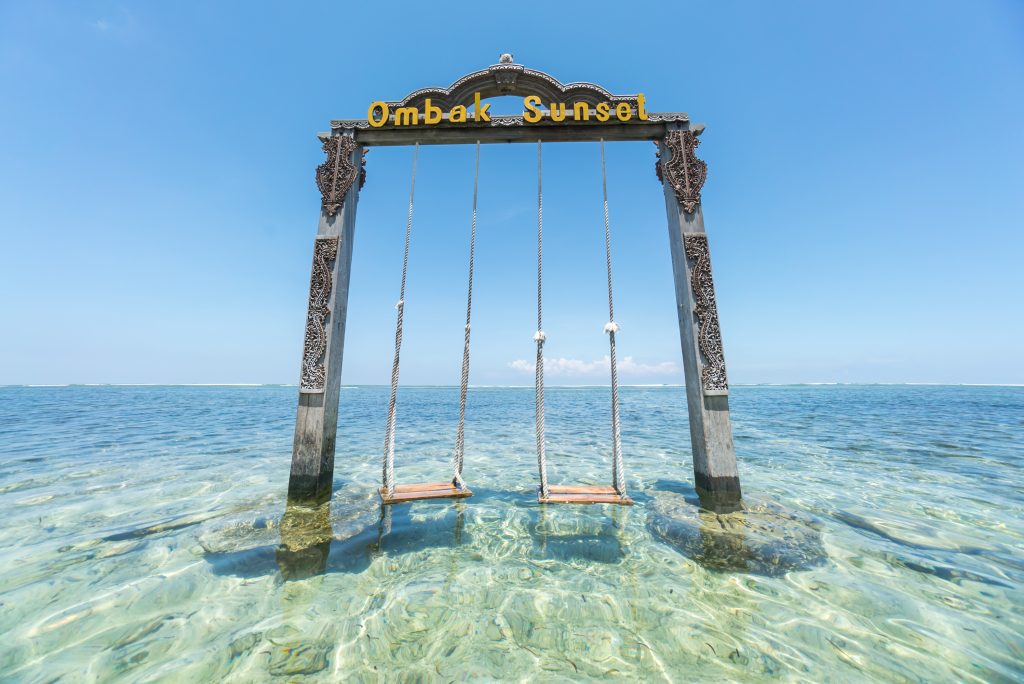 If the three islands on the list scale thousands of kilometres, this one only scales 15 square kilometres of the Bali sea. But don't let the minuscule number fool you. The little land of Gili Islands boasts spectacular views that you might mistake for heaven. Gili Islands consists of three islands – Gili Trawangan, Gili Air and Gili Meno. The islands do not allow any motorised vehicles on its grounds to maintain its beauty. As a result, you are definitely going to enjoy the island in all its natural glory.
Once upon a time, the deserted islands were uninhabited and only discovered by local people. It soon exploded into a popular tourist destination now renowned with grand resorts and countless recreation spots. Hence, tourists are now able to enjoy an array of activities from biking, snorkelling while also capturing a picturesque photograph of the famous swings at Gili Trawangan.
5. Sumba
This island can be called the road less travelled. Due to its location, tourists are not fond of Sumba. While it does not have countless white beaches or magnificent peak viewing points, this island keeps a little magic of its own. Tucked in the lush greenery of Sumba is Lake Weekuri, located just on the outskirts of West Sumba. This hidden oasis is known for its clear waters by the cliff's edge and is the perfect place to go for a dip any day. Afterwards, with just a short walk away from Weekuri, you can frolic in the gentle waves of Mandorak beach. The beach is perched in between two low cliffs and is shy of crowds.
Moving on to East Sumba, another site to look forward to is Wairinding Hill. It's layered hills make the perfect spot to have a picnic and take your perfect Instagram shot. Also, cool down from the heat by swimming in Lapopu Waterfall. It's gushing emerald waters will give you a sense of peace and tranquillity.
6. Bangka Belitung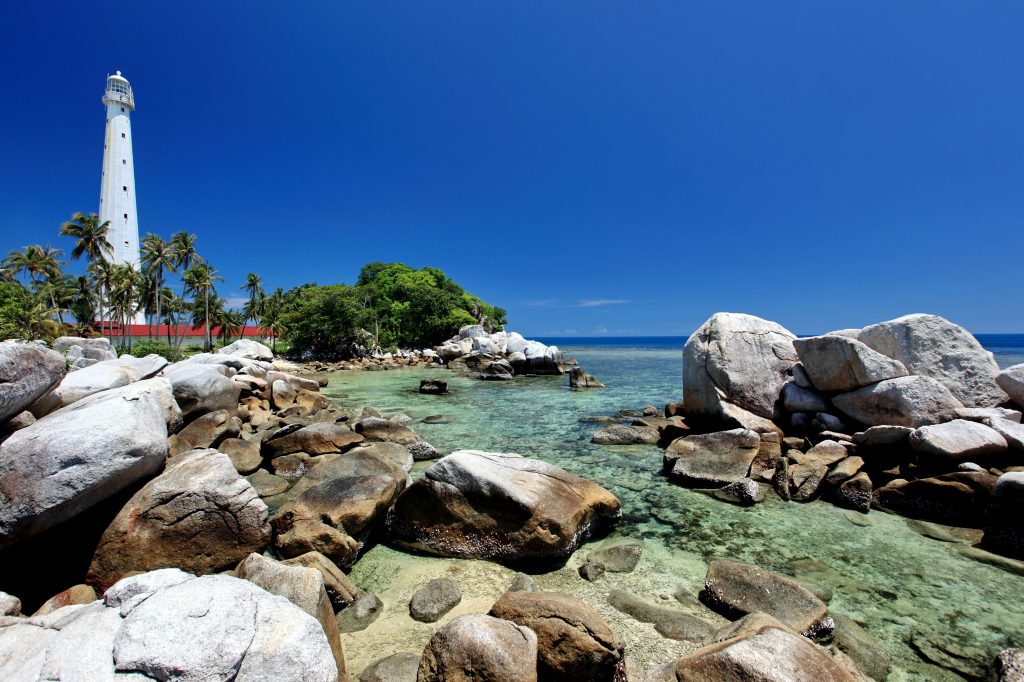 This precious gem is popularised by Indonesia's box office movie, "Laskar Pelangi" as it shot many scenes at various locations across the island. The movie, a huge success when it made its debut in 2008, is the reason tourists often visit the filming locations too. But the stars of Bangka Belitung are the gigantic white rocks that border the island's beaches. Massive structures, unique of all shapes and sizes stretch across the beautiful island.
Another tourist attraction is Lake Kaolin; a former mining location. This abandoned lake became a hotspot for tourists due to its vivid turquoise against the sandy white terrain.
7. Bunaken National Park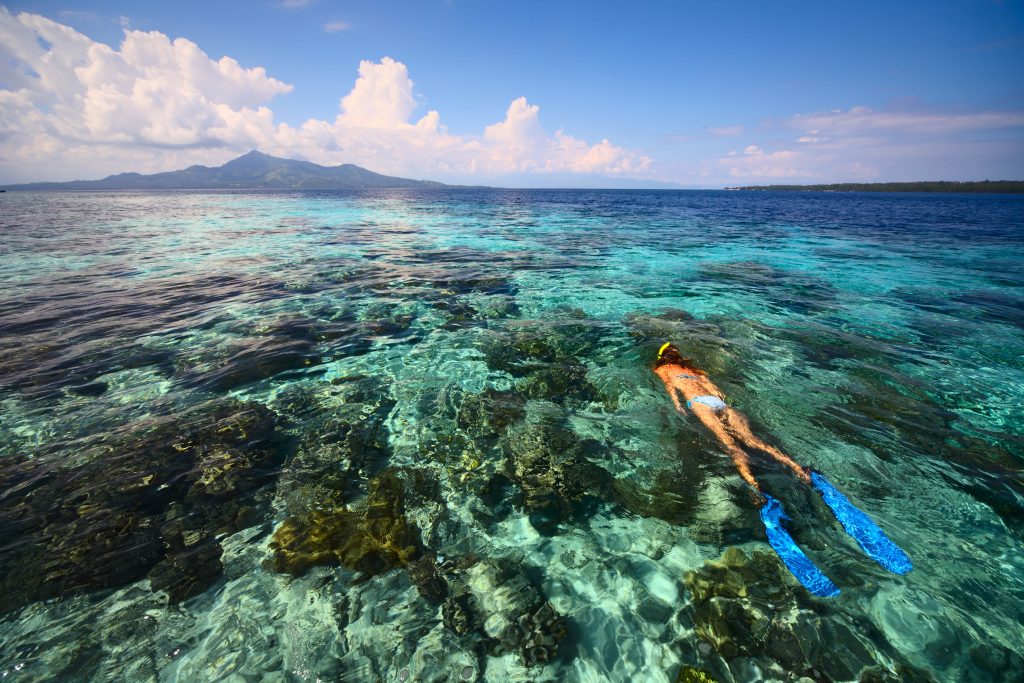 If you live and breathe diving underneath vast waters, then this last island will be the one to visit. Being part of the Coral Triangle, Indonesia is home to the largest biodiversity in the world. The waters of Bunaken Island hide the most magical place underwater and is a favourite among divers. In addition to the rich and diverse marine life, the surrounding water is clear enough that you can see past through the depths. Outstanding and colourful coral reefs and numerous species of fish are some of the things you can expect to encounter during your dive.
Reaching Bunaken is about a 30-minute boat ride from Manado, the capital city of North Sulawesi. The island also has a number of resorts to choose from. Relax in the comforts of a hotel after a day full of exploring the elements that lie underwater.

Oviene (o-v-n) has lived in three different countries and speaks fluent Bahasa Indonesia. Enjoys sunrises, coffee, keeping journals and napping in the back seat on long car rides. She is a social media enthusiast who completed her bachelor's degree in Psychology at York University.

Latest posts by Oviene Kurniawan (see all)