Puerto Vallarta is located in the Bay of Banderas, in the state of Jalisco on Mexico's Pacific Coast. Well known for its magnificent bay, one of the largest and deepest in the world, and the careful preservation of its authentic Mexican traditions and historic center, the Puerto Vallarta area features 25 miles of coastline and a diverse topography, including tropical jungles, rocky river beds, steep mountain sides and arid flatlands. Each region brings a uniqueness that adds to the entire charm of Puerto Vallarta.
The town of Puerto Vallarta is comprised of the following areas: Marina Vallarta, Hotel Zone, Historic Center, and the South Shore.
Marina Vallarta, just south of the airport, is a 500-slip marina surrounded by condos, and a boardwalk housing a variety of shops, galleries and restaurants. The Marina area is also home to an 18-hole golf course and luxury hotels including the Marriott CasaMagna, Velas Vallarta and the Westin Resort & Spa.
The Hotel Zone or zona hotelera stretches from Downtown (El Centro) to Marina Vallarta and is home to many hotels including all-inclusive resort chains and like Hilton, Fiesta Americana, Now, Secrets and Sheraton to boutique properties and high-rise condos.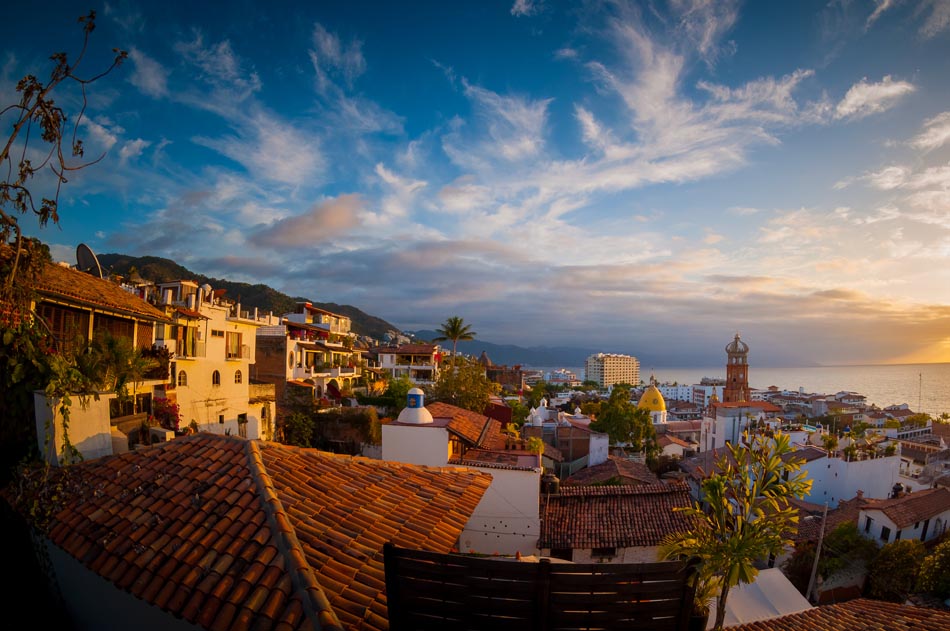 Historic Center and Los Muertos Beach is considered the heart of Puerto Vallarta known for its nightlife, restaurants, bars and shopping. The downtown area is walk-friendly with its quaint cobble stoned streets, white-walled houses, wrought-iron balconies and red-tiled roofs and home to most of Puerto Vallarta's finest gastronomy, art galleries, crafts markets as well as designer boutiques. The town's famous Malecón (boardwalk) lines the beach all along this area and the Arcos (Arches), across the street from the town's main square, regularly holds open air concerts, dance performances and fireworks.
The South Shore is where the Sierra Madre Mountains meet the Bay creating many secluded beaches, coves, and rivers. Many of the beaches in this area are so isolated that they are only accessible by boat. The mountainous jungle extends right up to the white sandy beach creating a picturesque tropical setting. Many outdoor adventure and eco-tourism activities are held in this area.
Puerto Vallarta gained international notoriety with the film The Night of the Iguana entirely produced on location in 1963. For the first time, Puerto Vallarta received big Hollywood stars, international celebrities and American intellectuals. Deborah Kerr, Ava Gardner, Sue Lyon and Richard Burton led the cast. Tennessee Williams, author of The Night of the Iguana, visited the set frequently and Elizabeth Taylor's romance with Richard Burton was unveiled in Puerto Vallarta during this time. Charmed by Vallarta's magic, Richard and Elizabeth purchased a house, Casa Kimberley and John Huston built a house in the small cove of Caletas where he lived for several years.
The international media followed the stars and Puerto Vallarta was no longer a secret, waiting to be discovered. Recognizing this new opportunity, visionary leaders such as Gustavo Diaz Ordaz, then president of Mexico, along with Francisco Medina Ascencio, then governor of the state of Jalisco, shared the vision to make of Puerto Vallarta a model tourist destination and initiated projects that provided the town with appropriate infrastructure.
Puerto Vallarta has grown ever since to become a favorite vacation destinations amongst North American travelers. Today Puerto Vallarta offers first rate infrastructure, attractions and services to accommodate the most discriminating travelers.
In addition to its long stretch of sunny, picturesque beaches, Puerto Vallarta's authentic Mexican flavor proves a big draw for most North American visitors. The town's main square and Malecón come alive on weekends with live music, artists, mimes, and even the flying dancers of Papantla making for the perfect environment for a romantic stroll or family outing.
The historic downtown area is a charming collection of white-walled houses, wrought-iron balconies, red-tiled roofs and cobble stoned streets. Puerto Vallarta offers fantastic shopping from local arts and crafts fairs to indigenous handcrafts from the local Wixarika (pronounced Vee-ra-ree-ka) Indians, more commonly referred to as the Huichols; local jewelry designs, original home items and other designer boutiques. The town also hosts one of the most dynamic art gallery scenes in Mexico offering a wide selection of works by local and regional artists.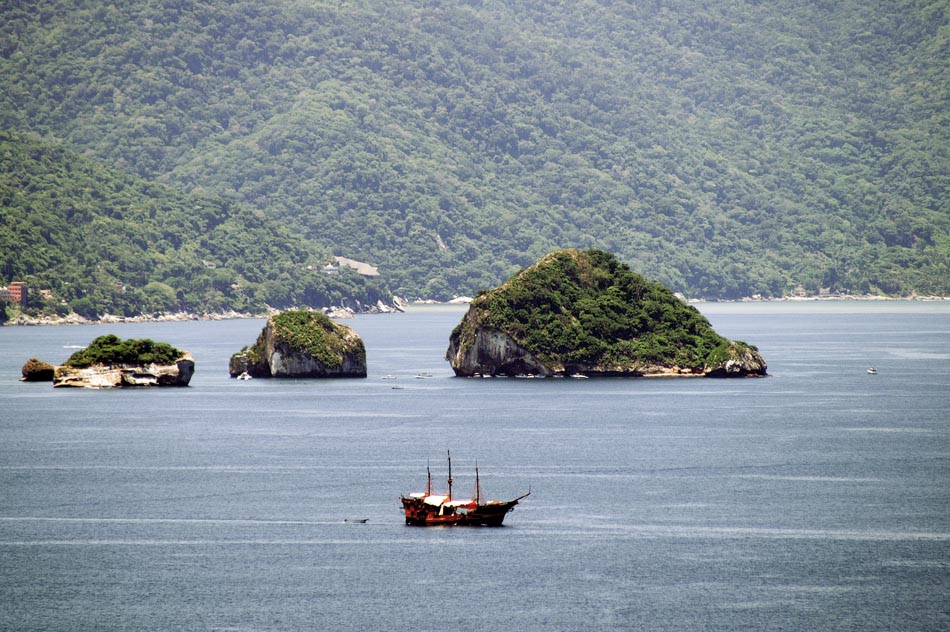 Food aficionados will find a vibrant restaurant scene with talented chefs preparing creative dishes that range from traditional and regional Mexican cuisine to contemporary Mexican and a wide variety of international fare as well as modern fusion cuisine.
The Puerto Vallarta area provides visitors with a wide variety of outdoor activities such as hiking, biking, canopy tours, zip lining, jeep safaris, golf, and horseback riding, and water sports from scuba diving and snorkeling, to whale watching, swimming with dolphins, surfing, stand up paddle boarding, kayaking, and fishing, to name a few.
Day excursions to nearby historic towns like San Sebastian del Oeste and the remote mountain village of San Andrés Coamihata, home of the Wixarika Indians are additional options.
Puerto Vallarta sits on the same latitude as the Hawaiian Islands, and enjoys a consistent sub tropical climate throughout the year. The rainy season lasts June to September. And even though it can rain almost daily, the area mainly gets late afternoon or evening showers, leaving most of the day clear for activities. Temperatures reach 90° F during the summer and the low to mid 80's F during the winter. Nighttime tends to cool down with temperatures ranging from the 60's to the mid 70's.
Puerto Vallarta hosts numerous cultural and nature festivals, culinary and entertainment events, art exhibits and performances as wells as sports tournaments year-round.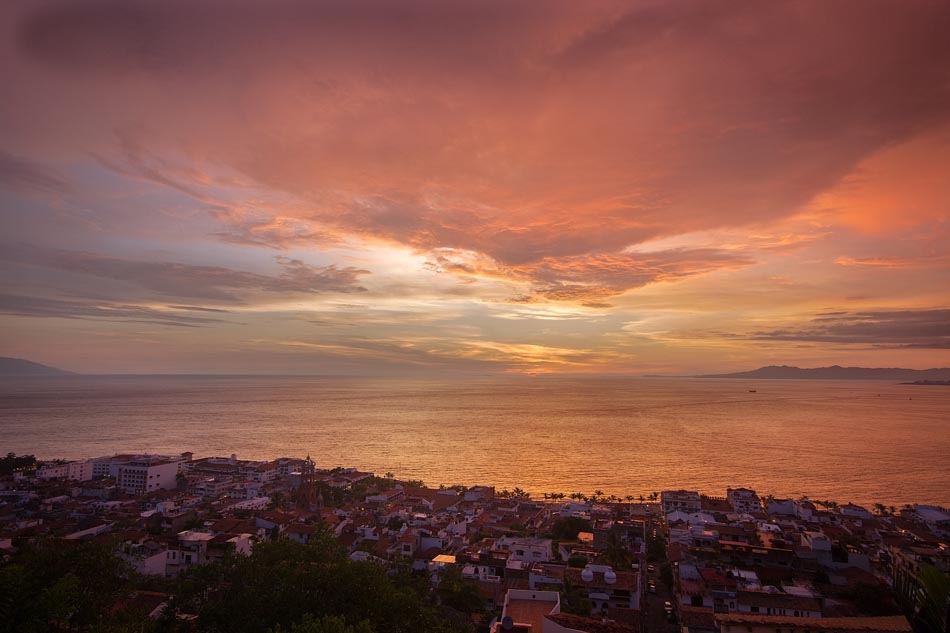 All of the traditional Mexican holidays are celebrated in Puerto Vallarta with great fanfare including Mexico's Cry of Independence and Independence Day celebrations every September 15-16; Day of the Dead, on November 1st; and the Day of the Virgin of Guadalupe, Mexico's patron saint, which brings processions to different parts of town, December 12.
Puerto Vallarta has a population of nearly 300,000 residents of which some 40,000 are expatriates, and visited by more than 4 million tourists a year.
The official language of Mexico is Spanish, however English is widely spoken in Puerto Vallarta, and hotels, restaurants and other tourism related services have bilingual staff.
Puerto Vallarta's Gustavo Diaz Ordaz International Airport is well connected to North America's main gateways. Year-round and seasonal service is provided by Aeroméxico, Volaris, Interjet, Air Canada, Alaska Airlines, US Airways, American Airlines, Virgin America, WestJet, Delta Air Lines, Frontier, and United, in addition to numerous seasonal service and charters such as Air Transat.
Puerto Vallarta is the most popular port of call for cruise ships on Mexico's Pacific Coast. Most major cruise lines include Puerto Vallarta in their Mexican Riviera itineraries.
Puerto Vallarta sets the stage for one of the finest culinary experiences in Mexico. The city's natural beauty is a source of inspiration for chefs from Mexico and around the world who create an exciting amalgam of flavors that blend traditional Mexican ingredients with contemporary tastes from around the globe. Food aficionados can delight in the wide array of dining alternatives from family-run taco stands to internationally acclaimed restaurants some of which also impress with their avant-garde designs and many of them Five Star Diamond Award recipients from the American Academy of Hospitality Sciences. From regional Mexican cuisine to creative contemporary Mexican fare and the most varied international options, Puerto Vallarta's gastronomic scene will impress the most sophisticated palates.
Puerto Vallarta is home to six of the top 10 restaurants in Mexico according to TripAdvisor readers, Café Des Artistes, Vista Grill, Ocean Grill, Bistro Teresa, Le Kliff and Trío are all included among the Best Fine Dining Restaurants in México.
Each year between October to May, Puerto Vallarta is home to some of Mexico's most important food and wine festivals. In addition, the city boasts over 360 restaurants, including typical street food from families who have sold tacos and ceviches for generations to Five Star Diamond Award restaurants that offer the latest in international dishes.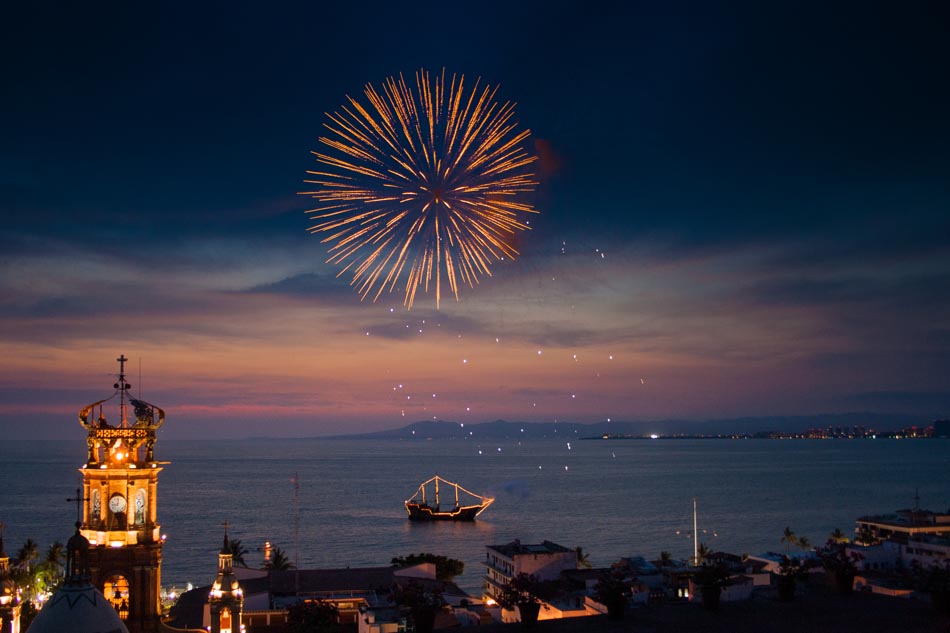 The Puerto Vallarta Restaurant Week celebrates one of the longest runs in contemporary Mexican culinary events, since 2005. During the event, which takes place every year from May 15th -31st, Puerto Vallarta's most prestigious restaurants showcase innovative three-course menus, with three options available for each course. Prices range from $15 to $25, not including alcohol or tips. For more information see www.visitpuertovallarta.com/event/puerto-vallarta-restaurant-week
The Puerto Vallarta Festival Gourmet International takes place from November 13-23 and will be celebrating its 20th edition in 2015 featuring the talent and creations of over 30 chefs. The 10-day festival has attracted over 350,000 gourmet fans since 1995, and will kick things off with an inaugural event at Westin Resort and Spa Puerto Vallarta followed by a full schedule of culinary activities including chef tastings functions, culinary safaris, sensorial tastings and themed nights offering distinct dishes from cities from around the world. Top restaurants in Puerto Vallarta's different zones will be participating, strating with La Leche and Thierry's Prime Steak House representing the Marina and Hotel zone. The Historic Center will add award winning restaurants Barcelona Tapas, El Arrayan, and Café des Artistes to the line-up. Archie´s Wok, Daiquiri Dick´s, Taste and Kaiser Maximilian in the Romantic Zone will also participate and the award winning Blanca Bleu with its impressive wine cellar and the breathtaking Le Kliff, on Vallarta's south shore, will round-off the event. For more information visit www.festivalgourmet.com
The Vallarta Wine Fest offers attendees the experience of wine culture in all of its different artistic expressions, and its main exponent: wine/ food pairing. A guest destination is invited each year to showcase its wine history, tradition and product while sharing ideas with local chefs and wine aficionados. Sommeliers come from across Mexico and other countries to do tastings, pairings and presentations. For additional details visit www.visitpuertovallarta.com/event/puerto-vallarta-wine-fest
WHILE IN PUERTO VALLARTA, ALSO TRY…
Food Tours – a 3-hour food tasting and walking tour offers a local's view into Puerto Vallarta's culture through its delicious and intricate cuisine, tasty ingredients, rich history, friendly people and stunning architecture. Suitable for all age groups and fitness levels, Vallarta Food Tours invites patrons to experience off-the-beaten path eateries, taco stands and regional delicacies and their colorful owners and staff,.www.vallartafoodtours.com
Cooking Classes – Traditional Mexican restaurant, El Arrayán, offers Traditional Mexican Cooking Classes with Owner/Chef Carmen Porras and Chef Alfonso Corona who teach over 35 recipes from diverse regions throughout Mexico including, moles, tamales, fresh salsas and more desserts. The mom-daughter duo that make up the private cooking classes with local celebrity Chef Mavi Graf include guided tours of local food markets to shop for ingredients, wine pairings, complimentary appetizers and craft cocktails and recipes. This special one-on-one experience inside their home with breathtaking views of Marina Vallarta is truly special.
Raicilla – A cousin of Tequila, Raicilla is a centuries-old-drink traditionally made in Puerto Vallarta and its surrounding cities, such as el Tuito, San Sebastian del Oeste and Yelapa. A must try in the destination that can be enjoyed in the specialty cocktails made by local bars and restaurants.
Food Park PV Gastro Bar is Puerto Vallarta's newest inclusion in its grand gastronomy offering. The open air food park houses food trucks serving gourmet barbecue, burgers, sandwiches, seafood, sushi and tapas. Located in Puerto Vallarta's main Avenue, patrons will get an small-town feel with world-class dishes.
Vegetarian and Vegan Cuisine in Puerto Vallarta
Puerto Vallarta's restaurants are always willing to accommodate their patrons, and most dishes can be modified to meet vegetarian and vegan needs. One only needs to communicate their dietary needs to wait staff or Chef to ensure meals are cooked and delivered appropriately.
Vegetarians and vegans will have a diverse group of restaurants to choose from in Vallarta, from the Planeta Vegetariano, a completely meat-free restaurant located in the middle of downtown that offers all-you-eat vegetarian buffet and main dishes, to 100% Natural which offers vegetarian and vegan dishes. Mexican dishes in their vegetarian or vegan interpretations can be also be found at the River Cafe which has an entirely vegetarian menu. Que Pasa is home to the Puerto Vallarta veggie burger, home-made macaroni and cheese and other American comfort foods. Also El Patio de mi Casa is a café that offers vegetarian soups and grilled veggie and tofu sandwiches. For a more international flair, try Barcelona a Spanish Tapas restaurants in downtown serving gazpacho, vegetarian paella and spinach with apples and pine nuts. Also, Taste Restaurant in the Conchas Chinas area of the city, serves tortilla soup and Quinoa grain salad with Peruvian potatoes and organic heirloom tomatoes as their vegetarian/vegan options.
Gluten-Free Cuisine in Puerto Vallarta
For those who look to avoid gluten, Puerto Vallarta offers everything from street food to traditional Mexican delicacies to fusion cuisine. Overall, the cuisine of the region is quite perfect for the gluten-free lifestyle. Traditional Puerto Vallarta dishes like quesadillas, taquitos, chilaquiles, and tacos are made from corn-based gluten free tortillas. Even tequila and the Puerto Vallarta moonshine, Raicilla, are both made from the agave plant, making it gluten-free. Always communicate with the wait staff the need for a gluten-free meal as many restaurants have sophisticated dishes, fusing international cooking styles in unique preparations so they can ensure they remain gluten-free.
Although Puerto Vallarta is known for its breathtaking views, gastronomy and culture, it also has a vibrant night scene. In the heart of Vallarta, along the stretch of the Malecón, there are restaurants, live music venues, bars and nightclubs featuring DJ performances offering something for everyone!
Performing Arts & Cultural Events
Puerto Vallarta's gallery community gathers in the downtown area to offer guided art walks where new exhibits are presented, featured artists are in attendance, and complimentary cocktails are served.
Fiesta Nights
The major hotels in Puerto Vallarta feature fiestas for tourists. They consist of open bar parties, Mexican buffet dinners, and live entertainment (mariachi bands, etc.).
Night Clubs & Dancing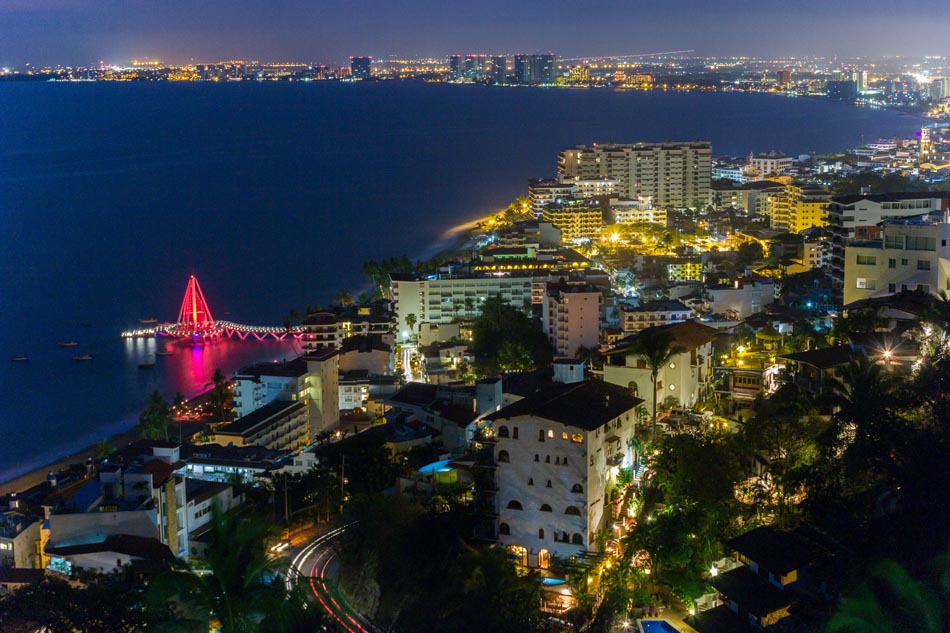 Puerto Vallarta has many late-night venues and nightclubs, each offering their own unique music, drinks, ambience and décor. Most nightspots are located along the Malecon and in the Historic Center including the Zona Romantica. Here visitors will find a wide variety of bars and nightclubs, live music, and even a Señor Frog's. The legal drinking age in Mexico is 18. Most bars serve alcohol until 2am while dance clubs will stay open for two more hours. The night scene usually starts around 11pm and most clubs don't have a strict dress code. Depending on the establishment, there will be a cover charge ranging from 150-400 pesos.
Live Music
Live performances from house bands to local and visiting artists, as well as karaoke, can be found throughout the city nightly. Good old rock and roll, country western jazz, reggae, blues or Latin beats can be enjoyed the following restaurant-bars: Café Roma, Nacho Daddy, El Pianico, Que? Pasa, and Ritmos Beach Café. La Bodeguita del Medio has live Cuban and salsa music performances and La Dolce Vita Italian restaurant features a jazz band. La Chata, El Andariego, El Mariachi Loco and La Destileria restaurants have mariachi musicians and BeboTero, Roxy Rock House, BeboTero, Paradise Burger and Señor Frogs each host live rock band performances regularly.
Gay Bars
Vallarta has a lively gay community with a wide variety of clubs and nightlife options, including special bay cruises and evening excursions. Puerto Vallarta's gay nightlife scene congregates on the South Side Zona Romantica area. There are many gay friendly night clubs, bars, discos, cantinas, lounges and party venues located relatively close to each other. The popular lounging spots include Sama Martini Bar, Apaches, La Noche, Anonimo, Signature Lounge, Amaca Bar, and Blue Sunset Rooftop bar. Tourists can head for a late night drink and dancing at CC Slaughters, Paco's Ranch, Frida, Bar Frida, Los Amigos or Reinas. As for Live music, most visitors frequent Garbo or The Palm.
Other places to consider
La Madalena located in Hotel Zone'smain street, Francisco Medina Ascencio,   is a cantina-style restaurant and bar with a modern feel.
Food Park PV Gastro Bar is Puerto Vallarta's newest inclusion in its grand gastronomy offering. The open air food park houses food trucks serving gourmet barbecue, burgers, sandwiches, seafood, sushi and tapas. Located in Puerto Vallarta's main Avenue, patrons will get an small-town feel with world-class dishes.
BLONDIES LOFT is a two-floor edifice with the first floor being a Slushbar featuring frozen cocktails and drinks made with fresh fruit, fresh squeezed juices, and top shelf spirits. The menu is ever-changing to provide guests with new drinks to cool off and chill out. The second floor is the Loft featuring classic cocktails and selections form Slushbar. Blondies is promoted as an LOFT. Featuring premium classic cocktails and selections from the SLUSHBAR below, this intimate space where ocean breezes and the sounds of summer make it the perfect place to start a new adventure, or to dish the details of the last.
La Alhambra was one of Out Traveler's Magazine  "16 New Things We're Excited for This Year." The Alhambra Lounge takes its name from the palace and fortress of the Moorish monarchs of Granada, Spain. With its dramatically lit arches, warm woods, marble floors and fountain, La Alhambra promises to make any night something truly magical.
Families
Spanish classes, cultural events, ziplinning, paddle boarding and baby alligators are just some of the few reasons why Puerto Vallarta continues to be one of Mexico's top family destinations. Summer time is the low season for Puerto Vallarta and a provides for a fairly secluded destination for families to play together.
The city's Downtown, which maintains its small-town spirit alive makes it the perfect playground for family members who want to take a bike ride around town or take a cooking class, while the many hotel kids clubs provide a controlled environment where children can be entertained.
For those looking for a summer family getaway, the Puerto Vallarta Tourism Board has worked a number of deals with their partners to provide the best deals to visit the destination, these can be found on www.visitpuertovallarta.com. While on the site, visit http://visitpuertovallarta.com/win-a-trip/family-travel/ for a chance to win a 6-night trip to Puerto Vallarta, including air and a 3-night stay in one of Puerto Vallarta's 4 + star properties and 3-night in a boutique property in the destination's Downtown. Stays include nights in Hotel El Pescador, Los Arcos, Melia Puerto Vallarta All-Inclusive, Plaza Pelicanos Grand, Hotel Rosita, The Westin Resort & Spa, Puerto Vallarta, Hotel San Marino and Velas Vallarta which recently won top honors at TripAdvisor's Family Vacation Critic Favorite Hotels Awards.
Following is the Puerto Vallarta Tourism Board's top activities for families to enjoy while in Puerto Vallarta.
A Day in a Traditional Mexican Ranch
An educational experience for the entire family, learning about life in a traditional Mexican ranch will make for a memorable vacation. The small town environment allows for interacting with the locals as well as an immersion into their local customs and traditions. Some ranches also offer tours on horseback, by motorbike or hikes through surrounding ecosystems. Guests also have a chance to savor some of the Mexican delicacies prepared at the ranch where meals are often cooked in traditional Mexican kitchens. www.haciendadonaengracia.com
Canopy Tours: A favorite with both parents and children, canopy tours are an exciting way to see and learn about the varied tropical flora and fauna of the rainforest surrounding Puerto Vallarta. The adrenaline mounts as one rides from treetop to treetop, hovering over the canopy of the lush vegetation of the Sierra Madre Mountains. The scenery and bird life is spectacular from this truly privileged vantage point. www.canopytourspuertovallarta.com www.canopyindio.com
Mexican Fiesta: An introduction to popular Mexican culture for the entire family, Mexican fiestas are held weekly in various hotels and restaurants in Puerto Vallarta with fun-filled activities for everyone including dancing, games and competitions accompanied by extensive buffets of traditional Mexican food and drink specialties. http://canopyriver.com/en/
Swimming with Dolphins in the Wild: Visit with dolphins in their natural environment and participate in a research project that helps understand and protect dolphins. Interact with a Bottlenose pod with  professional biologists who will share their knowledge while they guide you on this once-in-a-lifetime experience. www.wildlifeconnection.com/dolphins-tour
Bring your four-legged friend on vacation: One of the great joys of traveling is sharing the experience with loved ones — including pets. Visiting Puerto Vallarta with Buddy, Bella or Shadow is made easy with the destination's pet friendly hotels, sites and US-Mexico relations when it comes to pets traveling between the two countries. Whether traveling with a pet for companionship, service or comfort, pet owners and their four-legged companions will find that Puerto Vallarta offers a great diversity of offerings that make it easy to enjoy a visit to the destination.  http://eepurl.com/CUxN1
Fun at the Beach: What's more fun than spending a day at the beach with the entire family? The Puerto Vallarta area offers 26 miles of beautiful beaches along picturesque Banderas Bay, set on the blue waters of the Pacific Ocean. Kids can enjoy playing on the sand, building sandcastles, playing ball, or throwing frisbees, or simply enjoy the clear waters of the ocean. Numerous other activities are also provided, including jet skiing and parasailing.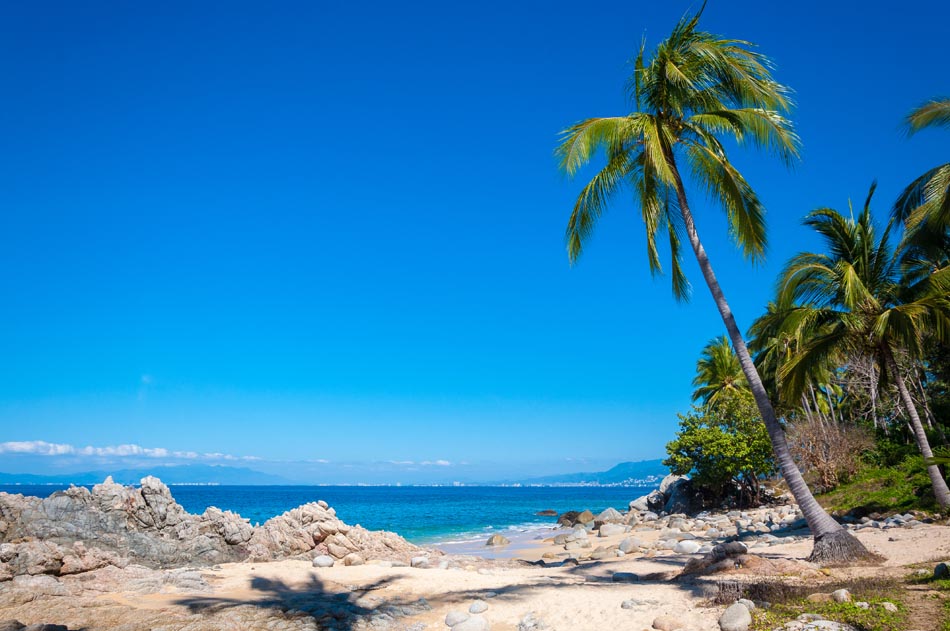 Go on a treasure hunt with Pirates: Puerto Vallarta's Pirate Ship is an all-day cruise featuring an exciting pirate show with acrobatics, sword fighting and cannons blasting. Activities for the whole family include dancing, games, contests, water sports like kayaking, banana boats, snorkeling, beach volleyball and buried treasure hunts. http://www.pirateshipvallarta.com/pirate-land-day-tour
ATV Tours: For those boys and girls who looking for an outdoor adventure, exploring the back roads of Puerto Vallarta on an ATV (all-terrain vehicle) will prove a fun-filled experience. The tour takes riders to the rural countryside and along dirt roads and through rivers. It is recommended to bring old clothes and sneakers for this excursion as drivers end up completely covered in dust and mud. The tours are only open to children over 6 years old who have to ride with an adult holding a valid driver's license. www.vallarta-adventures.com
Horseback Riding: Exploring the lush vegetation on the jungle and mountain trails around Puerto Vallarta on horseback is a fun adventure for the entire family. Various ranches around town offer horseback riding tours. Typical routings take riders along rivers, waterfalls, canyons and picturesque mountaintop villages that offer spectacular views of the bay and the town of Puerto Vallarta below. Refreshing waterfalls allow for a well-deserved break where riders can go for a swim under cool cascades. Horseback rides are not recommended for children under 10 years of age. www.haciendadonaengracia.com
Taco Tour: Learn about Puerto Vallarta and Mexican culture with your palate. A taco tour in the morning is a fun way to learn about the Downtown or take an evening tour to start the night off.  www.puertovallartafoodtours.com
El Salado Mangrove Estuary The Estero del Salado Lagoon is a heaven for wildlife enthusiasts; a beautiful expanse of white mangrove, palm trees, mosses, ferns, and fauna home to some 100 exotic species of colorful birds, crabs, iguanas, monkeys, fish and more. Depending on the season visitors can also participate in the estuary's crocodile and turtle release programs. www.esterodelsalado.org
Learn Spanish Take a summer class at one of the many language centers located in Puerto Vallarta to learn Spanish and about the local Mexican Culture. www.spanishexperiencecenter.com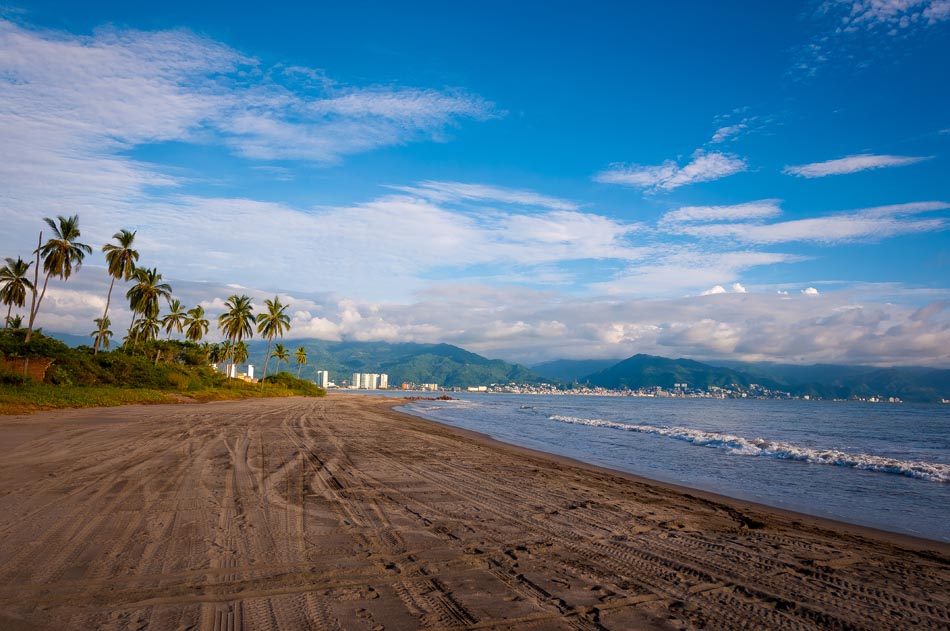 EXPLORING PUERTO VALLARTA'S SURROUNDINGS
Puerto Vallarta's neighboring areas offer a wealth of historic, cultural and eco-friendly experiences that capture the essence of Mexico and can be sampled in well-organized day-trips from the city. Following are some of the most popular day trips that can be easily booked with local tour operators:
San Sebastian del Oeste
A small colonial gem, located a 15-minute flight or a 90-minute drive from Puerto Vallarta, San Sebastian, with a population of 600, is a sleepy 17th century silver mining village nestled in the Sierra Madre Mountains. First settled in 1605, San Sebastian flourished as a silver and gold mining town. The town's main attractions are the main cobble stoned square, an 18th century church, Hacienda Jalisco, a museum that keeps alive the town's rich historic heritage, and a coffee plantation where visitors can buy the specialty blend – coffee lightly flavored with chocolate and cinnamon.
Las Caletas
Once the private home of film director John Huston, Las Caletas is now a secluded beach hideaway in an isolated cove on the shores of Banderas Bay that is only accessible by sea. Here, vacationers of all ages can enjoy pure relaxation or choose for a variety of outdoor activities organized by specialized eco-guides including snorkeling, scuba diving, stand-up paddle boarding, kayaking, guided nature walks and visits to a small zoo. For those wanting to indulge in wellbeing and rejuvenation, there is a spa offering therapeutic massages and facials.
El Tuito
South of Puerto Vallarta, on the most southern tip of beautiful Bay of Banderas, lies the municipality of Cabo Corrientes. El Tuito, meaning "beautiful little valley" in Nahualt (a Uto-Aztecan language of Mexico) is the capital of the municipality. The small town with a population of less than 4,000 people is located approximately 3,500 feet above sea level. There is an abundance of small shops selling a wide range of local products from artisan cheeses and organic coffee to "raicilla," an alcoholic beverage typical to the region. The main road provides an easy walk which eventually leads to the bustling main square with restaurants, cafes, museums and a cultural center. Although in most Mexican towns the main church is located just off the town square, the picturesque El Tuito church, dedicated to St. Peter the Apostle, is located around the corner.
Mahajuitas & Yelapa
Situated on the southern coast of Banderas Bay, twenty minutes by boat from Puerto Vallarta, Mahajuitas is an isolated cove surrounded by pristine natural beauty. This little corner of paradise offers the ideal conditions to enjoy a multitude of water and beach sports; such as snorkeling and diving along the reef, kayaking, swimming, stand up paddle boarding, or simply lazing under the sun and taking in the secluded peaceful atmosphere.
A small fishing village of about 1,500 residents that has the feel of a small South Pacific island, Yelapa is a laid-back retreat for artists and those seeking a very informal lifestyle. Yelapa has no roads, no street signs or traffic lights and still lacks some of the modern world conveniences such as cars and telephones.
The town, once the favorite refuge of Bob Dylan and Dennise Hopper, provides the ideal getaway for those seeking complete relaxation in a very simple environment. Yelapa is a 45-minute water taxi ride away from Puerto Vallarta. Once here visitors can enjoy a walk on the beach, hike or horseback ride to the 150-foot Cola de Caballo waterfall and a refreshing swim in its cool river, shopping arts and crafts at the local artisan shops and enjoying a freshly prepared meal at one of the beachside or village restaurants.
Additional information on Puerto Vallarta is available at www.visitpuertovallarta.com
Puerto Vallarta is home to several world-class spas and wellness centers that help soothe accumulated aches and pains and undo the impact of every day stress. From a simple pedicure to something a little more indulgent like a chocolate wrap or perhaps challenging like a temazcal or a Yogic Arts class which combines traditional standing poses with martial arts and dance movements, Puerto Vallarta's many spas, salons, healing and meditation centers, yoga and pilates studios cater to all needs and preferences. Offering the latest anti-aging and other selective therapies, Puerto Vallarta is quickly becoming a favorite spot for those looking for the right touch of rejuvenation and relaxation. Stretching beyond the walls, many spa and wellness facilities offer outdoor sessions such as massages and other body treatments under a private tent on the beach or in a lush garden setting; or conduct yoga and meditation classes along the water's edge or on an outdoor terrace overlooking Banderas Bay. Following is a short list of some of Puerto Vallarta's top rated spas and wellness centers.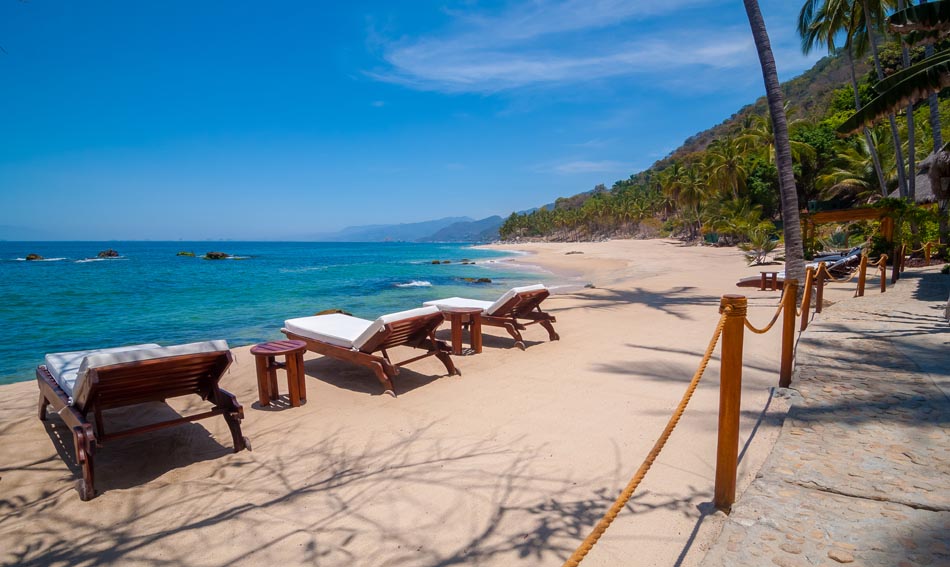 OTHTLI SPA – CASA MAGNA MARRIOTT
The Ohtli Spa sits on 22,000 square feet of property. Treatment rooms are adorned with Huichol art and interior gardens to maintain a spiritual and nature-oriented mood. Many of the treatments follow ancient healing techniques and shamanistic methods of the Huichol Indians from the Sierra Madre Mountains as well as natural local ingredients such as the spa's signature exfoliation treatment which contains agave, cornmeal, and sea salt.
CASA VELAS SPA
Located in the Casa Velas Resort, this luxurious spa offers treatments blending regional and international practices and the latest techniques to revitalize and relax every guest. Casa Velas offers more than 60 holistic spa treatments, based on thousand-year-old healing practices from the local area and around the globe to stimulate the physical, mental and spiritual dimensions. Casa Velas provides indoor as well as outdoor spa treatments located in a tranquil, tropical lush garden setting.
SECRETS SPA BY PEVONIA
Pevonia Spa offers world-class spa services providing the ultimate in pampering with treatments ranging from the traditional to the unusual, incorporating native nutrient-rich fruits, flora and wellness techniques. Spanning more than 14,000 square feet, the Secrets Resort on-site spa offers a full menu of over 40 packages and à la carte treatments including Swiss showers, saunas, steam rooms, water circuit, facial treatments, relaxation areas and full service beauty salon.
THE SPA AT THE WESTIN PUERTO VALLARTA
Inspired by the resort's beachfront setting and tropical surroundings, the Spa is designed to help guests relax their body, enrich their spirit, and find calm in an intimate and natural environment of peace and serenity. The spa features seven indoor treatment rooms, an oceanfront pergola for outdoor massages, whirlpools, saunas, steam rooms, hydrotherapy facilities, and a beauty salon offering a wide-range of treatments on premises or in the comfort of the guests' room.
The Westin Resort & Spa Puerto Vallarta is also known for bringing celebrity instructors like Yoga Gury Kino Macgregor and yoga master and meditation teacher, Wayne Krassner, as part of its Westin Well-Being movement which encourages its guests to sleep, eat, move, feel and work well since 2014.
Other properties in Puerto Vallarta also host well-known yoga instructors as part of their wellness programs, including CasaMagana Marriott which holds yoga classes on a daily basis; Secret's Pevonia Spa offers yoga classes by instructors from Fit Bodies who also offer Pilates, Zumba, Boot Camp, Aerobics classes; and Hotel Mousasi holds June Wellness month hosted by Spa Inspired.
Free yoga classes are also led by various guest yoga instructors on the Puerto Vallarta Malecon every Saturday at 8 AM and 6 PM on the Rio Cuale offering a truly Puerto Vallarta experience on the shores of the Sierra Madre and the Bay of Banderas.
In addition, Puerto Vallarta is home to several world-class yoga retreat centers which combine traditional standing poses with martial arts and dance movements and stretch beyond the walls offering offer outdoor sessions on the beach or in a lush garden setting. Following is a short list of some of Puerto Vallarta's top rated spas and wellness centers.
XINALANI RETREAT – Xinalani is an exclusive Yoga Retreat Center and eco-resort that offers retreats that open opportunities of self transformation through stress-relieving disciplines and mind-blowing adventures. Conceived as a tropical Yoga Center in Mexico to host spiritual & personal yoga retreats, group retreats, teacher trainings, and mind & body workshops, Xinalani® combines world-class yoga studios with beautiful, eco-chic accommodation; delicious, healthy and authentically Mexican food; relaxing spa treatments; and an extraordinary staff who takes pride in delivering an unforgettable stay for even the most discerning of guests.
DAVANNA YOGA – Davannayoga is a traditional-style yoga school, and the first registered Yoga school with the Yoga Alliance in Puerto Vallarta. Classes are held in a renovated historic home with high ceilings and natural floors or on the rooftop yoga space that can accommodate up to 35 people with a view of the entire Banderas Bay. Davannayoga offers all-levels group yoga classes and private yoga instruction. Their services include: Vinyasa, Yoga Flow, Morning Yoga, Restorative Yoga, Pranayama, Meditation, Children's Yoga, Pre-natal Yoga, Yogic Arts classes as well as the Yoga Alliance 200-hour teaching training. They also offer monthly Kirtans and periodically incorporate visiting teachers and workshop programs. www.davannayoga.com
YOGA VALLARTA – Yoga Vallarta is a yoga and pilates center located in the historical center of Puerto Vallarta, on Basilio Badillo, a street popular for its fine silver jewelry, craft and clothing boutiques. The location offers various types of yoga including Hatha and Flow as well as Core Mat Pilates, Gentle Movement & Stretching Classes, Power 24 Workout, and Pilates Reformer private sessions. www.yogavallarta.com
KUPURI YOGA – Kupuri Yoga is located in the heart of the Zona Romantic, in old town Puerto Vallarta. Kupuri offers several yoga styles, including Hatha, Vinyasa Flow, Yin Yoga, Yin Yang Yoga, as well as Thai massage therapy. www.vallartayoga.com / www.kupuriyoga.com
NACER ESTUDIO – Nacer was established on the concept of our search for spirituality and the encounter between our body, spirit and mind through breathing, the art of movement, discipline and commitment developed by pilates and yoga, to reach the strength, balance and consciousness in the physical, mental and spiritual plane. Nacer is a complete pilates studio offering classes on the Reformer as well as various forms of yoga including Restorative, Yin, Hatha, Ashtanga and Tripsichore Yoga as well as Physiotherapy and Meditation sessions. www.nacerestudio.com
Puerto Vallarta's hotel infrastructure is one of the most popular in Mexico, with almost 22,500 rooms, but many do not know of the great diversity of properties that can be found in the destination.
Puerto Vallarta's Hotel and South Zone
Puerto Vallarta boosts over 22,000 hotel rooms, with more than half of them in 4 and 5 diamond properties. Grand Fiesta Americana became the destination's 15th AAA Four Diamond property this year, second in Mexico only to Cancun. The other properties are Barcelo Puerto Vallarta (2008) CasaMagna Marriott Puerto Vallarta Resort & Spa (1991) Casa Velas Hotel Boutique (2003) Fiesta Americana Puerto Vallarta All Inclusive & Spa (2001) Garza Blanca Preserve, Resort & Spa (2015)* Hacienda San Angel (2006) Hilton Puerto Vallarta Resort (2013) Hotel Grand Miramar Puerto Vallarta (2015)* Hyatt Ziva Puerto Vallarta (2015)* Now Amber (2013) Secrets Vallarta Bay (2013) Sunset Plaza Beach Resort & Spa (2011) The Westin Resort and Spa Puerto Vallarta (1993) Villa Premiere Hotel & Spa (2006)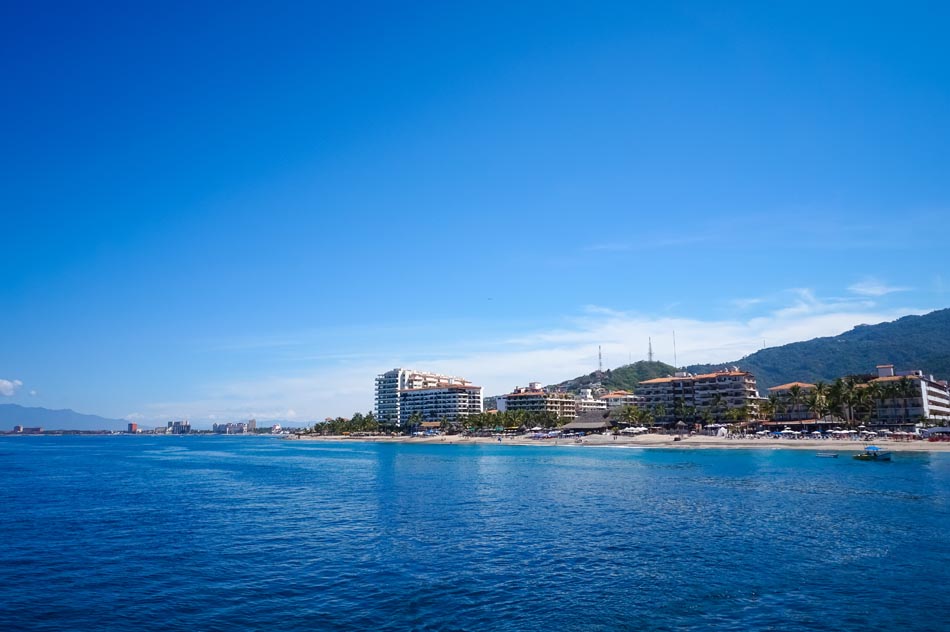 Earlier this year, Hotel Mousai was one of only 6 properties to be added to the coveted AAA Five Diamond Hotel, providing Puerto Vallarta its first Five Diamond hotels
Historic Center and Sorroundings
Providing visitors unique views on the world, architecture and sometimes even guardians of Puerto Vallarta's history, the destination's boutique and small hotels can be a reflection of a guest's personality and enhance a Puerto Vallarta experience.
Anyone who has seen a promotional image of Puerto Vallarta, knows the amazing view of the city's iconic Senora de Guadalupe Church and the Bay of Banderas, but few know this is the view of one of the destinations most historic hotels – Hacienda San Angel. Perched on the hills of the Conchas Chinas zone, the Hacienda's gloriously romantic guest suites offer sweeping views and respite from the bustle of downtown Puerto Vallarta. A wedding gift from Richard Burton to his wife Susan in 1977, it's in one of the few properties still open that relate to Puerto Vallarta's tourism spark – the filming of Night of the Iguana.
Casa Kimberly is a true labor of love. The former homes of Elizabeth Taylor and Richard Burton were transformed into a luxury boutique hotel featuring nine suites, a spa, pool, open-air dining, a tequila bar and the preserved Puente Del Amor (Love Bridge) that links the two properties.
Garlands Del Rio is a brand new B&B located on the Rio Cuale offering a rustic and magical ambiance in the heart of old Puerto Vallarta. The eight-room property offers the feel and luxury of staying in an upscale private Vallarta-style home with its blend of antique furniture, contemporary as well as traditional Mexican art and décor throughout, multi-level balconies, inviting sitting areas and individually decorated rooms and bathrooms that span around a pool and lush gardens.
Those truly interested in becoming a local, a Pata Salada as real Puerto Vallarta people are called, the Hotel Rosita is the best bet. Established in 1948, it is Puerto Vallarta's oldest hotel. When it comes to location, it is situated at the beginning of Puerto Vallarta social scene center, el Malecon, feet away from the Naval Museum and the city's original light house. Check out its murals to get a glimpse of Puerto Vallarta in the 1950s.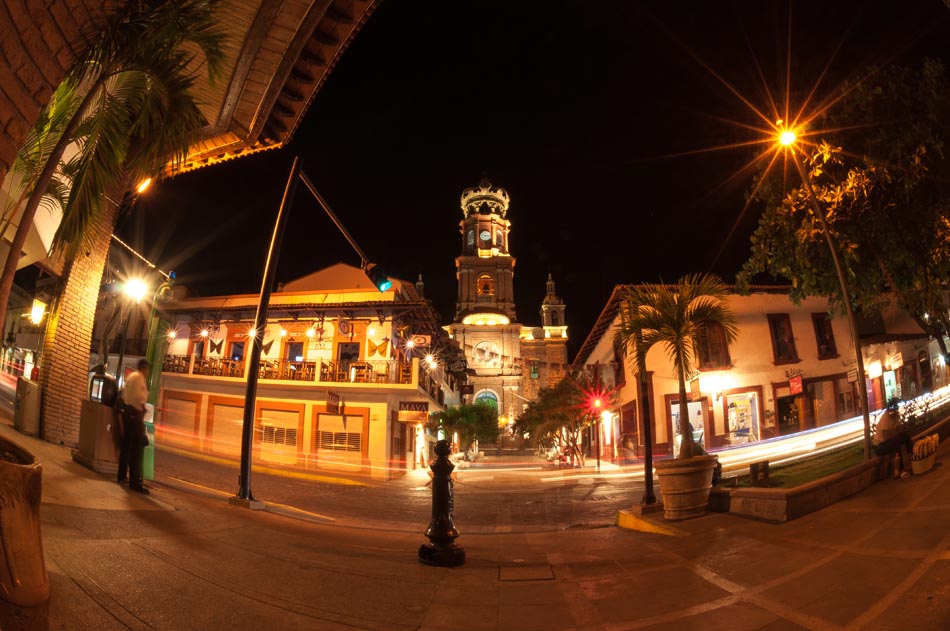 Those looking for a more modern and funky feeling will find that Puerto Vallarta's artist community has found ways to express all types of artwork in its Zona Romantica hotels, Puerto Vallarta's cobble-stone street zone is rich in Mexican architecture. Hotel Catedral embraces Mexico's famed Rosa Mexicano pink and the rich colors of indigenous cultures of the country providing guests with a color-filed eye celebration.
In a similar fashion, Posada de Roger Hotel provides its guests with an hacienda setting complete with a fountained courtyard, exposed brick and flora. Rivera del Rio is a sumptuous Mexican villa, nestled on the verdant banks of the Rio Cuale River where the primitive elegance of Old Town Puerto Vallarta intertwines with exquisite décor.
The Sierra Madre Mountains that embrace Puerto Vallarta provide its surrounding towns eco-friendly properties in one-of-a-kind settings. Casa Pericos, in the town of Yelapa, can only be reached by boat and provides a perfectly secluded destination, perfect for a romantic weekend or a friends' getaway. Seclusion is also key at the Hacienda Jalisco, a massive structure with two foot-thick walls built 225 years ago by the Spanish to hold and guard the returns of the myriads of mines of San Sebastian. For a more luxurious eco vacation, Villa Azalea Inn & Organic Farm offers world-class service and dinning in the middle of a river.
Flowing the rivers of the Sierra Madre is one of Puerto Vallarta's most luxurious boutique hotels, Casa Cupula with its restaurant Taste, is also one of the destinations gay-owned and run properties. Constantly rated the top boutique hotel in Puerto Vallarta by Expedia readers, it offers sophisticated lodging for the LGBT travels and friends.  Other properties that cater to the LGBT market are Villa Mercedes Petit Hotel which employs the colors of Mexico in cubist wall paintings and gives its colonial architecture a sense of surrealism and the chic and stylish accommodations at Olas Altas Suites, with its beach club Lido beach and one of the finest restaurant in Puerto Vallarta Trattoria Michel.
In the Zona Romantica, Almar Resort Luxury All Suites & Spa is a cutting edge luxury hotel in Puerto Vallarta incorporating the best traditions of Mexico into a beautiful setting, offering even the most exacting guests accommodations with style and distinction. Luxury meets distinctive contemporary design in each of the more than 120 suites which all offer spectacular ocean views and private terraces.
Many of Puerto Vallarta's boutique properties provide tailored opportunities for guests. Weddings, friend and family getaways and incentive programs will find that properties are willing to close for the specific group and provide the property completely for the event. These properties also tend to have private Chefs and most are even pet friendly fulfilling the most basic to the most luxurious needs of its guest.
Get out of the hotel! Puerto Vallarta is a very small town and a lot of its offerings are found on its Malecon (Boardwalk). Enjoy a great meal, a cocktail, shop, take an art tour or take a bike ride in this pedestrian-only part of the city.
Mingle with the locals on a Taco Tour. Learn about Puerto Vallarta and Mexican culture with your palate. A taco tour in the morning is a fun way to learn about the Downtown or take an evening tour to start the night off.  www.puertovallartafoodtours.com
Art lovers can indulge in some of the finest offerings during weekly self-guided art walks held every Wednesday from October to May. All participating galleries are located in Puerto Vallarta's Old Town, making the walk from gallery to gallery pleasant through the cobble stoned streets of the colonial city, all framed with the Pacific blue waters of the Bay of Banderas. Both local and international artists display their work within select galleries, and often times featured artists will make an appearance for a meet-and-greet on a select Wednesday evening from 6-10 p.m. The artwork ranges from paintings, ceramics, and sculptures to Huichol crafts, and unique handmade jewelry.
For more information and listings of art galleries, cultural centers and the ArtWalk visit the following websites www.visitpuertovallarta.com/directory/art-galleries-and-cultural-centers
Take a Hike around the Bay of Banders – Take a taxi to Boca de tomatlan and take a mile walk around the Bay of Banderas and back. Enjoy delicious and authentic sea food in Boca!
Take the public bus – The bus system in PV is simple and only 3 pesos!
Try many restaurants – There are over 360 restaurants in PV, try as many as you can and as many international foods as possible.
Release a turtle or a baby alligator -PV's turtle release program has been around for over 25 years, release a baby sea turtle into the sea from the many participating hotels or release a baby alligator into the wild at El Salado.
See the Blue Footed Boobies – Darwin's muse, this birds can also be found at Los Arcos.
In Puerto Vallarta we drink Raicilla – a close cousin of Tequila, don't leave PV without trying the Raicilla.
As of June 2017, UBER is available in PV!