Mexico's Caribbean coast has become Mexico and Latin America's most popular vacation playground. Visitors from around the world have validated coastal Quintana Roo State as one of the hemisphere's most successful tourism regions, hosting 4.4 million tourists in 2014. Riviera Maya is accessible, safe, adventurous, culturally remarkable and scenically stunning.
Riviera Maya contains an explosion of color, ecological adventure, Mayan archaeology and welcome surprises. The region delivers natural beauty, Caribbean beaches, indigenous culture and outdoor adventure, perhaps better than any destination in the Americas.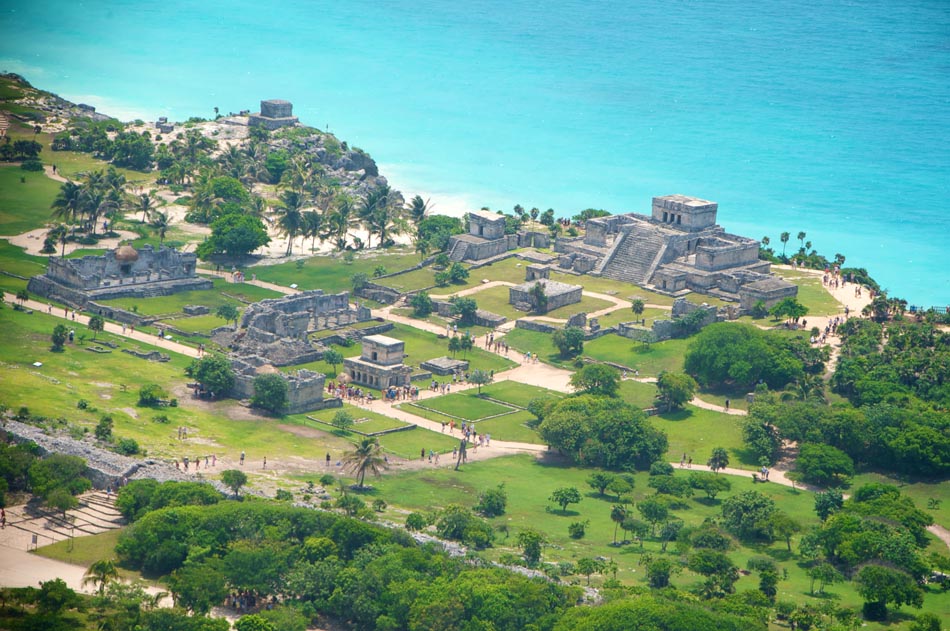 The nearly 120 kms (about 86 miles) of gorgeous coastline known as Riviera Maya, with a population of almost 250,000, begins at begins at Punta Brava, just south of Puerto Morelos and extends down to Punta Allen in the Sian Ka'an Biosphere Reserve, and more inland Zona Maya. It includes the resort towns of Playa del Carmen, Puerto Aventuras, Akumal and Tulum.
With development confined to a handful of sites, the Riviera Maya region is made up of large resort complexes and small independent communities. Despite the remarkable growth the region has witnessed, there are plenty of areas preserved in their natural state: the pristine Great Mayan Reef, archaeological sites, Mayan villages, miles and miles of untouched beach, eco-adventure parks, thriving mangroves and lush jungle.
The world's second longest barrier reef lies just off shore, while underground rivers, cenotes, exotic wildlife, caves and forest lure adventure-lovers to roam the region.
Riviera Maya is a very multicultural destination. Around 70% of its population is foreign born living in Playa del Carmen, Puerto Aventuras, Akumal and Tulum.
Arriving at Cancún's international airport, a modern four-lane highway whisks visitors southward via jungle-lined Highway 307. You're less than an hour's drive from the heart of Riviera Maya, Playa del Carmen. The road continues south past resort enclaves, coastal towns, eco-adventure parks, golf courses and archaeological sites. Cabs, vans (colectivos), and resort shuttles are available, although the best way to explore the area is to rent a car (or, better yet, a jeep), and venture away from your resort's tempting pleasures for some exploration and discovery.
The Isla Cozumel Airport (code CZM) may also be considered for international access to this region. There also is a small airport at Playa del Carmen (code PCM), it offers no international service; however, there are flights here from both Cancún and Isla Cozumel via air taxi services.
From the Cancún Airport there are several options of transportation. The Airport has a new "fare finder" on its website, allowing you to check all available rates, and book transportation online to all hotels in Riviera Maya.
Rental Car: All the major rental car companies have counters at the Cancún Airport.
Bus: The bus company ADO provides service from the CUN Airport to Playa del Carmen. (There is also a stop in Puerto Morelos along this route).
There are inclusive beaches, theme parks with facilities for disabled visitors, attractions and many recreational sites.
Highway 307 runs through the Riviera Maya whisking visitors southward across different cities that generally follow a user-friendly grid pattern. For example, streets in Playa del Carmen run south to north named with even numbers (2,4,6,8 etc), and avenues run west to east numbered 5 by 5 (5,10,15,20, etc.).
The cuisine of Riviera Maya features local Maya influences, indigenous ingredients and a wide cross-section of French, Spanish and Mexican fusions driven by the area's tremendous growth and worldly appeal. With the addition of several new culinary experiences and restaurants, many featuring notable chefs, Riviera Maya is a flavorful destination that will leave travelers hungry for more.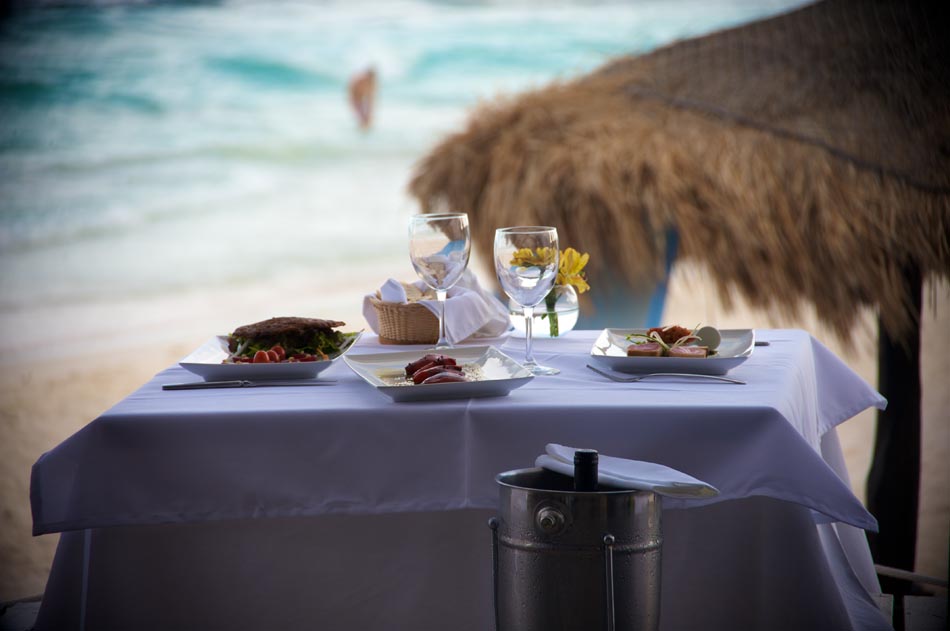 Indigenous ingredients such as Chaya and axiote can be found in traditional dishes like chilaquiles, eggs, etc.; whereas organic hibiscus flowers, Maya honey and cacao are imminent in Riviera Maya's sweet indulgences.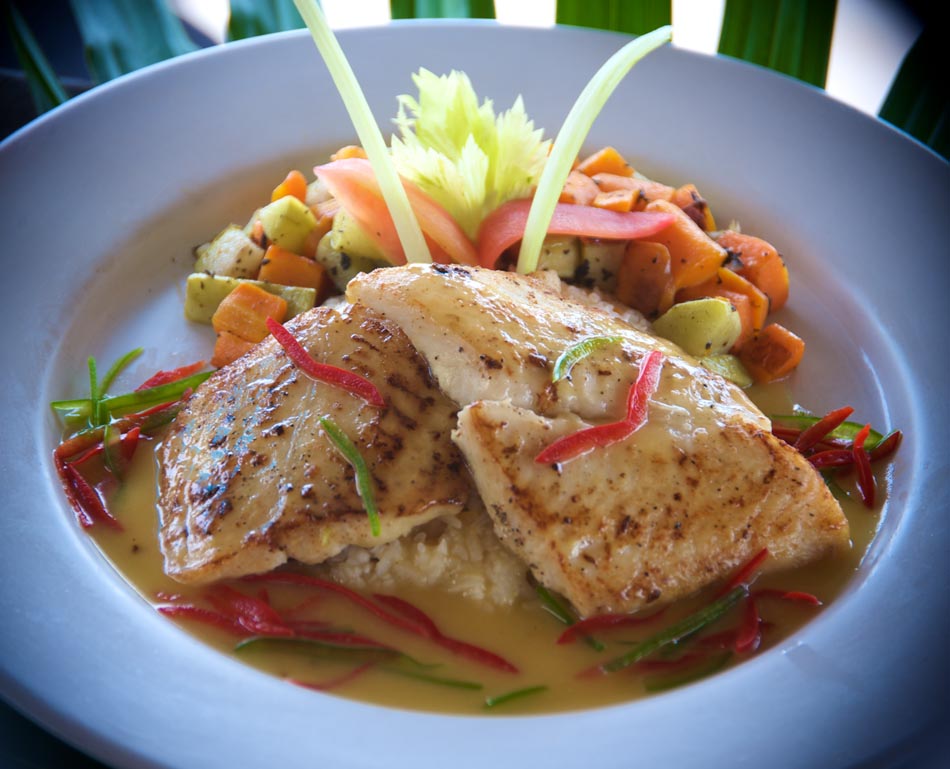 Yucatan cuisine distinguish also this area, one of the most famous dishes is "Cochinita Pibil", that is buried and slow cooked for hours underground,
Chef Feature
Chef Eric Werner, Chef of Hartwood Restaurant in Tulum, has done the unthinkable, and done it well. After serving up delicious bites to Manhattan's finest, he and his wife Mya, closed up shop and moved to Mexico to open their jungle-side, open air restaurant in Tulum.
People begin lining up at 5:00pm for the 6pm opening of this destination dining. Hartwood is on par with the best in New York City. http://www.hartwoodtulum.com/
Food Festivals
Cancun- Riviera Maya Wine & Food Festival: Culinary masters from around the world, renowned chefs, the top sommeliers on earth today, the best wine cellars of Europe and the Americas, the glamour of celebrities, and lovers of food and wine during the four-day festival.
Must-Try Restaurants
Alux Restaurant
The restaurant is located inside a cavern created over ten thousand years ago.
The Prehispanic, Mexican and International haute cuisine is served in any of our various natural vaults. You can also enjoy a wide selection of drinks and cocktails, including local Mayan specialties. http://www.aluxrestaurante.com/in/index.html
La Cueva Del Chango
La Cueva del Chango is a unique restaurant-bar, not only in concept but also for the natural setting amongst abundant vegetation and trees, Decorated mainly of wood and stone, with an open-sided palapa, atmosphere of foliage, waterfalls and fishponds The culinary concept is natural Mexican food, they serve breakfast, lunch and dinner.
The restaurant started as a green house and coffee shop with only four tables built into the jungle, where they used to have spider monkeys that came around the restaurant during the early years, thus the name. One day, a monkey arrived pregnant and gave birth there; the owners saw this as a blessing from nature and a sign of prosperity.
http://www.lacuevadelchango.com/
Riviera Maya offers a numerous day and evening expeditions that are just the right combination of off-track adventure, nature and culture. Travelers can enjoy exploring the jungles of the Riviera Maya and discovering ancient ruins, isolated beaches, and private cenotes on an ATV excursion, also enjoy an adrenaline rush while flying above the jungle with the ziplines. Don´t forget to experience Playa del Carmen "The Heart of Riviera Maya," take a stroll through the famous 5th Avenue.
Explore the streets and find local events, curious shops, cafes, bars, and unique restaurants; there´s too much to discover in the magical essence of the ambiance of this town that became a cosmopolitan city.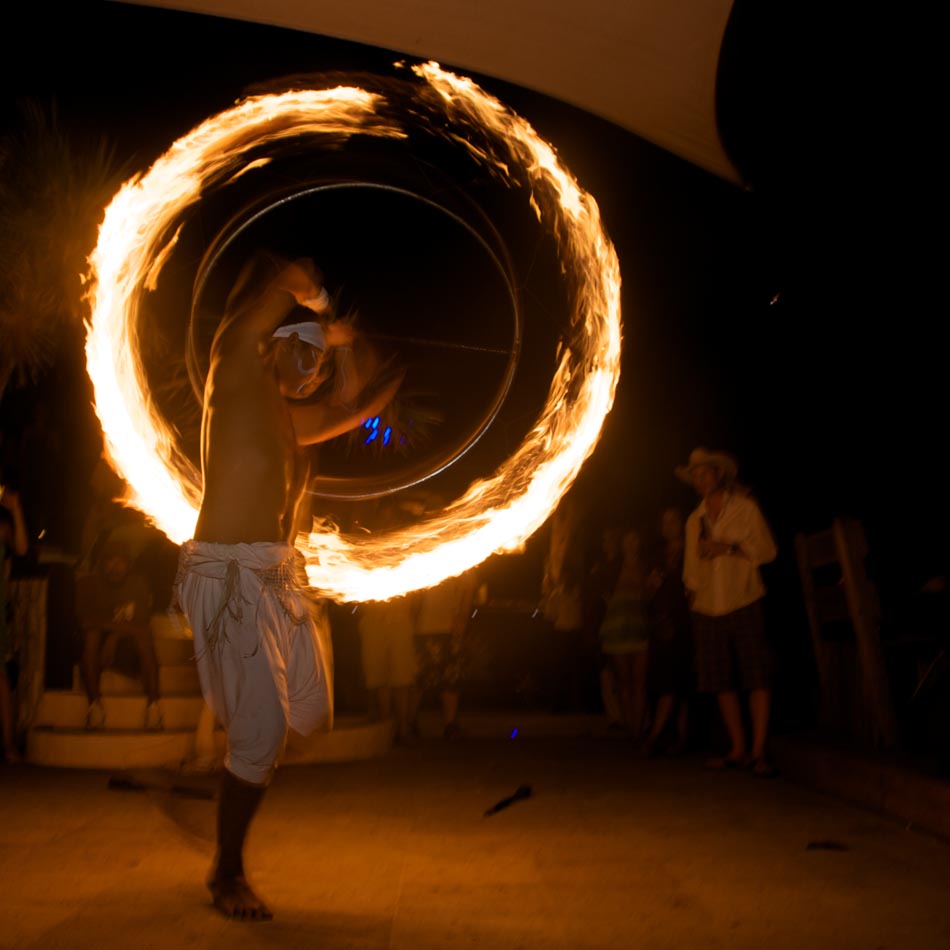 One of the most important attractions in the Riviera Maya is the Great Mesoamerican Barrier Reef – the longest barrier reef in the northern hemisphere, located off the coast of Quintana Roo stretches down to the coast of Honduras. With a wealth of marine life and spectacular coral formations, it provides divers and snorkelers with an incredible experience.
Geographically, the Yucatan peninsula is a large, cavernous limestone shelf with an elevation that is only 50 meters above sea level. This lack of elevation in topography makes it impossible for water currents to form. Over time the filtrations erode and weaken the rock eventually collapsing the roof of the underground river, and exposing it on the surface level. Hundreds of years ago, the ancient Maya coined these exposed sink holes "cenotes" The Riviera Maya boasts more than 40 cenotes that are open to the public, some with facilities for snorkeling and many others with deep connections to the underground river system, ideal for cavern and cave diving.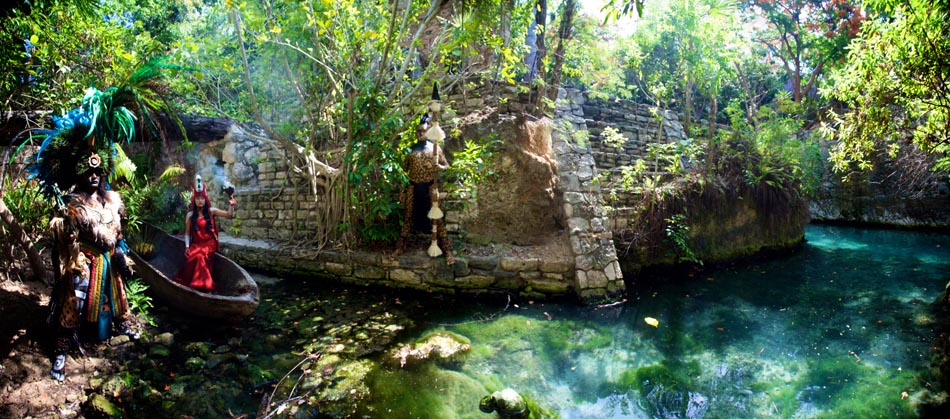 Throughout the year there are many special events that take place in Riviera Maya. Those events include all kind of musical events like Riviera Maya Jazz Festival and Opera Maya, electronic music festivals like BPM, Winter Fest and Arena; gastronomic festivals like Cancun – Riviera Maya Wine & Food Festival and Tulum Vegan Fest.
Also we have cultural festivals like The Riviera Maya Film Festival, Sacred Mayan Festival and Life & Death Traditions Festival by Xcaret, International Dance Festival and International Theater Festival.
The little beach town of Akumal wins big points for delivering one of the coolest attractions in the area, snorkeling with turtles. If you're lucky, you'll see a barracuda or sting ray wandering through. There you can find some dive sites, where you can rent snorkels, fins and masks right in the bay like Akumal Dive Shop and Akumal Dive Center; otherwise you can book a tour with Aventuras Mayas or Cancun Adventures, and live this magical experience.
Riviera Maya, heir of the great tradition and culture of the Mayans, has ancient healing rituals and elements that despite the years are still present and are an essential part of the spas in the region. Most of their treatments have been adapted to the modern and exclusive destination spas, also, they are found in traditional communities and sites; clays, herbs, oils, seeds and flowers are some of the elements traditionally used as healing remedies and are part of the different treatments like TEMAZCAL; it was used in ancient Mesoamerica as part of a curative ceremony thought to purify the body after exertion such as after a battle or a ceremonial ball game. It was also used for healing the sick, improving health, and for women to give birth. Manteado maya (to get wrapped with a shawl), hammock massage, sacred obsidian massage, jade Mayan facial, and chocolate treatment. If you want to visit a luxury spa, this world-class tourist destination offers a wide range of alternatives like Author´s Spa at Grand Velas Riviera, Spa Willow Stream at Fairmont Mayakoba, Banyan Tree Spa, Wayak Spa at Viceroy Riviera Maya and Sense Spa at Rosewood Mayakoba.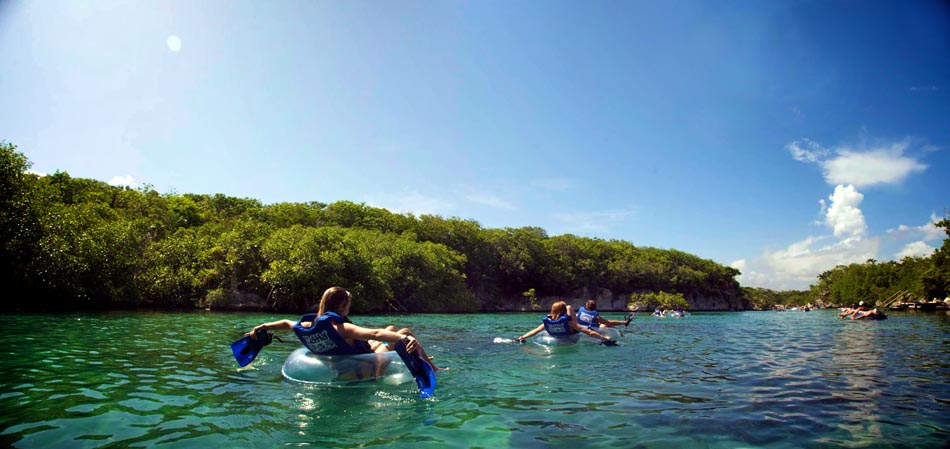 You can also take a trip to the deep world of energy and Mayan healing in places like Casa Itzamná, Maya Spa at Azulik Tulum and The Sensorial Spa "Ek- Chack" at Papaya Playa Project Tulum.
The highlights of the attractions in Playa del Carmen it is the famous 5th Avenue, lined with shops, bars, restaurants, coffee shops, gelato shops, convenience stores, malls and more. This main strip is a pedestrian walkway that runs for about 5 kilometers (3 miles) through Playa del Carmen town, and is continually expanding and getting longer. It is located 1 block west of the beach. Here you will find a wide variety of international restaurants and local coffee shops like Ah Cacao!
The Gran Tlachco Theater hosts the colorful presentation "Xcaret Mexico Espectacular", one of the main attractions at Xcaret Park; also it has been the host of international concerts and events.
Also an underground dry cave decorated with stalagmite and stalactite formations at Rio Secreto, the perfect scenario for theatrical plays and classical musical concerts.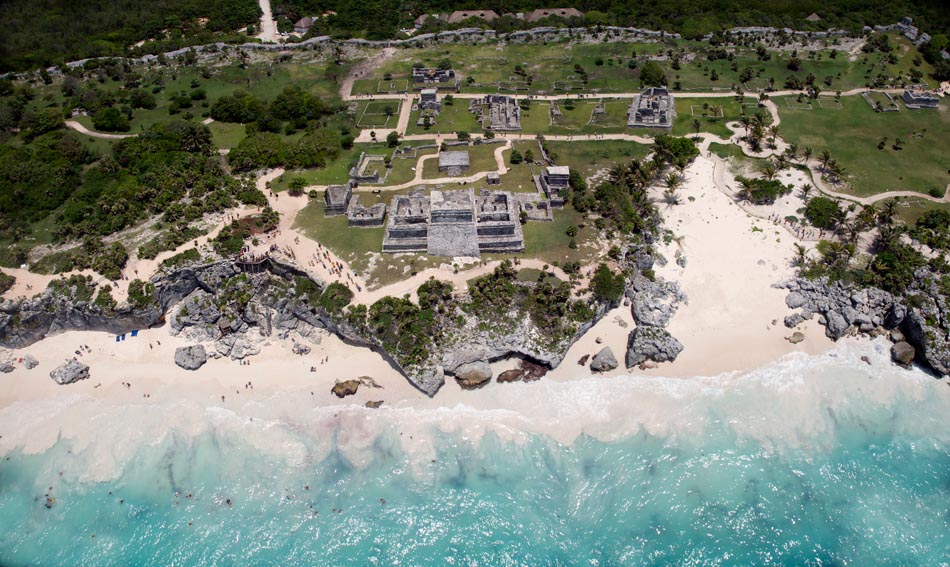 Joyá by Cirque du Soleil, inspired by the fabulous migratory journey of the monarch butterfly, where life is passed on from one generation to the next to perpetuate the love of life. The whole theater, including its dinner experience, is devoted to invoke your senses.
"Caminarte" an art exposition on the longest pedestrian walkway. The local art scene that happens every Thursday night in Playa del Carmen, where different local artists and photographers display their work for all to see, and buy over the famous 5th Avenue.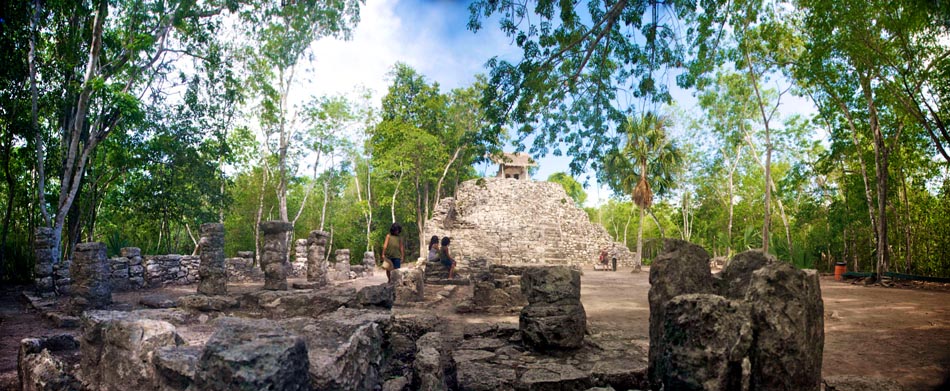 Visiting the Riviera Maya, you will able to enjoy a great time walking over the beach, visiting the archaeological sites or exploring the jungle with the several tours availables at the destiny.
There are more than 42,000 hotel rooms in over 378 hotel properties in Riviera Maya, covering all categories: small boutique hotels, eco lodges, hotels medium lounges, large all-inclusive hotels, and huge complex of two or more hotels with convention halls, theaters and any service or facility imaginable.

The average rate is around $203.91 Usd per night.
The Riviera Maya undergoes a series of tourist seasons:
High Season: December 20 – April 19
Low Season: April 20 – December 19
July and August are great tourist months for both local and foreign, just as it is the period from mid-December to early January; otherwise if you want to get a bit quieter and more reasonable prices, you should stay away from these periods as much as possible.
Iconic Hotels
Rosewood Mayakoba has the "Camaleon" which makes history by becoming the first golf course outside the United States and Canada in hosting an official event of the PGA TOUR. The championship golf course is the centerpiece of the complex Mayakoba enclave in which Rosewood Mayakoba resides. Located at the gates of the place, The Camaleon meanders through the lush tropical landscape of the coast of the Riviera Maya, providing a backdrop for golf sessions of guests.
Azulik Hotel & Spa
Azulik – Adult Eco-Resort and Maya Spa is an extremely private and enchanting, adults only nature retreat and Mayan Wellness Center located by the sea in Tulum, Mexico, just 3 km south of the Tulum Archaeological Zone and 4 km from the center of Tulum town.
This one-of-a-kind "off-the grid" Eco-resort (no electricity, no TV, no phones, etc.) features 39 hand-crafted luxury Tree House suites, an organic café serving breakfast and lunch and dinner, a beach bar serving fresh Sushi and cool tropical drinks, and Tulum's premier holistic Maya Spa and Healing Center. It is the only hotel in the world where you can have the subtle smell of love!
Spirits In Riviera Maya
Currently in the Riviera Maya there are no haunted hotels. However legends of the "Alux" are well known by locals.
The "alux" are energies created by ancient Mayans for monitoring their crops and now they keep living everywhere. Small houses (altars) are offered in various hotels and restaurants to avoid any incident.
If this is your first time coming to the Riviera Maya do not forget:
Riviera Maya offer "all-inclusive hotels" for travelers looking for a tranquil getaway and small hotels in the center of Playa del Carmen if you want to make tours and enjoy Tulum and Playa del Carmen famous night life!
You can find restaurants of all specialties, Mexican, Italian, Spanish, Venezuelan, Brazilian, Indian, etc .. 5th Avenue is where all these restaurants for all tastes and budgets are. If you move away from the shopping area, prices will fall and you can have the chance to discover unique spots that Playa del Carmen offers in local restaurants, cafes and bars.
If you want to discover all around Playa del Carmen we recommend walking.
Free activities! Visit our "Events Calendar" www.rivieramaya.com
Don´t forget to use biodegradable mosquito repellent and sunscreen
Tulum is located approximately 2 km south of the archaeological site, so you can easily visit the city and the great beach Tulum on the same day
There are few companies that provide specialized tours tourism sustainable to Sian Ka'an. To make the most of your visit and exploit all fascinating activities of the largest nature reserve in Mexico, research on: www.siankaantours.org
Be a responsible traveler and look for hotels that work on sustainable efforts!
Immerse yourself in the alive Mayan culture, visiting "Zona Maya"
Warm temperature! Annual average temperature of 26 ° C and can rise to 35 ° C in summer.