Chicago, Illinois' balance of friendly Midwestern charm and cosmopolitan character can make even the most distant traveler feel embraced as one of the locals. With its rich history and vibrant modernity, it's no surprise that Chicago is one of the most popular cities in the world. Stretching 237 sq. miles, Chicago is the third largest city in the United States with a population of more than 2.7 million people.
Chicago is anchored on Lake Michigan's southeastern shoreline. From the shore's beaches and lakefront paths, the Chicago skyline rises high above for an architecturally impressive display. On an especially clear day, the three neighboring states can be seen from across the lake. Chicagoans take full advantage of the proximity to fresh water during the warm summer months, enjoying 15 miles of beaches and 19 miles of biking paths for walking, running, biking and taking in the fresh air and lake breezes.
Chicago is an American gem. The architecture is world-renowned. Historic buildings are beautifully intertwined with modern skyscrapers and green spaces to create a unique atmosphere known only to Chicago. The city is credited with the first skyscraper, built in 1885, and the Willis Tower, standing at 110 stories tall, is the tallest building in the Western Hemisphere.  Tall buildings give way to the 25 acre Millennium Park in the heart of downtown, home of awe-inspiring landscapes, breathtaking architecture and an iconic collection of public art. Whether downtown or in one of Chicago's 77 unique neighborhoods, you can find fine dining, world-class arts, historic and cultural sites, parks, museums, and multiple major league sports teams with diehard fans. Although the Chicago River divides the city, its simple grid plan makes Chicago one of the easiest metropolitan cities to navigate on foot or using the nation's second-largest public transportation network, taking the CTA's elevated train system or bus lines. Chicago is also easily accessible and it is ranked as one of America's most disability friendly cities by the National Organization of Disability.
Around every corner, Chicago offers a restaurant that can satisfy your deepest cravings. Famous for deep dish pizza, Chicago-style hot dogs and Italian beef, Chicago never disappoints with mouthwatering delights. Along with classic dishes, Chicago is home to diverse dining options. With more than 7,300 restaurants, you will always have an option to get a taste of the city from luxurious restaurants to neighborhood favorites. The north side of the city offers Middle Eastern, Asian and Indian dishes. Check out the west side for Italian, Greek, Puerto Rican and Mexican cuisine and find the best Chinese food in Chinatown on the south side. Food trucks and pop-up stands that offer unbeatable flavors also regularly appear throughout the city.
With so many restaurant options, it's difficult to choose where to eat in the city! By exploring Chicago's multiple food festivals, you can taste the best flavors the city has to offer all in one place. The most popular festivals are the annual Taste of Chicago in July, Chicago Gourmet in September, Ribfest and Taste of Randolph Street both in June. It's not uncommon to find a food festival every week throughout the city's 77 neighborhoods. Check out EnjoyIllinois.com for more dining recommendations.
No matter what you want from your travel experience, Chicago offers attractions and activities that appeal to a range of interests. Outdoor adventurers can enjoy walking or biking along Lake Michigan, spending a day at one of Chicago's beaches, strolling along the Riverwalk or taking a boat tour. Check out renting a kayak to take along the Chicago River!
Culture buffs, can take in one of Chicago's multiple prized museums, art galleries or famed architecture tours. For the shopping fanatic, shop till you drop at the stores on Michigan Avenue's Magnificent Mile. If you're looking for more boutique selections, check out shopping in the Gold Coast along Oak Street or in one of Chicago's trendy neighborhoods like Lincoln Park or Wicker Park.
Classic Chicago experiences include the Cloud Gate at Millennium Park, Willis Tower's Skydeck Chicago or the newly renovated Centennial Ferris Wheel at Navy Pier. Sports fans can take their fandom to the next level by cheering on the Cubs, White Sox, Bears and Blackhawks at one of Chicago's beloved stadiums.
For the drama fan, Chicago offers Broadway plays and musicals and comedy shows throughout the city. Chicago's theatre district is definitely a sight needed to be seen. In fact, the city comes alive at night with popular live music venues, bars and entertainment in neighborhoods like River North, Lakeview and West Town.
Before your trip, make sure to check the calendar to see if there are any seasonal festivals, such as the annual Chicago Air & Water Show. To start planning your Chicago experience, visit EnjoyIllinois.com to browse our recommendations for an epic adventure.
For the many exciting activities Chicago has to offer, there is always an opportunity to kick back, relax and enjoy being a part of city.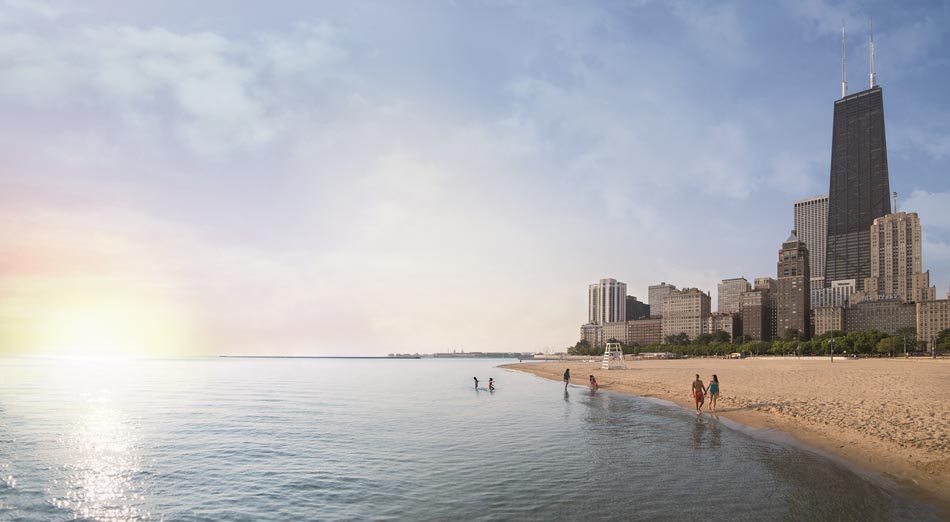 Enjoy the beautiful views of Lake Michigan. Take a step back from the buzz of the city with a boat tour that travels through the skyscraper-lined streets or journey out toward the lake for that perfect view of the Chicago skyline.
Spend a day in the sun at one of Chicago' s 24 beaches such as North Avenue or Montrose or take a trip down the Chicago Lakefront Trail. The Chicago Riverwalk also has six dining options to relax and enjoy food and beverages while watching boats glide by on the Chicago River.
Conveniently located across from the city's center, called The Loop, Millennium Park offers a great break from the rush of the city. Its gardens are the perfect spot for a picnic and a calendar of activities – from Saturday morning yoga in the summer to outdoor concerts and movies in the park – offer chances to restore and relax with friends.
There is no better view of the city than surrounded by friends and family at one of the many rooftop bars. LondonHouse offers a tri-level rooftop venue where you can dine classic drinks and appetizers accompanied by views of Chicago River, Lake Michigan and Michigan Avenue. Resembling a Great Lake's beach house, Cindy's Rooftop Bar is the perfect brunch spot with views overlooking Millennium Park, the Art Institute and Lake Michigan.  J. Parker is another popular Chicago rooftop. Located on top of the Hotel Lincoln, J. Parker offers a large quantity of seating both inside and outside.
If you're in need of some pampering, Chicago is home to world-class spas and wellness centers. The Peninsula Spa was rated the "#1 Hotel Spa in the U.S." by Condé Nast Traveler and another option is The Ritz Carlton which offers some of the finest treatments in the city.
Chicago is home to some of the best hotels in the world. Whether you're looking for family friendly, five-star or on a budget, staying in one of the city's hotels will add to your Chicago experience.
Favorite Chicago Hotels:
Wherever you're looking to stay, Chicago offers only the best for your experience.  Check out EnjoyIllinois.com for a full list of Chicago hotels.