For some of us, "expensive" is the last word we search when looking for accommodation while traveling. For others, money is no object when it comes time for a rich travel itinerary. With luxury hotels that have perks, privacy, pampering, protection, and pools, why would you go outside to see the city? Let's take a peek at the what the world's 1% is willing to spend on.
*Note: Prices are subjected to change based on economy and seasons.
Grand Penthouse, The Mark Hotel in New York City
Price: $86,000 per night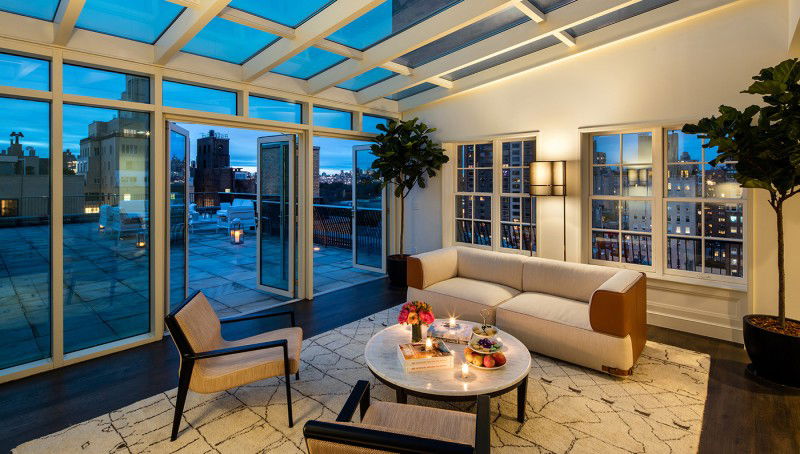 Photo courtesy of Robb Report
The Penthouse is a 5 bedroom, duplex with a grand living room, custom made furniture, grand piano, 2,500-square-foot rooftop terrace accessible through private elevator service, and chef Jean-Georges' exclusive room service menu. There's even in-suite hair styling by Frédéric Fekkai Salon and round-the-clock suit tailoring from Bergdorf Goodman for penthouse guests.
The Royal Penthouse Suite at the Hotel President Wilson in Geneva, Switzerland
Price: $68,000 per night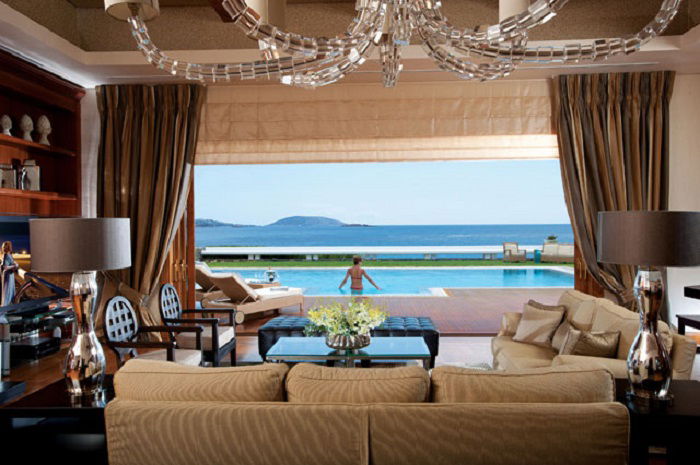 Photo courtesy of Luxury Safes
This is one of the luxury hotels that has been hosted by dignitaries and power players who value privacy, with big-name guests reportedly including Bill Clinton, Michael Jackson, Richard Branson, Bill Gates, and Rihanna. Spanning the eighth floor, the overly furnished 18,00-square-foot suite offers 12 bedrooms in 1,800 square meters all accompanied by their own washroom. A panoramic view of Lake Geneva and the Swiss Alps are topped with a handpicked art collection, a Bang 7 Olufsen BeoVision 4 103 inch plasma TV, a Steinway grand piano, armored doors, bulletproof glass, panic room, and a helipad.
Delana Hilltop Estate, Laucala Island in Fiji
Price: $55,000 per night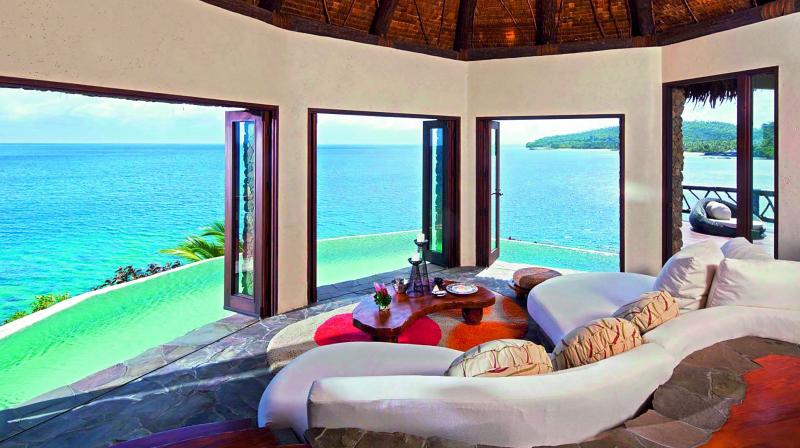 Photo courtesy of Deccan Chronicle
In order to stay at this exclusive $55,000 per night villa, guests must first fill out an application and then wait to be invited by the property's owner, Red Bull billionaire Dietrick Mateschitz. The Hilltop estate is just one of many villas located on the island. The resort is made up of 25-luxurious villas and island activities include horseback riding on the beach, a welcome massage at the spa, and gourmet dining. Delana Hilltop Estate is a tropical hideaway atop Laucala's Nawi Mountain overlooking white sand beaches, coconut groves, and rainforest jungles with elite services such as a private cook, a panoramic swimming pool, a chauffeur and a private nanny.
The Royal Villa, Grand Resort Lagonissi in Athens
Price: $50,000-a-night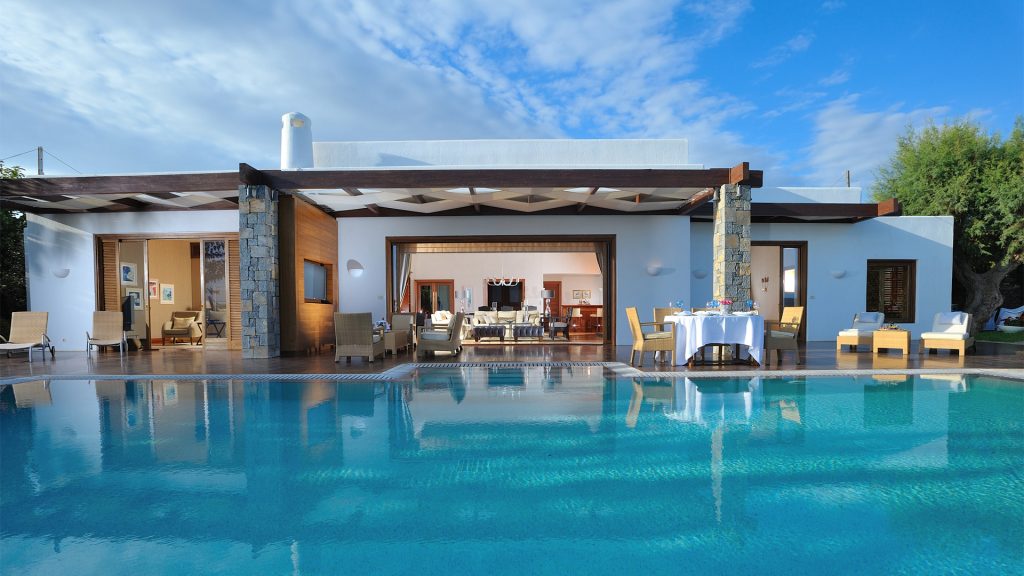 Photo courtesy of Luxury Traveler
If you have a hard time relaxing in this Mediterranean villa you're probably doing something wrong. On the edge of the Aegean Sea at Cape Sounio (aka the "Athenian Riviera"), this luxurious suite pampers with 3 bedrooms, 2 pools (indoor and outdoor), garden, private beach, massage area, gym as well as chef, butler, VIP transport (helicopter, limousine), personal trainer and even a pianist to cater to your every whim. If that's not enough, you can take advantage of the massage table while sunbathing on your private deck.
Ty Warner Penthouse, Four Seasons Hotel in New York City
Price: $50,000 per night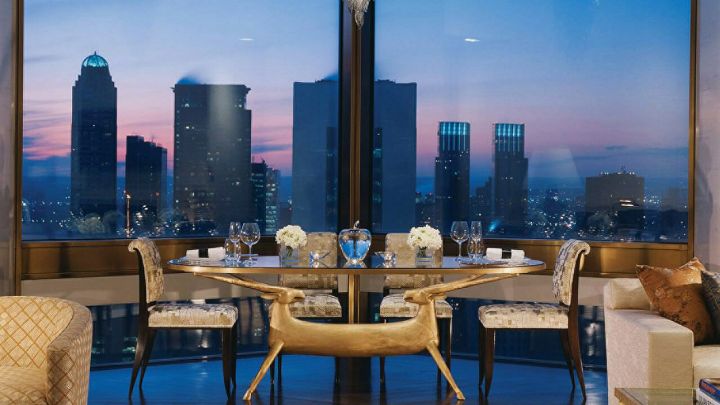 Photo courtesy of Four Seasons Hotel
Soaring 200m above the city with panoramic windows and cantilevered glass balconies, this suite took seven years and $50 million to build. Legendary architects IM Pei and Peter Marino decked each inch of it beautifully. Referred to as "a castle in the clouds", you can spend your evenings soaking in your jacuzzi located on the private terrace overlooking the Bay of Cannes. Penthouse dwellers can enjoy exclusive chauffeured Rolls-Royce Phantom service, a personal trainer, and full spa treatments. Did I mention an unlimited caviar and champagne service?
Shahi Mahal Presidential Suite, Raj Palace Hotel in Jaipur, India
Price: $45,000 per night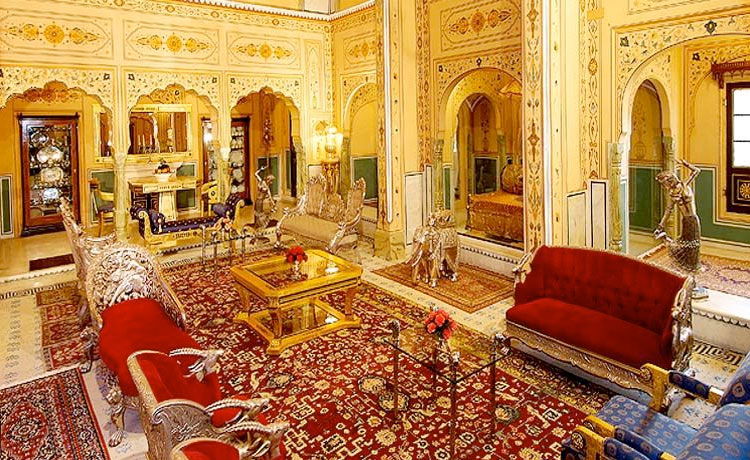 Photo courtesy of 365 Travel Plan
This majestic hotel is a restored ancient royal castle once occupied by a Maharaja. The Presidential suite glimmers in gold leaf, stucco, ivory, silver, ornate mirrors, and Italian marble floors. The 16,000-square-foot suite has six bedrooms, dining room, theater, library, and kitchen staff over four floors. It's a particularly good fit if you're a royalty, or need a nice place to get together with some friends for an old-fashioned partition of a third-world country.
Penthouse Suite, Grand Hyatt Cannes (Hôtel Martinez) in Cannes, France
Price: $41,000 per night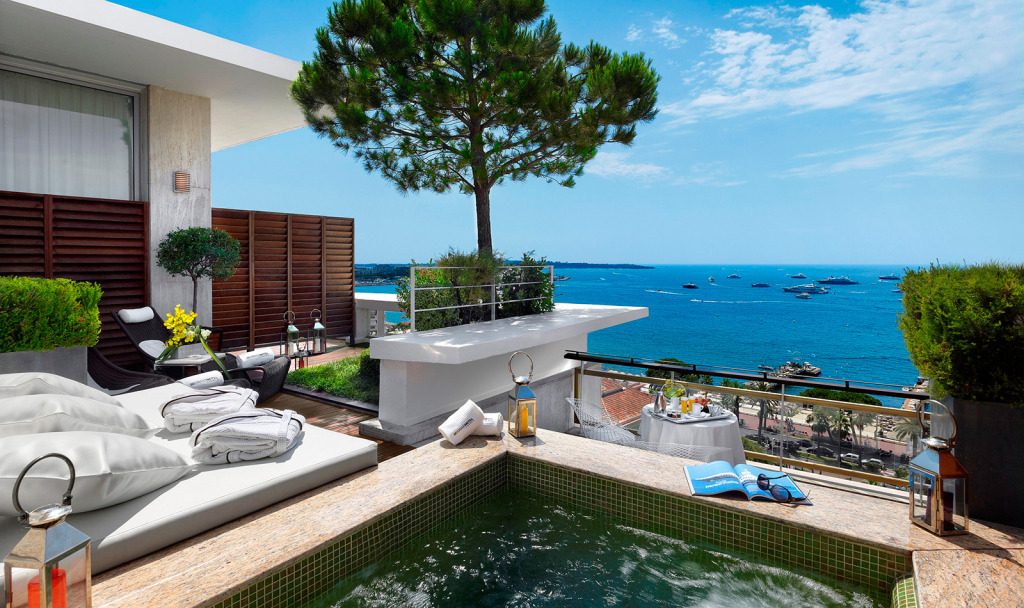 Photo courtesy of Carmen's Luxury Travels
This 17,976-square-foot penthouse has witnessed its share of Hollywood hijinks during the Cannes Film Festival. The Art Deco hotel's 3,122-square-foot terrace offers spectacular views of the Boulevard de la Croisette, the bay, and the hotel's private beach from your very own jacuzzi, of course. The $41,000-a-night suite has 4 master bedrooms, 2 living rooms, and 2 dining rooms making it a must on our luxury hotels list.
The Sky Villa at the Palms Resort in Las Vegas
Price: $40,000 per night

Photo courtesy of Palms
Nowhere else can you find a cantilevered, glass swimming pool, except here. At $40,000 a night, the Sky Villa offers a private glass elevator, a glass spa jutting out over the balcony with views of the strip, a dry sauna, and 24-hour butler service. There are actually a few Sky Villas, but the most luxurious one is called the Hugh Hefner Sky Villa. Basketball fan? No problem. The hotel has a full court, too.
The Royal Suite at St. Regis Saadiyat Island, in the United Arab Emirates
Price: $35,000 per night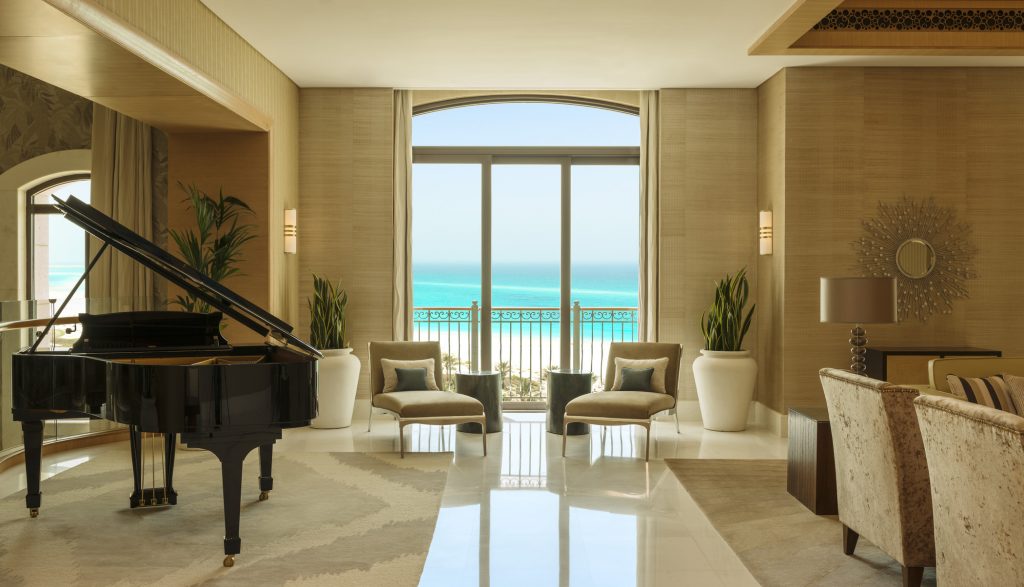 Photo courtesy of Star Wood Media Centre
A regal retreat in the center of the renowned Beach District of Saadiyat, the 22,604-square-foot Royal Suite sits just steps from the island's iconic landmarks and cerulean sea. Stretching over the top two floors of the resort, the expansive suite reflects its majestic location with earth tones and marine-infused décor featuring oceanic elements, including white sand, seashells, and ancient sea-worn stones. A private cinema, a personal chef, a fitness and spa room with a sauna further enhance the legendary experience.