There seems to be no place we won't try sleeping at least once.
From cabins balanced high on forest branches, to feather beds under the sea, people are constantly leaving the comfort of their own bedrooms for stranger and wilder accommodations.
Before heading out on your next vacation, take a look at these 10 unusual hotels. You might be surprised to find yourself sleeping great in the oddest places.
10 Unusual Hotels You'd Love To Sleep In
1. Conrad Maldives, Maldives
High end villas rest on the surface of the crystal clear Indian Ocean at the Conrad Maldives.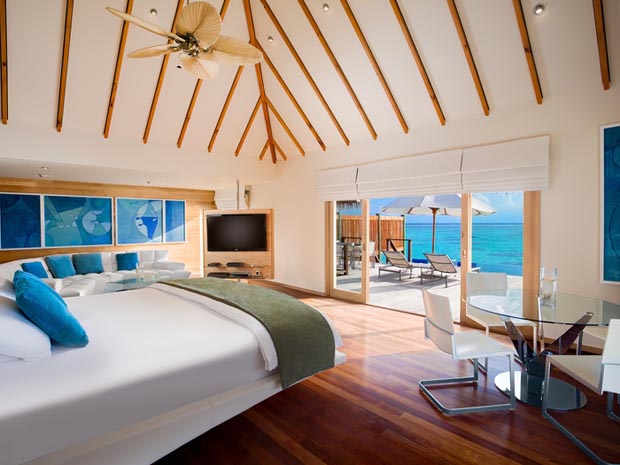 Take a seaplane to this exclusive aquatic paradise, and walk to your floating chamber along a bamboo footpath. You can choose rooms with surrounding gardens or open views of the ocean. If that's not close enough to the water, go for the underwater suite, where you'll sleep safely inside an underwater glass room while a colorful aquatic world swims around you.
Never mind waking up to the birds; at this cool blue outpost, you'll rise to the sound of passing marine life.
2. Ice Hotel, Sweden
This hotel gives a new meaning to the term 'seasonal.'
That's because every summer, Sweden's Ice Hotel melts into a puddle, where it has to wait until next winter before it can host anymore guests.
Your bed at the Ice Hotel will be made from several blocks of solid ice (what else?), topped with insulated padding and fur blankets, to make you feel like the Ice King or Queen. Put on your complimentary fur hat and robes and head down to the Ice Bar, where you don't have to ask if the drinks are cold.
They even have an ice church, where dedicated guests can participate in a bit of chilly worship.
3. La Cabane en l'Air France, France
Staying at La Cabane en l'Air might inspire some George of the Jungle type behavior, but before you try hunting for your dinner you should consider room service.
A network of tree forts makes up this deep woods hotel on the coast of France, but La Cabane en l'Air isn't as primal as it sounds. They offer modern rooms, spacious balconies, and sky high hot tubs overlooking the woods.
Feel free to practice your nature calls, but remember the guests at the next cabin might want to call back.
4. Aescher Cliff, Switzerland
It doesn't get much more isolated than the side of a cliff.
You'll need to take a cable car to get to Aescher Cliff hotel, built on the side of a mountain in the Swiss Alps. They offer fully furnished rooms, an outdoor restaurant on their giant terrace, and needless to say, breathtaking views of the mountains.
If you're looking for some time away from everything, this might be your spot. The only downside is there's no valet parking.
5. Giraffe Manor, Nairobi
This hotel often gets larger than life visitors, and we're not talking actors and politicians.
At Giraffe Manor in Nairobi, giraffe's have full roam of the property. They like to drop by around dinner time and stick their friendly faces in through an open window. Don't worry; they won't eat your cheesecake, but you're welcome to hand feed them some giraffe food provided by the manor.
Along with these friendly neighbors, Giraffe Manor offers European cuisine and comfortably furnished rooms, plus the delightful courtyards surrounding one of Nairobi's most classical buildings.
6. Book and Bed, Tokyo
Whether you love a good book or reading puts you straight to sleep, this hotel will be a perfect place to crash next time you're in Japan.
The Book and Bed hotel in Tokyo is an ideal hideaway for dedicated bookworms, bringing you even closer to your reading material by putting your bed inside the bookshelf.
Sliding compartments lead the way to your humble bunk, with just enough room for you, some slippers, and a stack of books to plow through. Reach out and grab one of their 1,000's of English and Japanese titles without even taking off your pajamas.
7. Null Stern Hotel, Switzerland
This hotel in Switzerland is taking minimal to a 'higher' level.
Up in the Graubünden Mountains, this unassuming hotel offers a 360-degree view of the mountain scape, as well as a full view of the cosmos. That's because the Null Stern Hotel in Graubünden has neither walls nor a roof.
Yes, you read that right. The Null Stern Hotel is literally one luxury bed, a couple of lamps, and the Swiss Alps. Oh, and a personal butler, who will bring you all of your meals, plus some champagne. It's a bit of a mystery where the butler stays, but somehow he's always there when you need him.
8. Atlantis The Palm, Dubai
If Poseidon were to visit Dubai, there's a good chance he'd stay at Atlantis The Palm.
Even the restaurant is underwater at this lavish resort, where you can watch through the window as fish swim by, raising eyes at the fresh sashimi on your plate.
They've even got a room named after him – The Poseidon Suite – where wallpaper and paintings have been traded for glass walls, plus a first row seat to the underwater world of the Persian Gulf.
Let marine life keep you company while you snooze on your feather bed. All you'll need is around $10,000 USD per night, which is pocket change for the King of the Ocean.
9. Liberty Hotel, Boston
Things haven't always been so free at the Liberty Hotel in Boston. Not long ago, the fine wooden doors of this gorgeous Beacon Hill hotel were made of steel bars.
That's because it used to be the Charles Street Jail, once a temporary home to inmates like Malcom X and a shamed Boston mayor. After a dramatic re-modeling in 2007, it became one of Boston's most chic places to spend a night.
Now you can be an inmate too, although they call them guests these days, and you can leave when you want, as long as you pay your tab. Have a drink at Alibi, the bar that once served as the prison's drunk tank. Looking for some time alone? Hang your Do Not Disturb sign on the door – just don't be surprised if it says Solitary instead.
10. Aydinli Cave House Hotel, Turkey
The rooms for this hotel were formed more than 700 years ago, but staff didn't make their first wake up call until 2008, when the Aydinli Cave House first opened its doors to adventurous guests.
Rooms in this rocky establishment are decorated in natural, earthy tones, and given names that show off their past. Stay in the Ambar Suite, Turkish for its old job as the dried fruit storage room, or try the Seyerlik or, 'view room,' where you'll have your own stone balcony.
Of course it wouldn't be complete without a Turkish bath, where guests can enter the hot waters of this cave hotel for a truly natural bathing experience.