There are a ton of reasons to vacation in Puerto Vallarta, Mexico. Sunny days, beautiful beaches, lots of attractions, friendly people and a mix of colonial and modern architecture that will knock you back. But one of the best things about this little paradise is the food! You can get a taste of the fabulous local cuisine with these three great tips.
3 Great Ways to get a Taste of Puerto Vallarta
You'll want to make some room for lots of food, the servings are big, and there is just so much to try! Always double check if your dish is spicy or not, Mexican food can be spicy. Getting around the city by taxi or bus is a breeze, and lots of people speak English. Get ready for a feast!
Try it all in one place!
You can't go wrong with a day at the Food Park Puerto Vallarta. The food court has tons of options. It's near the downtown area, in front of the Sunscape Resort. The Food Park is the type of place where everyone can get what they like, offering dozens of different options. You and your group can split up, try a little bit of everything, and everyone will come away happy and full!
The choices at the Food Park range from the very local to the international. You can get sushi, burgers and fries, pizza or whatever your taste buds desire. There are options for every type of diet too: dishes with meat, seafood or veggies of all kinds. The seafood in Puerto Vallarta, of course, is incredible!
You should top your feast at the Food Park off with tejuino or tuba, exotic local drinks based on corn or coconut.
Pick and choose with one of the many food tours!
You can range out to enjoy the atmosphere and cuisine of Puerto Vallarta by taking a tour of its fabulous restaurants and favorite eateries. Let the locals show you where to get the best tacos, the coldest beers, and the spiciest guacamole. Life will never be the same after. Vallarta Food Tours offer a tequila, taco, and Mexican cocktail tour, affectionately called "Mexology," that will blow your sandals clean off!
You'll start with fish tacos and Pineapple Mezcalini at Joe Jack's Fish Shack, one of the most popular places in town. From there you'll need to hang on tight and loosen your belt. The next stop is Los Muertos Brewery, where beer and ice-cold Micheladas are in order. Puerto Vallarta's independent brewers make tons of delicious brews.
If these don't take you to a warm, lemon-zesty heaven, you'll be transported by the Jalapeno Margaritas and jello shots at Bar La Playa. The music, atmosphere, and beach will be a highlight of any trip.
By this point, the ravenous hunger for tacos will be back, and at Cunados you'll eat some of the most amazing tacos asados on the face of the planet. A short walk away, at Maia, you'll follow that up with Tacos dorados and Raicilla Jarrioto, another of Mexico's fantastic cocktails.
It all comes to a glorious end at La Palapa, with Mexican Coffee with Lime and Pumpkin Pie. You'll be in culinary ecstasy from Joe Jack's to La Palapa, leaving there ready to sleep it off on a warm, sunny beach.
Take a cooking class!
Leaving, of course, is the only sad part of an incredible trip to a place like Puerto Vallarta. But you don't have to face the prospect of coming home to frozen dinners and fast food: you can bring the incredible cuisine home with a few lessons at Barcelona Tapas!
His lessons will show you how to make those delicious tacos, either asados, al pescado or dorados, as well as the spectacular seafood dishes and his specialty, Barcelona-style tapas. He might even show you how to make a real paella. You'll astonish your friends at home and have a lasting memory of the sea-side paradise.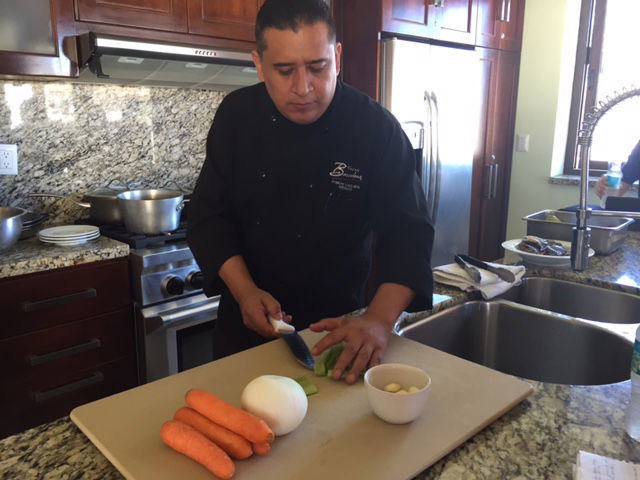 Make sure to try as much as you can, eating in Puerto Vallarta is a unique experience. You'll have to make lots of room, maybe even skip breakfast, because servings are not small. If you have a taste for the spicy, you'll feel right at home. If you prefer something more savory and less hot, there are lots to try too, like Puerto Vallarta's famous ceviche, a lemon and tomato-based shrimp cocktail. Whatever the course, you'll have the time of your life eating in Puerto Vallarta!
Latest posts by Helen Hatzis
(see all)