One of the best things about a road trip is the quirky roadside attractions you'll see along the way. And if you are driving through Pennsylvania, you will see examples of novelty architecture and sculptures. Keep this list handy if you are heading to Pennsylvania!
Quirky roadside attractions
The Haines Shoe House in York
Location: Along Route 30 east of York
Step into the Haines Shoe House to see what this famous roadside attraction has to offer. They are a seasonal business. Be sure to view their hours prior to visiting. Take a guided tour of all 5 levels of the Haines Shoe House and learn what it's really all a-boot!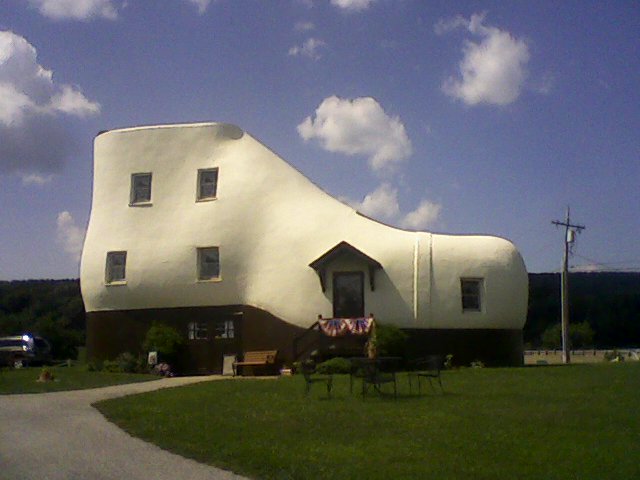 Flying Saucer in Mars
Location: 100 Pittsburgh St., Mars, PA 16046
The aliens have landed! This replica of a spaceship is the town's nod to its unusual name – Mars. It is located a block away from the historical society/train museum.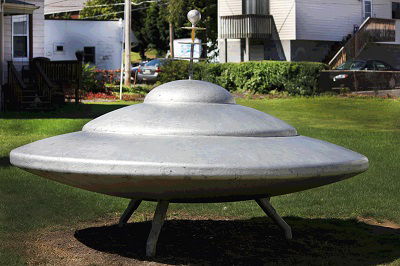 Koontz Coffee Pot in Bedford
Location: Along the historic Lincoln Highway just west of Bedford, PA
In Bedford, David Berton Koontz built the Coffee Pot next to his service station in 1927 to attract customers. It was made of bricks and covered in sheet metal and was 18 feet tall and 22 feet wide. The Pot changed hands at various points, becoming a diner, bus station, and a bar. In the 80s, the Pot closed and languished in disrepair. However, in 2003, the Lincoln Highway Heritage Corridor bought the pot and, with the help of a state grant, moved it from its old location to the Bedford County Fairgrounds and restored it. It now acts as a museum for the Bedford Fair. [1]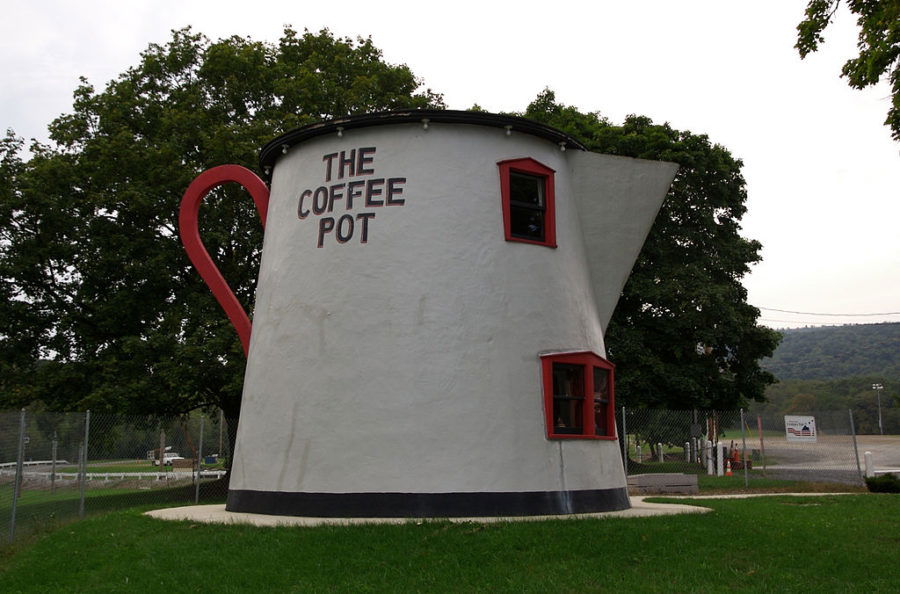 Giant Cowboy in Kittanning
Location: Along Route 422 just east of Kittanning
Meet Sam. Standing over 30 feet high and wielding a hefty hamburger outside the Cadet Restaurant, this finely-crafted man made out of fibreglass has become a well-known landmark over the years. Getting his name from an officer that used to patrol the parking lot to keep an eye out for trouble, Sam has always been popular with the customers.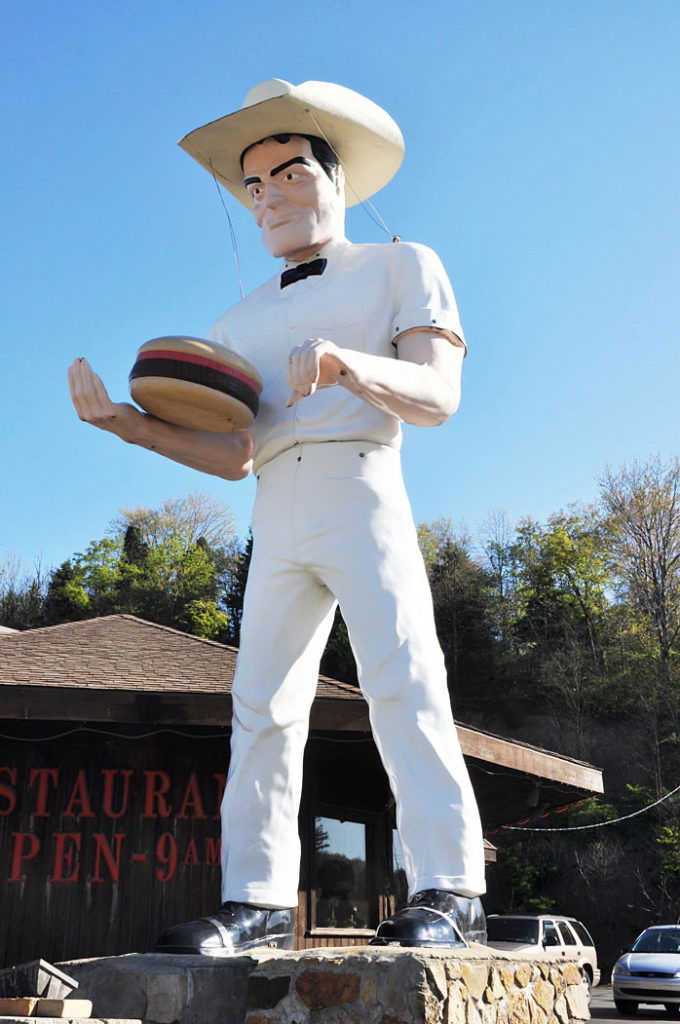 The Statue of Liberty near Harrisburg
Location: In the middle of the Susquehanna River, just north of Harrisburg, along route 322/22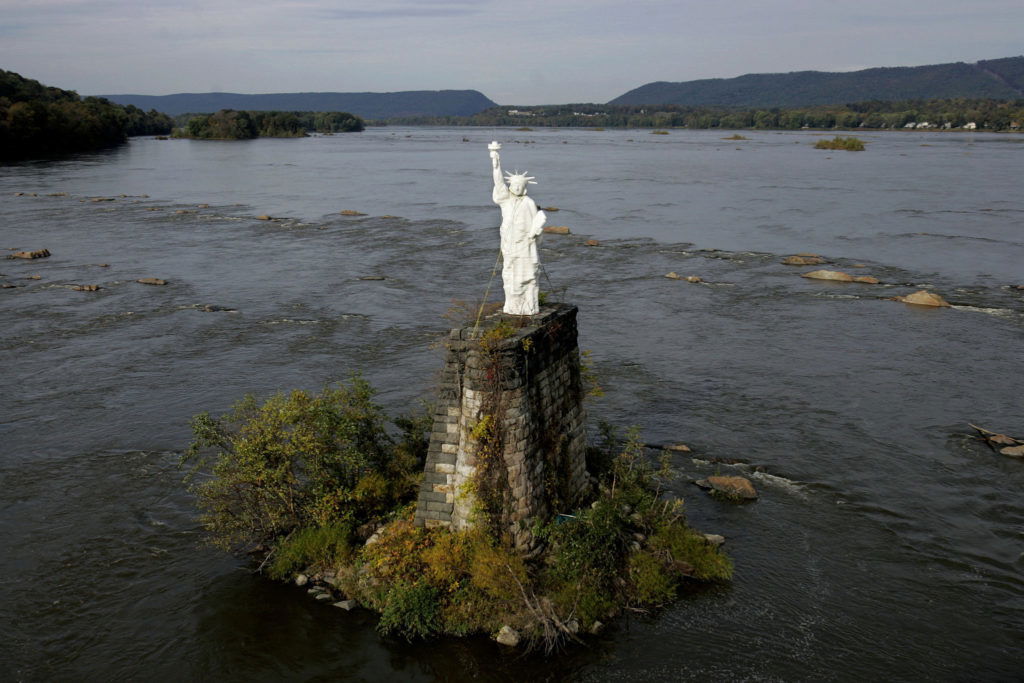 Actually, it is a replica of a replica. The current statue is the second little Lady Liberty. The first was 18 foot tall and made of plywood and Venetian blinds. It was erected in 1986 as a patriotic prank to commemorate the centennial of the original Statue of Liberty. No one knew who made it or how it got there, and no one would come forward to take the credit/blame. It wasn't until years later in 2011 that local lawyer, Gene Stilp finally owned up to not only orchestrating the making of the statue. [1]
If you want to explore more quirky stories, click here.
Travel responsibly taking only memories and leaving a near to zero carbon footprint. We are all visitors on this beautiful planet of ours. Let's treat it and all inhabitants with love and respect!
Latest posts by Helen Hatzis
(see all)