To fully appreciate and immerse oneself in a culture while traveling, all five senses must be satisfied. We travel to see, to feel, smell, hear, and finally, taste. Food is one of the main aspects to experiencing a place and their customs firsthand.
Istanbul offers a wide selection of food, from high-end cuisine to traditional foods in cafes and street vendors. Explore the city of Istanbul through its wide variety of tastes by visiting these 5 street food places while exploring the city's exuberant streets.
Cafés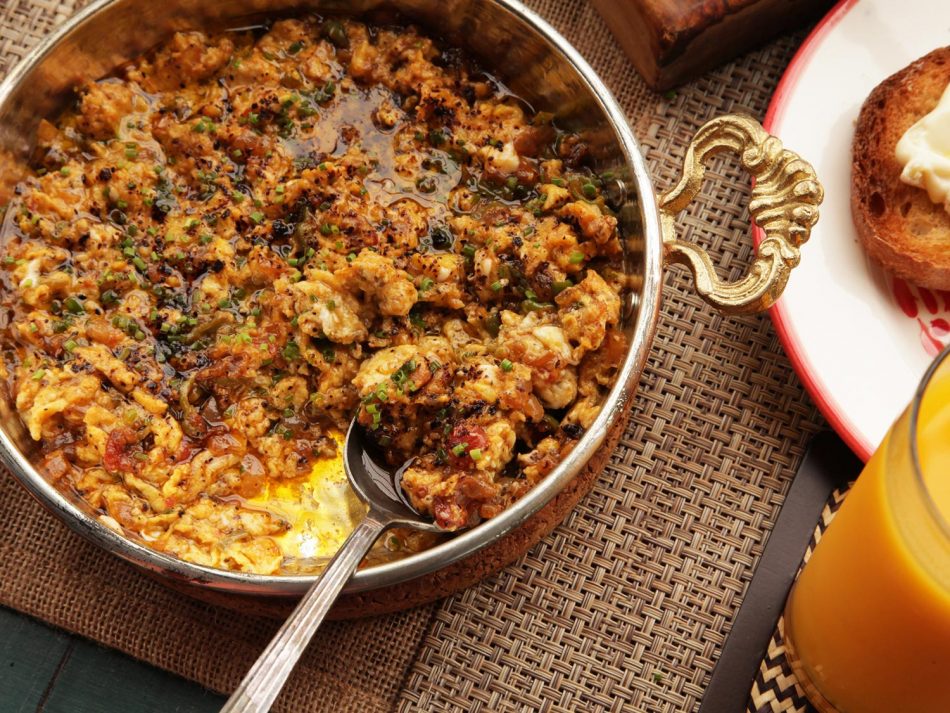 For breakfast, stop by at a local cafe for a hearty traditional meal of Menemen; a Turkish style omelet mixed with onions, pepper, tomatoes and rich spices. Served with Istanbul's famous freshly baked bread, this traditional dish is a standard breakfast order for Turks. If near the Fatih district of Istanbul, stop by The Vintage, Cafe Fener. Sip on freshly brewed coffee or Turkish tea with sugar cubes as you sit in the cafe's traditionally furnished setting, complete with a clay oven, brick walls, and floral-print love seats. Or take a seat outside the cafe, enjoying the view of Old Istanbul's colorful architecture sitting on sloping streets.
Bosphorus Strait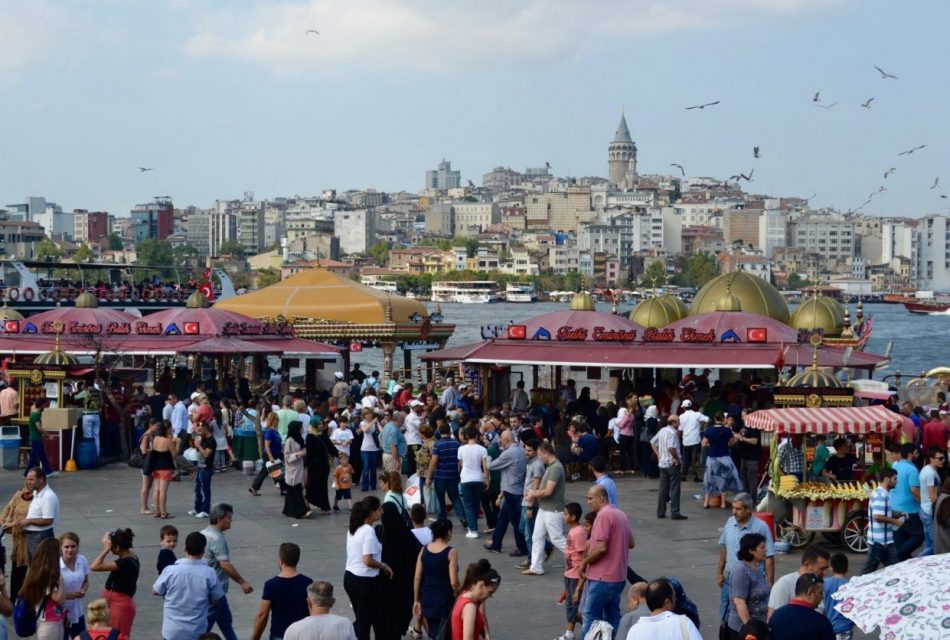 The cry of gulls and gust of salty sea air leaves you craving for a taste of what the sea has to offer. A walk along the Bosphorus Strait offers the scenes and vibes of a bustling port. Tourists and locals crowd the streets, enjoying the atmosphere or watching boats glide across the water. Spot fisherman standing on the Bosphorus Bridge with long fishing rods. Once their baskets overflow with fish, their catch sells right there and then. Street vendors known as fish sandwich boats expertly clean, cook and wrap balik ekmek (fish and bread) or grilled seafood. Other's sell fresh clams and oysters next to stalls of barbecued corn on the cob.
Street Vendors
You can always rely on street vendors to appear when you're feeling peckish. Whether outside the Blue Mosque or Hagia Sophia or while roaming the streets of the city, there are street vendors selling first-rate traditional refreshments for low prices.
Simit, a circular bread typically topped with sesame seeds is a popular traditional food since the 1500's. Purchase the soft treat from street merchants who keep the bread warm in trollies. Trollies usually park near tourist-heavy sites such as the Blue Mosque or Topkapi Palace. Roasted walnuts is another Turkish specialty, providing healthy snacks to munch on while exploring. And in the summer months, cool off with a cup of freshly squeezed orange or pomegranate juice from local vendors.
Note: Food from street vendors are perfectly safe, as most of their products are locally produced, or come from neighboring countries.
Bakeries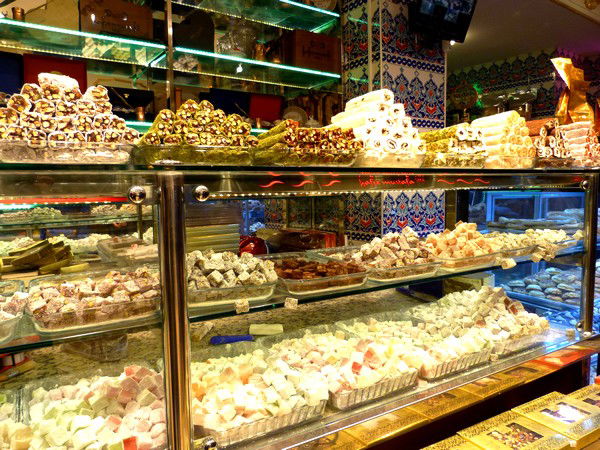 Satisfy your sweet tooth by visiting one of many local bakeries. The Hafiz Mustafa provides a sample of the various delectables offered in Istanbul. From a variety of savory Baklava and Konafa to fruity sherbets and puddings, the options are endless. And of course, a visit to Istanbul is not complete without the noteworthy taste of the powdered, gelatinous Turkish delight that melts in your mouth.
Candy and Ice Cream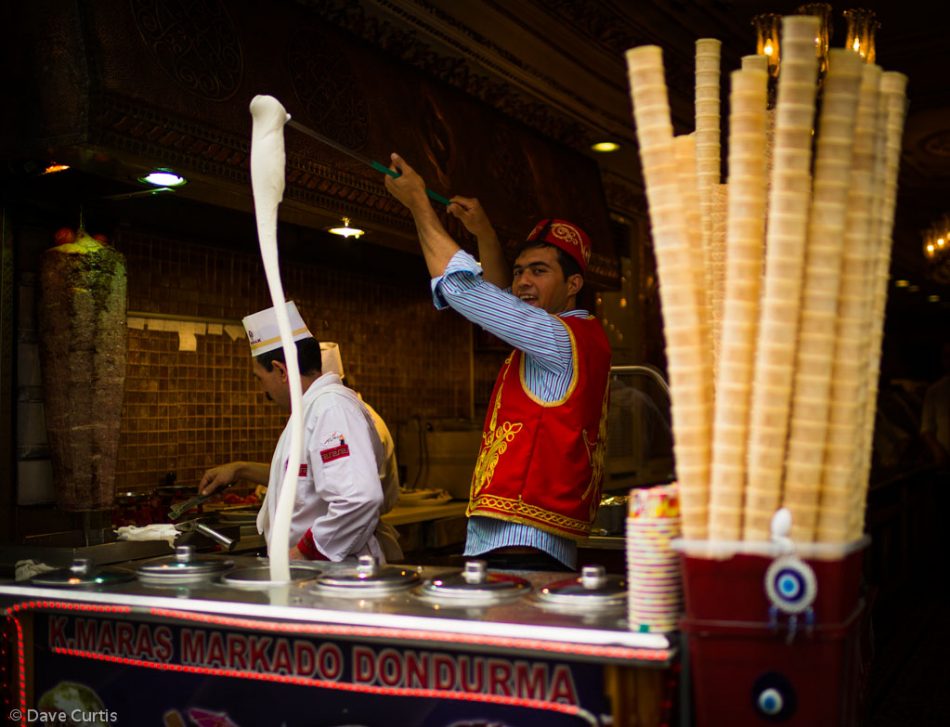 If you've had your fill of Turkish Delight, make sure to stop and watch ice cream vendors hand out cones of Dondurma (Turkish ice cream). The texture is unique to the ice cream most people know of, having a viscous texture which makes it easier to mold and stretch. Plus, it makes it easier to serve, as the vendors use a long-handled paddle. But don't be offended if your ice cream cone is stolen out of your hand by the vendor's long scoop, as this is just a quirky act that is all part of the unique Dondurma experience!
Another stickier treat comes in the form of various hues and colors. And when swirled together, the sugary paste creates a delicacy that resembles blown glass. Macun's flavors vary from sweet to having a taste of spice such as bergamot or cinnamon. Customers pick their colors, and the vendors expertly swirl the syrupy sweet and serve it on a stick.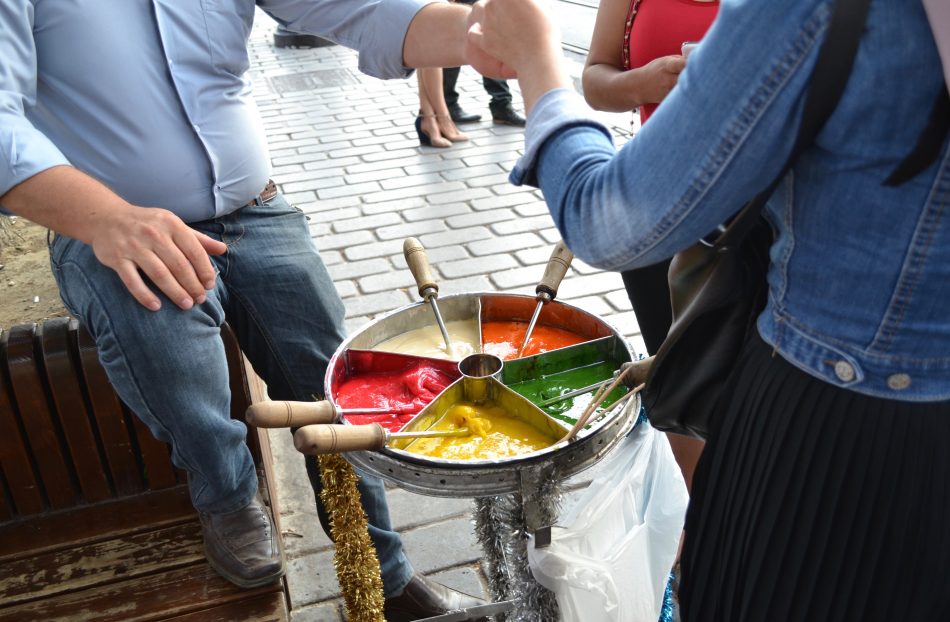 Latest posts by Helen Hatzis
(see all)