When was the last time you visited Ottawa, Canada's capital?
I visited Ottawa for the first time in over ten years and was stunned by how much the city has to offer visitors.  Canada's capital has come a long way from its sleepy government origins to a vibrant town.  You could spend a weekend just going from gallery to gallery or exploring one of the many boutiques and don't get me started about the food scene!
Ottawa is buzzing with a plethora of activities for travellers to see and do! Here are just a few of my favourites reasons why you need to visit Ottawa.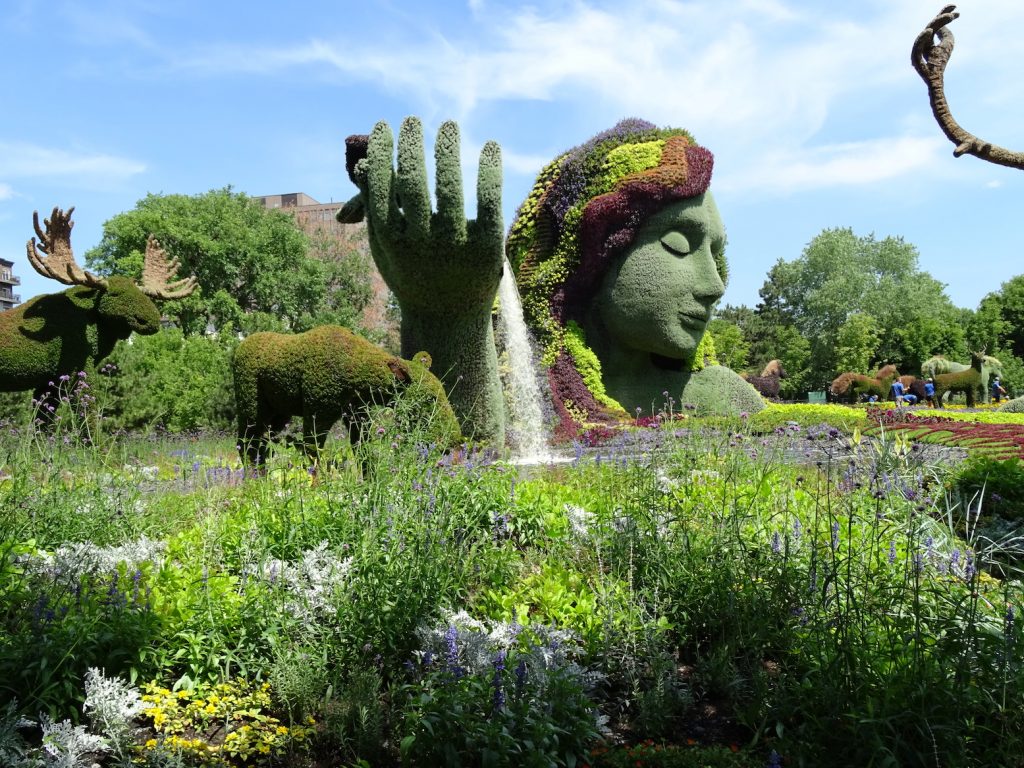 Mosaiculture 2018 in Gatineau Park
There is nowhere quite like Mosaiculture in Gatineau Park. This beautiful exhibit features over 45 majestic floral masterpieces celebrating nature, designed using more than 5.5 million plants. Walking through these exhibits, which proudly display Canadian history and culture, a marvel of engineering and horticulture. The exhibit ran from June through to October.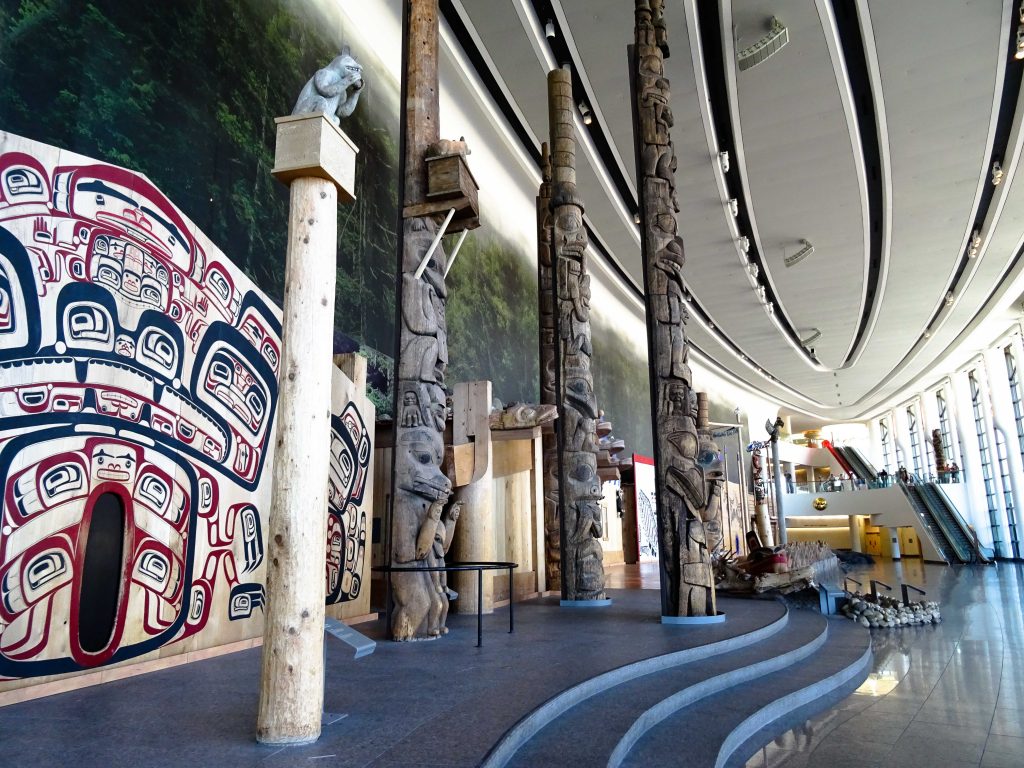 New Exhibits at the National Galleries
Ottawa is filled with museums and galleries. Check out one of the exhibits at two of my favourite galleries.
The Canadian Museum of Nature houses beautiful fossil and arctic galleries and a mammal gallery featuring life-sized animals that look as if they will leap from the exhibits. The castle-like architecture of the museum is a marvel that will inspire photographers alone, and the recreation of the boreal forest is worth walking through.
The Canadian Museum of History is an experience not to be missed.  The spectacular Grand Hall offers an introduction to the history, cultures and beliefs of the First Peoples of Canada's Pacific Coast.  The First Peoples hall showcase is stunning, with a humongous original canoe, native artefacts earliest times to the present day. Towards the back of the Grand Hall where you head to the upper-level exhibits, remember to look up a the ceiling to see the phenomenal work of Indigenous artist Morning Star by Alex Janvier.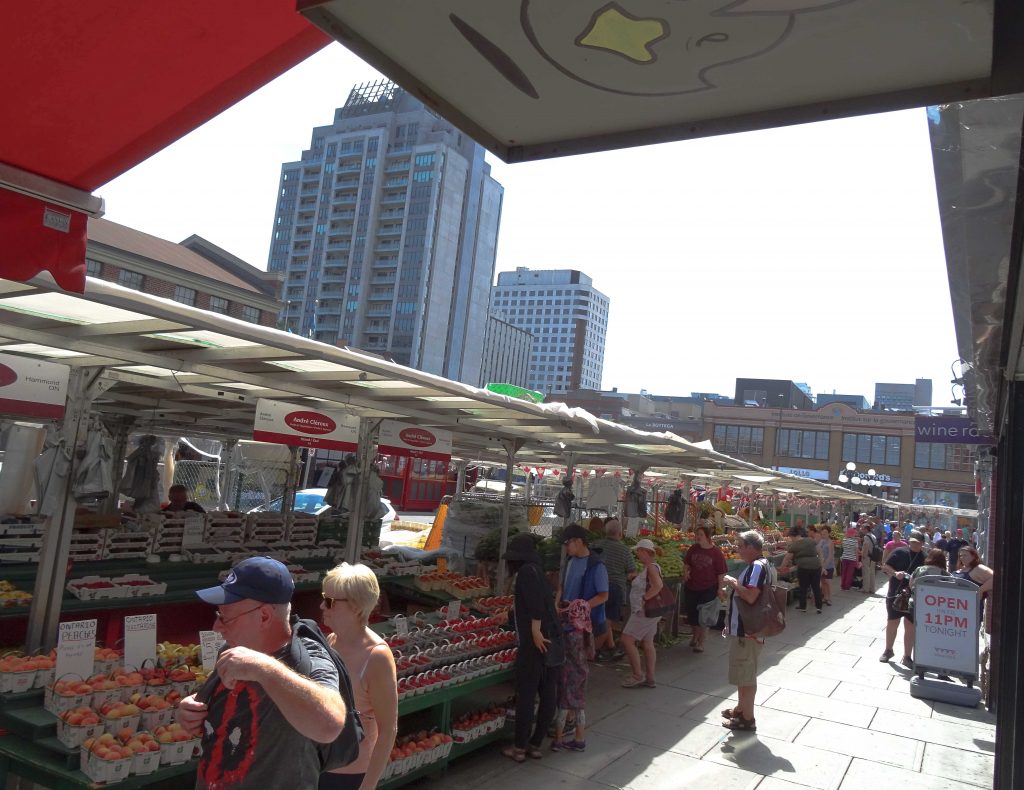 Le Germain Byward Market
Featuring all of the comforts of home, and many amenities you can only find in the finest hotels, the newest addition to Ottawa's growing Boutique Hotel scene won't disappoint. The Le Germain Byward Market stays true to the Germain brand. The hotel features spacious, soothing rooms and extra amenities like free Wifi, in-room Nespresso coffee.  Following in the footsteps of European hotels a delicious buffet breakfast is included in your stay.  Artwork adorns the hotel walls and you can take that experience further by visiting the Ottawa Art Gallery (OAG) next door
It's positioned in a prime location, close to many restaurants and activities to enjoy while you visit the capital city. I stayed there for two blissful nights.
Food and drink
Ottawa's food and cocktail scene are booming and it's become a food lover's paradise from vegan to Italian, there is something for every taste bud here. There is even a burgeoning craft beer scene springing side by side with cool new dining hotspots.  Take time to explore one of the many venues that speckle downtown.
Here are just a few of our favourite places:
Pure Kitchen
This vegan restaurant is delicious. Featuring simple dishes made from only the highest quality, fresh ingredients, diners can grab one of their appetizers like Lil Profound Pierogis or nosh on one of their hot or cold bowls.  The spicy cauliflower wings are a must-order.
Riviera 
One thing is for sure when you step through the doors of Riviera, you are in for a magical experience. Look around and spot the power brokers and well-heeled crowd dining on delectable dishes.  No doubt Riviera is one of Ottawa's top dining spots.  The dinner menu features dishes like Lobster Spaghetti, Strip Loin Steak Frites and a mouth-watering Burrata Tomato salad. If you are looking for lighter fare, try heading there for lunch or stop by for some delicious cocktails. Their impressive cocktail menu features a well-curated including my favourites like "The Last Word" or "Martinez" along with a sizeable wine list.
Play Food & Wine  
A gem located in the Byward market serving delicious small plates matched with wine (optional).  The ambience of the restaurant is mesmerizing especially the second floor where a canopy of sweeping red cloth adorns the ceiling.  The menu curated by chef Emeric Beccaris who trained in Paris features the freshest ingredients sourced from local farmers.  Try the Grilled Halumi cheese  (celeriac, date purée and pomegranate) matched with a Gamay from Leaning Post Winery.  The Italian Sausage Gnocchi with a robust red of Fiano Beneventano from  Masseria Frattasi completes the dish.
Soif Bar A Vin 
Oenophiles rejoice! This popular wine bar features an impressive wine selection meant for sharing with good friends. Local, seasonal produce and meats are used to prepare small plates for sharing. The simple plates and boards are paired perfectly with their carefully curated selection of wines ranging from robust reds to refreshing whites.  Standout dishes included share plates of Tempura Vegetable and mains of Cold Roast Lamb with crunchy vegetables.
Tavern on the Hill
Sunny days in Ottawa call for a visit to Tavern on the Hill for drinks on the patio with gorgeous views of Parliament Hill, Ottawa River and the locks.  Let's not forget it's a great spot to people watch as well.  Colourful cocktails like the refreshing Kombucha Spritz and craft beers quench your thirst and if you're feeling a bit peckish order one of their gourmet hotdogs.  The kitchen facilities are limited but these hotdogs more than cover your needs.  Try the "Backyard Dawg" – a hot dog smothered with Char sui pulled pork, summer slaw and bacon bits. They even have gluten-free and vegan options available.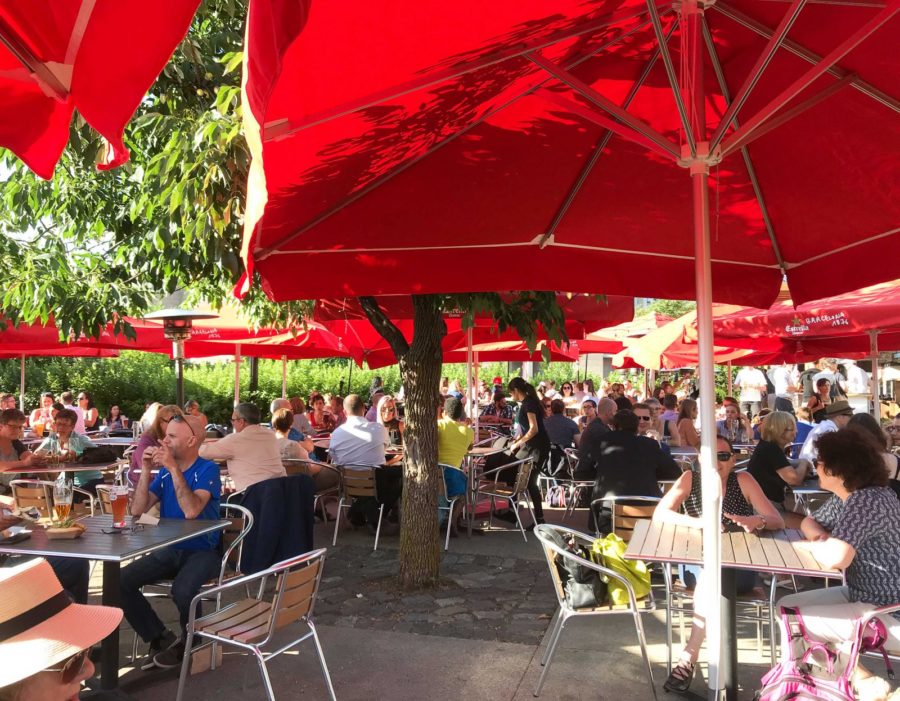 Where to find the best city views
Strolling through Ottawa is a great way to get to know this amazing city, but the best way to get the full picture of just how magnificent this city is to get a bird's eye view. One of the best places to take it all in is from the balcony of the Andaz hotel Roof Top Bar. Enjoy the spectacular views all while sipping one of their signature cocktails, of course.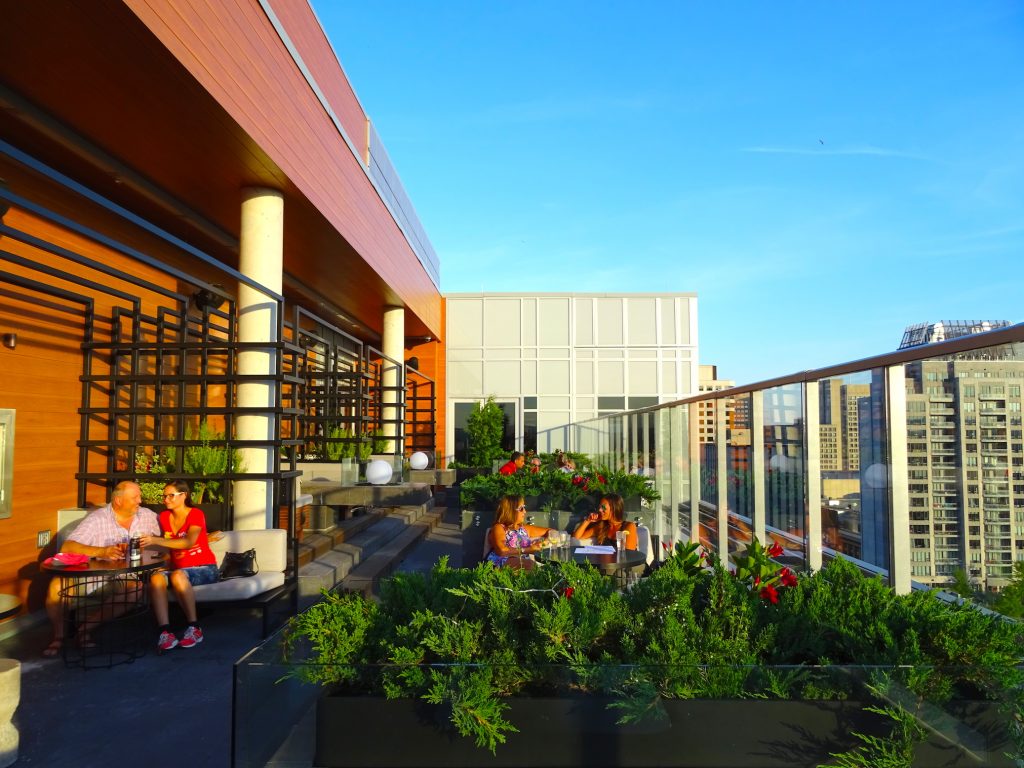 Other notable stops are the  Rideau Canal Ottawa Locks looking down from Wellington Street.  The Canadian Museum of History in Gatineau, on the banks of Ottawa River, affords jaw-dropping, picture-perfect views of the Parliament buildings, National gallery, and the Ottawa River.
ByWard Market
Get a full taste of everything that Ottawa has to offer by visiting one of Canada's oldest and largest public market. Over 50,000 visitors flock there on the weekend. The ByWard Market has cafés, speciality food shops, boutiques, galleries, restaurants, and pubs, some of which you will only find there. Take a stroll through and peruse the shops and grab a bite to eat at the restaurants within the market, or grab one of the famous beavertails sold at a colourful booth.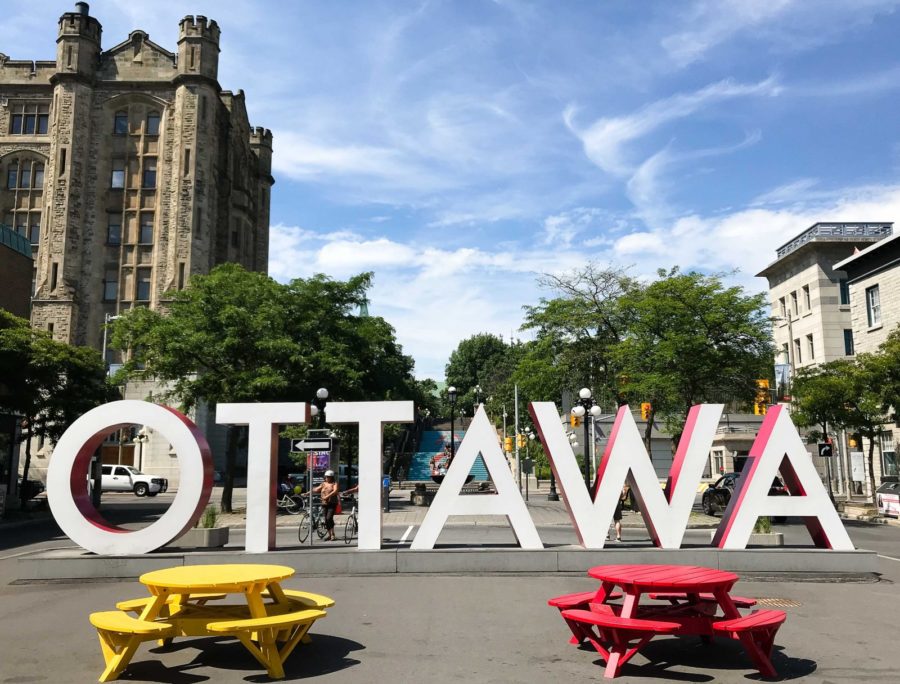 Cruise the Rideau Canal
Another great way to see the capital city is by water. Head to the canal and explore the city from the canal with one of the Rideau Canal Cruises. This chain of picturesque lakes, rivers and canals winds over 200km from the base of Lake Ontario to Ottawa. This relaxing cruise is perfect for families or take a sunset cruise for a special date night.
As you can see, there is so much to do here in Ottawa for every visitor. I hope you enjoy this beautiful city and fall in love with it all over again (or for the first time).
For more information, please visit OTTAWA TOURISM

Latest posts by Parm Parmar
(see all)