Just an hour's drive east of Melbourne, in the Yarra Ranges, you'll find a magical forest. You can venture through it by car through the scenic winding road, and hair-pin turns. The route lined with snowgum woodlands to the rainforest and everything in between will take your breath away.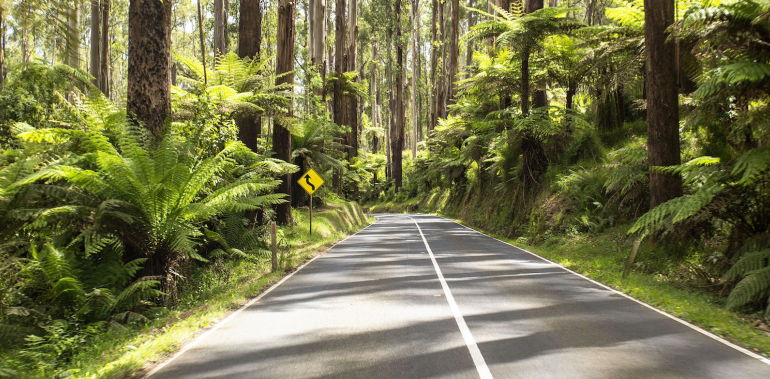 Take the scenic route
Total distance: 27.9 kilometres
Driving time: 30 minutes
Start: Healesville
Do you want to venture out to the Magical Forest near Melbourne? The Black Spur Drive cuts through the lush forest landscapes of the Yarra Ranges. It links to the Yarra Valley and the mountain areas around Marysville. Famous for its towering trees and spectacular valley views, the Black Spur connects Healesville with Narbethong on the Maroondah Highway as it winds its way up the Great Dividing Range.
Lower the windows and savour the fragrance of the Australian bush as you pass through the forest. Gaze up at the immense mountain ash trees, which scatter the sunlight on the cool understorey of green ferns below. At the base of the Black Spur, you will find Fernshaw picnic area with rest facilities. [1]
As with any drive in nature, proceed with caution and stop only at the designated points to pause. Travel responsibly and acknowledge the Wurundjeri people, the original custodians of this land and their rich cultural heritage and spiritual connection to the land. Recognize and respect the unique diversity of the Indigenous community in the Yarra Valley and Dandenong Ranges, which is part of the world's oldest living culture.
Safe travels!
Latest posts by Helen Hatzis
(see all)