Erected in September 2016, the 50-foot stainless steel Dignity statue depicts a Native American woman in Plains-style clothing holding a star quilt behind along her back. It was designed by Dale Lamphere. The statue looks over the Missouri River in Chamberlain, South Dakota, and represents the courage and wisdom of the Lakota and Dakota people who hail from the area.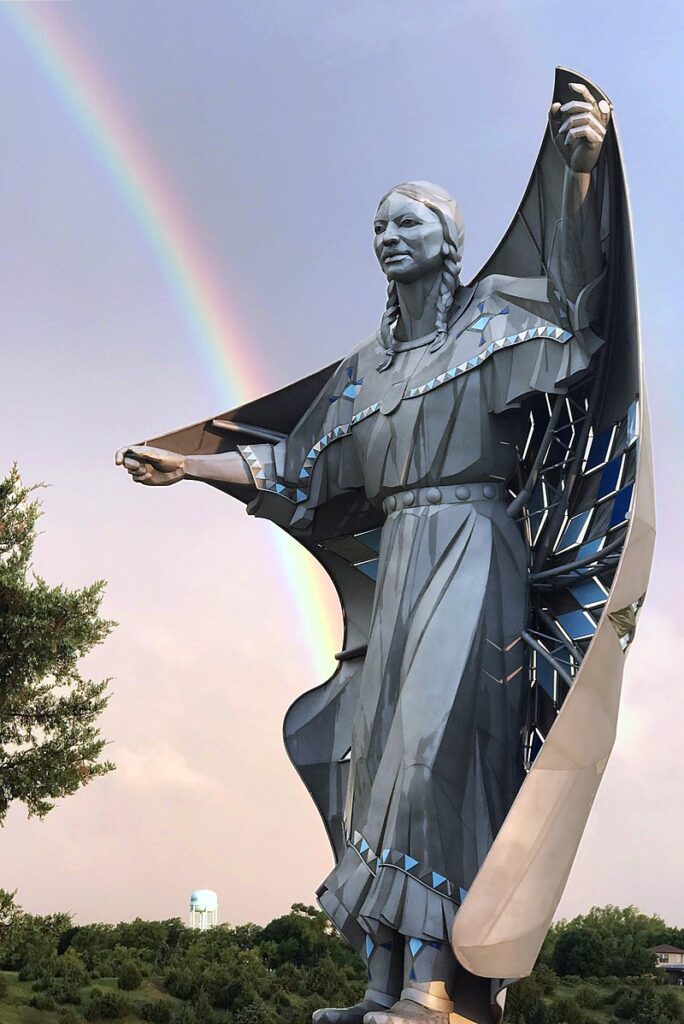 "A star quilt has traditionally been used to honor people," Lamphere explained to Keloland in 2014. "And this is an honoring of our Native community here in South Dakota. It is meant very much to be that." [1]
The quilt contains 4-foot-tall glass diamonds in both dark and light blue hues – 128 in total. They articulate when a breeze passes through them. "In the shadows or at night, that dark blue looks really dark blue. And when the sun hits it, it will lighten up," Brook Loobey, who painted the glass diamonds told the Rapid City Journal in 2016.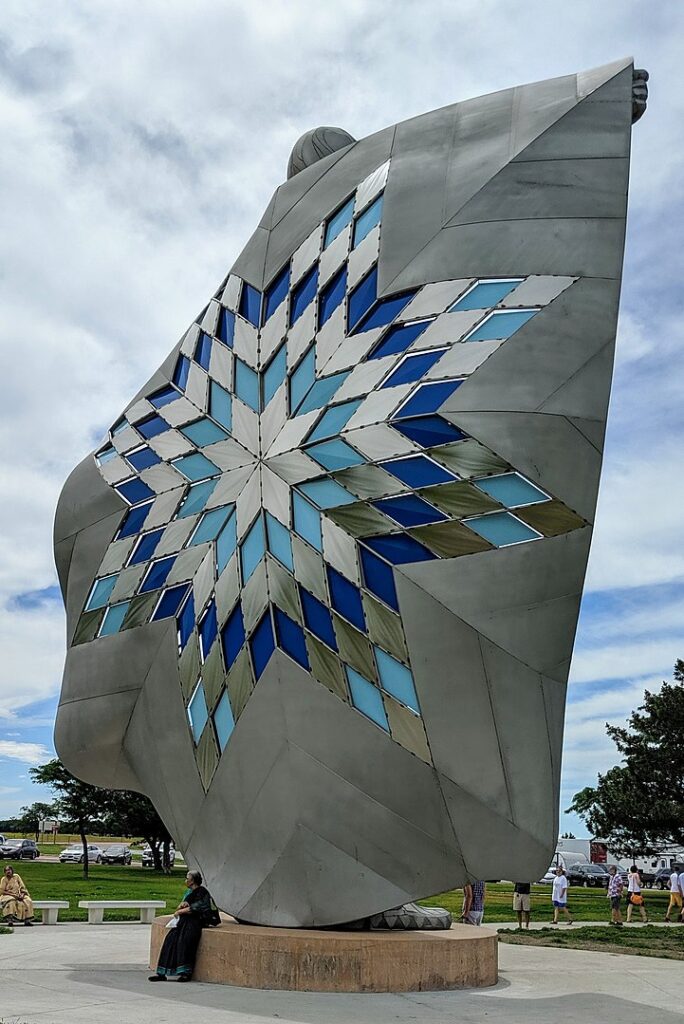 Eventually, Lamphere will include the names of every federally recognized tribe around the base of the statue.
Dignity Statue in South Dakota Honors Native American Heritage
"It's just amazing. It's beautiful. It's a great honor for our people. I'm happy that someone would think to do this in honor of us," Doree Jensen, a native of the Pine Ridge Indian Reservation, told the Rapid City Journal when the statue was unveiled.
When interviewed nearly a year after the dedication, Lamphere said "It's been well-received by the Native community, and by visitors from all over the country. My hope over time is it really gets people to think about the beauty of the native cultures." In a column published in the Sioux Falls Argus Leader, Susan Claussen Bunger, instructor of Native American social systems, wrote:
"As is evident throughout history, humans will ultimately disillusion and betray. As is such, I have a new role model who is solid and sturdy. She literally owns a spine of steel and reminds me of the injustice in the world, but also of strength, perseverance and survival. She signifies people who have prevailed through the centuries. She represents all who resist and strive forward. She portrays a rallying cry for those who wish to be heard and valued. She stands strong and proud, meeting the morning sun and bracing against the nighttime cold. She contemplates the world through a poise of conviction and fearlessness. Her name is "Dignity."[2]
If you want to explore more on Trip Jaunt click here.
Travel responsibly taking only memories and leaving a near to zero carbon footprint. We are all visitors on this beautiful planet of ours. Let's treat it and all inhabitants with love and respect!
Latest posts by Helen Hatzis
(see all)