I recently had the opportunity to spend the day in Hamilton, an industrial city with a few nicknames such as 'the Hammer,' 'Steeltown,' and 'the Ambitious City,' the latter living up to its current status.
Hamilton is approximately 40 minutes outside of Toronto.  I must admit, I rarely, if ever, venture into Hamilton unless it was to attend the Juno Awards (back in my music industry days with Warner Music), or a conference. Hamilton has never been on my mind as a place to go for the night, let alone a bite to eat. Well, after spending a full day in the downtown core, it did not take long for me to appreciate the booming and ambitious restaurant scene.
I will admit I can be a little Toronto-centric. I have all of my family and closest friends here. My favourite little haunts are within walking distance. I live in the neighbourhood I have always aspired to live in. Why the heck would I want to make the trek outside of my comfort zone? Well, for starters, it's a good thing that I am adventurous, and some of you reading this can relate to my occasional creature of comfort ways. I am hoping after reading this piece, you too will hop in the car or train and see what all the fuss is about. I'm telling you, it's worth it.
I arrived in Hamilton just after 11 am at the local Fortino's –  grocery store, of course! I was part of a large group made up of mostly food bloggers and representatives from Trip Central (who sponsored the tour) and a very, very large fellow from the Hamilton Tiger-Cats football club; offensive lineman Peter Dyakowski. We not only marveled at his size but his extraordinary appetite. A little trivia for you: Peter was crowned Canada's Smartest Person by the CBC in 2012!
Here is a taste of what we discovered on our multicultural epic food tour!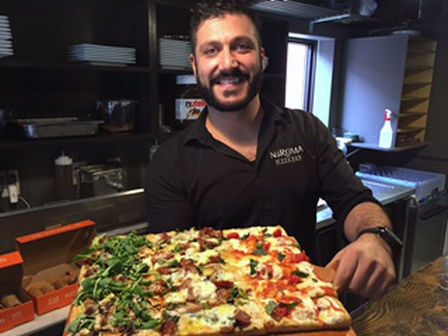 Naroma Pizza Bar | 215 Locke Street South | @naromapizzabar
Owned and operated by Mario Spina, he spent six months in Abruzzo studying pizza making. His focaccia-based pizza is what sets them apart. Their pizza is a hybrid between Rome and Napoli traditions. The dough making is a labour-intensive process that takes 72 hours, coined the 'Naroma method!' As Mario Spina would say, "You can't rush the dough!" During this visit, we sampled a variety of pizzas from their menu and their quinoa with cranberry, seasoned pecans, spinach, goat cheese, reduced balsamic and olive oil salad called Dolce. Beyond delicious!
Trivia –
Margherita pizza is named after Queen Margherita, and the colour of the ingredients (green, red, white) represents the Italian flag.

Mario's cousin owns the café next door. Our next stop!
Brown Dog Coffee Shoppe | 211 Locke Street South | @browndoglocke
Owner Nicole Spina can be found making up a fresh batch of apple fritters right before your eyes! The perfect accompaniment is their 'straight from Brazil' coffee beans. Carvello Farm in Brazil ships the coffee beans to Oakville, where the owner of Carvello now lives. Fresh coffee and apple fritters all day long! Also on the menu: crepes, breakfast quiche, cold and hot sandwiches with quirky names such as the 'Portager,' Montecristo' and 'the Broadway.' Salads, crepes and vegetarian options are also available.
Trivia –
15 years ago, the café was a church, then an antique shop. It was left vacant for a couple of years before the café took over.

The fritters are baked fresh daily.
 Wild Orchid | 286 James Street North | @wildorchid_on
Owner Jorge Pereira presented the foodies with a taste of Portugal. "We're eating fish tonight!" From 'polvo,' pressure-cooked octopus sautéed with red sauce, to 'favas,' fava bean and chorizo, to 'bacalhou a bras,' shredded cod tossed with shoestring fried and eggs, to 'arroz de marisco,' Portuguese rice with clams, mussels, black tiger shrimp, lobster, calamari and scallops married together in a light pimento and tomato sauce. I was pretty much ready to tap out at this point. Thank god for stretchy jeans and Peter!
Trivia –
Multiple award-winning establishments. Their awards line the entrance.

Ideal for large family functions (seats up to 100 comfortably).

The entire menu can be ordered for take-out.
Except for Kenneth | 189 Ottawa Street North | @except4kenneth
This cosy little restaurant offers an ever-changing menu. We sampled a bite-sized portion of Ken's Sheppard's pie in their small bar called Black Sheep Shack. Their daily menu includes soup of the day, salads, and sandwiches and dinner includes duck confit to slow-roast porchetta. They also have vegetarian options.
Trivia –
They have a trivia night! Every Monday at 8 pm.

They are a proud member of The Other Bird family, a Hamilton-based restaurant group that offers culinary experiences that pull you out of your comfort zone but in a relaxed, easygoing way. More on these folks later….
Hamilton Farmers Market | 35 York Boulevard
Established in 1837, the market is managed by the City of Hamilton and is opened year-round. There are 60 vendors, including local artisans, selling their wares, food and flowers. During our visit, we had an opportunity to sample the fare from Pokeh and Eat Ramen.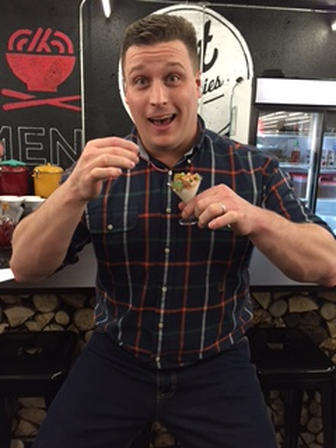 Aloha! Owned and operated by husband and wife team Salar Madadi and Jeannie Crawford since November 2015, Pokeh offers an array of healthy and fresh poké bowls. They have over 20 different toppings to create your perfect combination. We sampled Spicy Tuna poke (yellowfin tuna, line caught, ocean wise recommended and fair trade certified) and green bowl (vegan/gluten-free), tamari, ginger pickled shiitake mushrooms, tofu cubes, edamame as some of the ingredients. I have been to Hawaii a couple of times and can wholeheartedly say they have brought a taste of Hawaii to Hamilton. Mahalo nui loa Salar and Jeannie!
Trivia –
Pokeh is the first poke bar in Canada.

They offer gluten-free and vegan options.

They also own MeatVentures Meatwagon food truck.
I am going to flat-out declare, that this is the best ramen I have ever tasted. I have not yet been to Japan, so until then, this is the best! The Eat Ramen stall in the Hamilton Farmers Market opened just over 3 months ago. We enjoyed acau ramen chicken with Sun Noodles imported from Japan. Pickled bamboo shoots, scallions, red miso and no preservatives complete this bowl of goodness. Seconds, please!
Trivia –
Eat Industry founders Matt and Brandon plan on opening a Tacqueria Sandwich Bar within the market in the near future.
The Mule | 41 King William Street | @themuletacos
The mule is a delightful and colourful taco bar. From traditional tacos to a carefully crafted bourbon and tequila cocktail menu, this taco joint is a cool place to hang with friends and family. The vibrant colours and flavours remind me of the food tour I took in Puerto Vallarta. We all sampled their tasty tacos and fed the rest to Peter. I have never seen anyone eat so much!
Trivia –
The Mule was backed by a crowd-funding initiative that garnered just over $100,000 to start their new restaurant. Crazy!

Owners Erin Dunham and Matt Kershaw are the folks behind the Other Bird that operate (include Rapscallion Rogue Eatery, The Alex, Two Black Sheep, Black Sheep Snack Bar and Except For Kenneth)
La Piazza | 180 James Street South | @lapiazzaallegra
This restaurant is a staple in the Hamilton food scene. Owner Mark Farrugia opened La Piazza over 19 years ago. We sampled a taste of Italy with Ravioli Vesuvius (egg yolk, potato and ricotta mixture encased in fresh pasta topped with a cream sauce and crispy pancetta). And like Vesuvius (the only active volcano in mainland Europe), the egg yolk within the ravioli slowly erupts with the touch of your fork.  La Piazza makes their own delicious bread and sauces on site.
Trivia –
Owner Mark Farrugia will be opening a third restaurant on the mountain called Sasso.
Mescal TNT | 150 James Street South | @mezcaltnt
By the time we arrived at Mezcal, it was approximately 8 pm. Although they have two large windows allowing the streetlights to seep in, the setting inside is dark, lit by candles and the gently backlit bar with 80s music setting the scene. This hip Mexican-style eatery uses only the freshest, local ingredients with everything from the pickles to salsa made daily in the restaurant – cooking with a conscience is what they do. The tequila? Forget about it – if it's not 100% agave, they won't serve it!
Trivia –
Chef/owner Manny Ferreira won the Food Network's Chopped Canada in 2015

TNT stands for 'Taco and Tequila'

Manny is the dude with the sleeve tattoos.
Aberdeen Tavern | 432 Aberdeen Avenue | @aberdeentavern
Our last stop. By this point, most of us are comatose, but we press on. The posh Aberdeen Tavern thoughtfully ended our night, appeasing our sweet tooth. An array of desserts: custard choux pastry and mini lemon meringues was the perfect end to a full day (10 hours) of sampling Hamilton's finest fare.
Trivia –
Voted BEST RESTAURANT in Hamilton in 2015
Thank you to all of the restaurants that graciously hosted our group, Hamilton's Economic Development Office, Trip Central and Hamilton Limo for safely guiding us through the city. Finally, to Peter Dyakowski for entertaining and eating what remained.
Make the trek to Hamilton. You won't be disappointed!
SaveSave
SaveSave
SaveSave
SaveSave
Latest posts by Helen Hatzis
(see all)