This wonderful post is shared from Planet Blue Adventure, an awesome blog about travel, food, and everything in between! Visit it here for more great content like this.
Guest Post by Jennifer Sharp
As destinations for gastronomic excellence go, Quebec City has always been high on the list, with its unique blend of both deluxe and artisanal traditions. There is much to be said for the innovative new selections that are appearing alongside the century-old club chairs and jazz bars. Using local ingredients and outstanding, house-made concoctions, these restaurants have raised the bar for dining in the iconic, old city. Most feature extensive cocktail offerings, also with an emphasis on unique ingredients and creative crafting.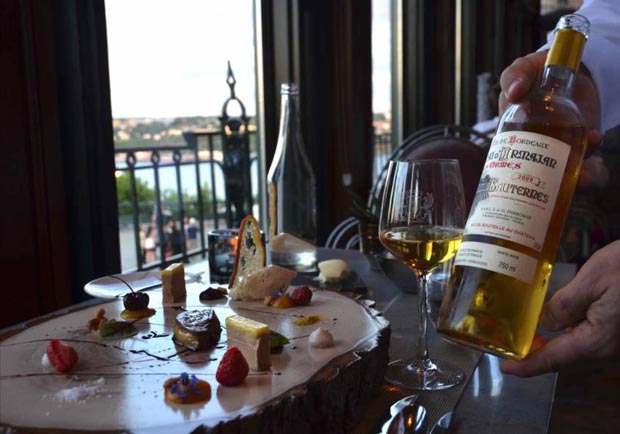 Find here our best-of-the-best that Quebec has to offer, ranging from the "new sugar shack" to the understated elegance of the revamped Fairmont Chateau Frontenac, with classic bakeries and a to-die-for epicerie that will inspire the most jaded travelling foodie!
SAVINI – Renowned for its inventive food and extensive wine list, Savini continues to be a popular choice among local celebrities and foodies alike. The exhaustive menu features classical Italian, with the influence of chef Luc Ste-Croix to credit for its creative presentation. The unique ambience, often featuring live music, makes Savini a perfect place for an after-work imbibe, casual bite or more formal dining. Grappa on the dessert menu!
Paillard – This charming chain of bakeries dot the city with four locations. Featuring all manner of bakery products, the QC institution promises its visitors a unique "boulangerie" experience upon each visit. The wide variety of offerings, including pizza at two locations, are all created in-house daily. The friendly staff will not disappoint and the décor, trendy but refined, offers a relaxed atmosphere where the food is easily enjoyed.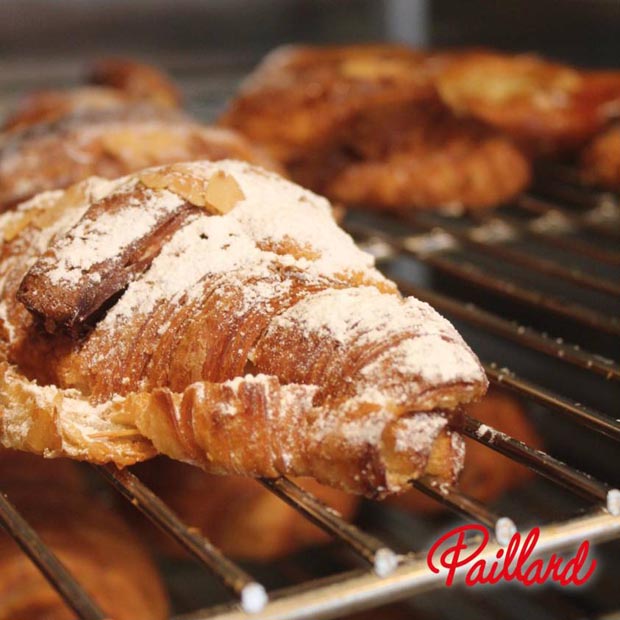 Café Artefact – Located within the historic Auberge Saint-Antoine, Café-Bar Artéfact, offers a glimpse into Québec's past through creative window displays filled with objects dating from six different eras.The menu offers a casual selection of typical Quebecois fare, but it is the cleverly crafted cocktail menu that truly stands out; try the "Next to the Fire"! The brilliant cocktails marry well with the venue's offering of live jazz on Thursday, Friday and Saturday nights, with no-charge admission.
Legende – Hosted by the Hotel du Coutellier, this restaurant is set apart from most by its culturally-derived creations. Skillfully presented and incorporating First Nations and Quebecois ingredients, such as local bison, fiddleheads and sweetbreads, the menu is quite unique, while very reasonably priced ($16 – $24 for a main). Legende will inspire the most seasoned "foodie" with its innovative twist on the traditional. A tasting menu is also available.
La Buche – Billing itself as "The New Sugar Shack of Old Quebec", La Buche offers its diners a delightful spin on the traditional Quebecois fare. On the long list of selections are tartares, poutines and tourtieres. The menu boasts "tastes like grandma's" and features ingredients such as house-smoked salmon, pheasant and homestyle cretons. The cocktail list is extensive and wildly creative; Maple Margarita? Yes please! La Buche is open for brunch and even has a sweet little menu for the junior gastronome.
Aviatic Club – Far away from the bustle of the Old City, one doesn't expect to find fine-dining and inspired live music inside Gare du Palais train station! This gem offers indoor and outdoor dining and is surrounded by beautiful parkland, making it an ideal spot for lunch. The menu features many traditional items (tartare, charcuterie and duck, for example) but also offers pasta, fish and some surprising starters! Music is offered Tuesday through Sunday and there is a $10 menu selection on Sundays and Mondays.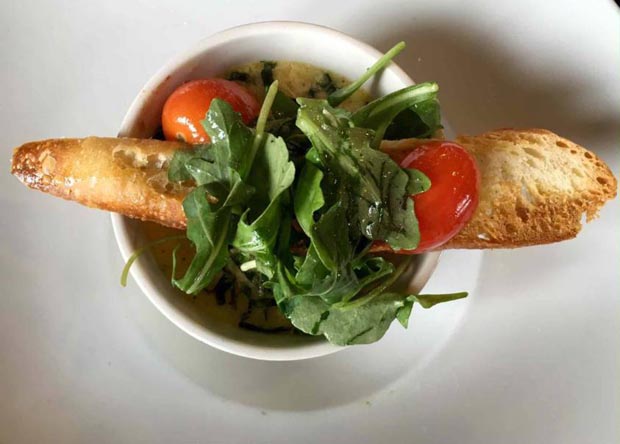 Snackbar St. Jean – If you have never tried poutine and wish for something truly authentic, Snackbar St. Jean is the place to go! Potatoes are crisped to perfection, the gravy is succulent and the cheese curds are a squeaky delight! Other offerings are pure "greasy spoon", served up casually on picnic tables. Portions are generous and the place is open and packed til 5 a.m.! The clever phone number is easy to remember: 418-522-GRAS.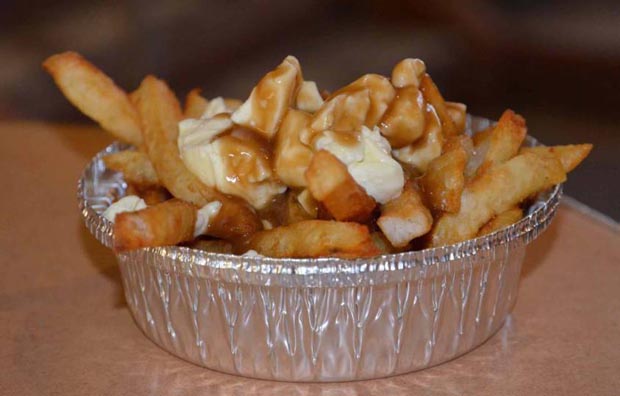 Bistro L'Atelier – Billing itself as "cocktails and tartares", this classy spot is totally downtown. There is much more on offer, including terrines and poutines, but the tartares are the stars. Featuring bison, tuna, lobster and a variety of additions, the selection is impressive. Patrice Plante, the bistro's house mixologist, has created an abundant menu of exquisite cocktails, from which it is painful to choose. The classic old guard is there too (gin fizz, Tom Collins, martini) and oysters are paired with shooters daily.
Bistro Le Sam – This charming and casual Bistro has opened inside the iconic Fairmont Chateau Frontenac, as part of their $75MM renovation; the menu offers a casual fare including burgers, steaks and a variety of seafood dishes and the kitchen has an open concept, where guests can watch the chefs in action. Not to be missed is the bar where mixologist Mathieu Gourde Ferland delivers creative cocktails using locally-distilled spirits house-made mixes.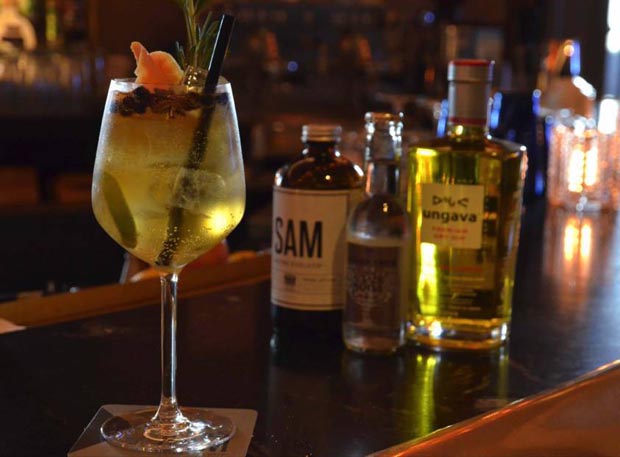 JA Moisan – Billed as North America's oldest grocery store, this place has everything any foodie needs for takeaway. All manner of wine, endless cheese and meat selections… Pick up picnic stuff and find a good park to enjoy the day with good food.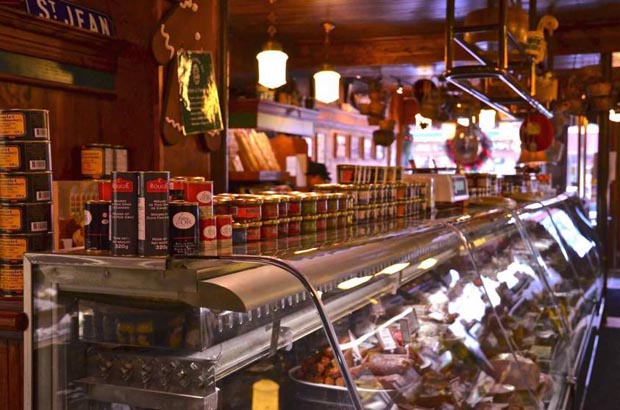 Notables:
Le Moine Echanson featuring local Quebec Wines and foods
Choco-Musée Érico – Chocolate museum and shop
For more information about Quebec City visit www.quebecregion.com
Interested in a food walking tour? Try Tours Voir Quebec
Jennifer Sharp is a life-long Torontonian and avid traveller, Jenn lives in the Beaches with her two teenage sons and fat black cat. She loves dining well, creative cocktailing and everything and anything vintage, especially wine.

Latest posts by Parm Parmar
(see all)