The Hoh Rainforest, pronounced "Hoe", earns its name from the ever-flowing Hoh River that carves its way from Mount Olympus towards the Pacific Coast. However, where the name originates, is up to some debate.
The word "Hoh" undoubtedly comes from Native American languages; possibly the Quileute word "Ohalet" which means "fast-moving water" or "snow water." Since the river itself forms from glacial runoff, that origin seems straightforward. Other explanations state that the Quinault word "Qu," meaning "boundary," could be the root of the name as a river as massive as the Hoh certainly forms a formidable boundary across the landscape. A third consideration claims that the word "Hoh" translates to "man with quarrelling wives." What the actual history behind the name appears to be lost to time.
The Hoh Rain Forest is located in the stretch of the Pacific Northwest rainforest which once spanned the Pacific coast from southeastern Alaska to the central coast of California. The Hoh is one of the finest remaining examples of temperate rainforest in the United States and is one of the park's most popular destinations.
Flora and fauna
The undergrowth is dense and the canopy is thick, providing shade until an old growth giant falls. This is the life in a temperate rainforest. If you were an animal here, where would you live? If you were a plant, how might you survive? The flora and fauna of the Hoh are unique and abundant.
It is common for visitors to spot large mammals like Roosevelt Elk, Black Bears, and River Otter. One may also spot signs of more elusive animals such as Bobcat and Mountain Lions that are more active at night. The overgrown forest floor provides the perfect habitat for animals like banana slugs, snails, rodents, snakes, and salamanders. Among the treetops, you may hear birds sing; American Robins, Barred Owls, and Canada Grey Jays. The old-growth provides a special habitat for the endangered Northern Spotted Owl.
The Hoh is home to some of North America's giants. As you traverse the trails, you may feel minuscule in comparison to the Sitka Spruce, Red Cedar, Big Leaf Maple and Douglas Fir that thrive here.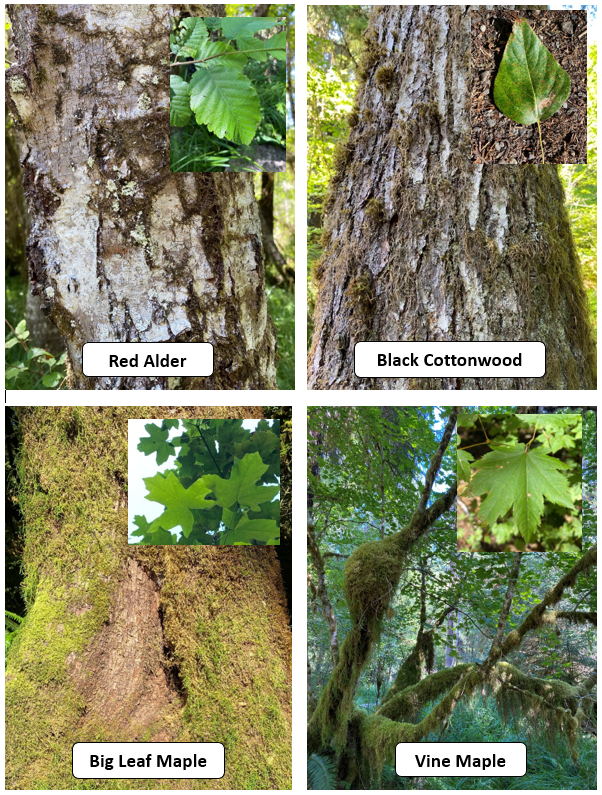 How to get there
The Hoh lies on the west side of Olympic National Park, about a two-hour drive from Port Angeles and under an hour from Forks. The Hoh Rain Forest is accessed by the Upper Hoh Road, off of Highway 101. Click here for directions.
A general map and information regarding facilities, picnic areas, camping, and regulations can be found on the park's Hoh Rain Forest brochure.
Due to the WILDFIRE, please check for updated alerts here.
Travel responsibly taking only memories and leaving a near to zero carbon footprint. We are all visitors on this beautiful planet of ours. Let's treat it and all inhabitants with love and respect!