Despite being named one of the pandemic's hardest hit cities in Canada by the Ontario Chamber of Commerce, the population of Kingston, Ontario, a vibrant community located 2.5 hours east of Toronto, has rallied together to support each other.
Though the city has remained a leader in protecting their residents and preventing mass spread of the virus within the region, their businesses and the tourism industry have not been unscathed. However, the "love" can be seen across the city, keeping spirits up and reminding residents and business owners in the community that they are 'all in it together': there are 300 glowing neon hearts (and counting!) adorning many windows in the downtown core.
Named by the Conference Board of Canada as one of the pandemic's top 5 hardest hit cities in Canada, Kingstonians have been banding together and finding ways to lift spirits amid the chaos of 2020. In December, the City of Kingston and Tourism Kingston partnered to launch the Love Kingston winter campaign, with lighting installations throughout the city and glowing neon hearts placed in store windows.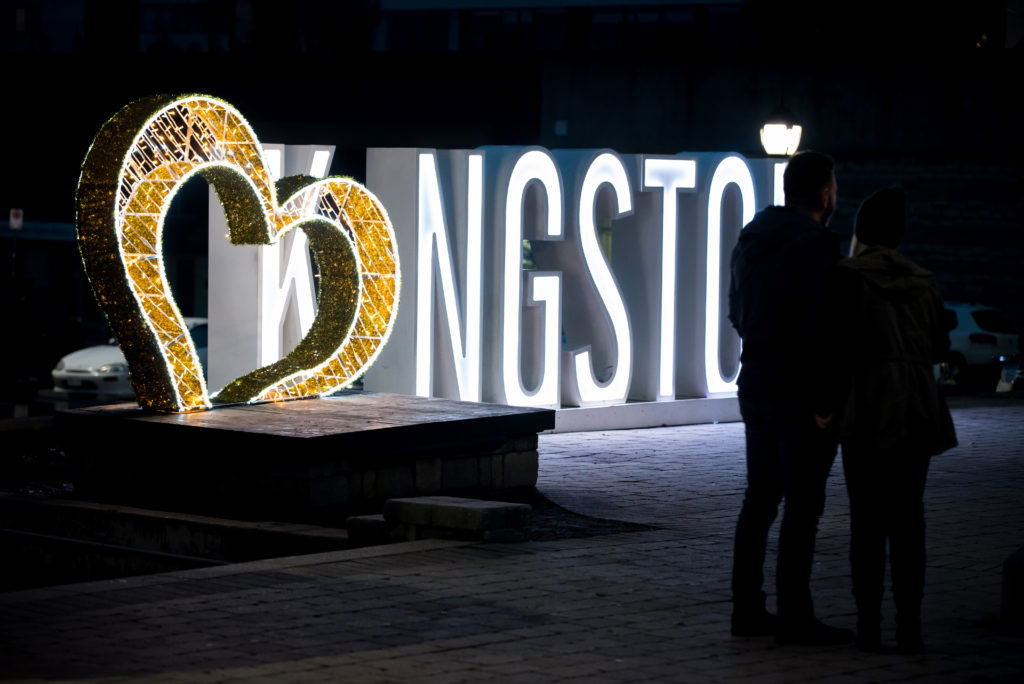 When Tourism Kingston gifted 300 retailers these neon hearts for the holidays, many took this as an act of solidarity, standing behind the roots of Kingston's cultural scene and showing the community that they stand stronger together – it turned into an unspoken appreciation of Kingston's usually vibrant downtown core. When stores started placing the hearts in their windows, residents quickly jumped at the chance to show their love as well.
Since then, many community members have reached out to show their support wanting to purchase neon hearts themselves, and Tourism Kingston has since ordered an additional 300 hearts with the aim to have as many businesses (and houses!) glowing as possible.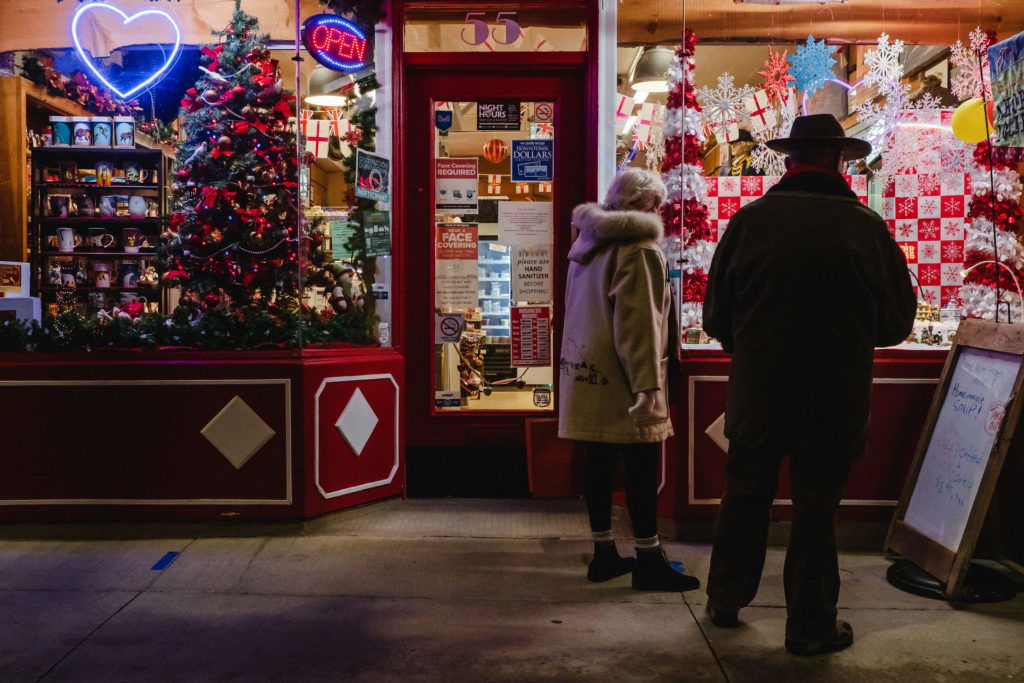 "The hearts are a brilliant way to show how much we love Kingston," says Jackie Marshall, owner of 1000 Islands Soap Company. "It's also a beautiful way to show support for local businesses."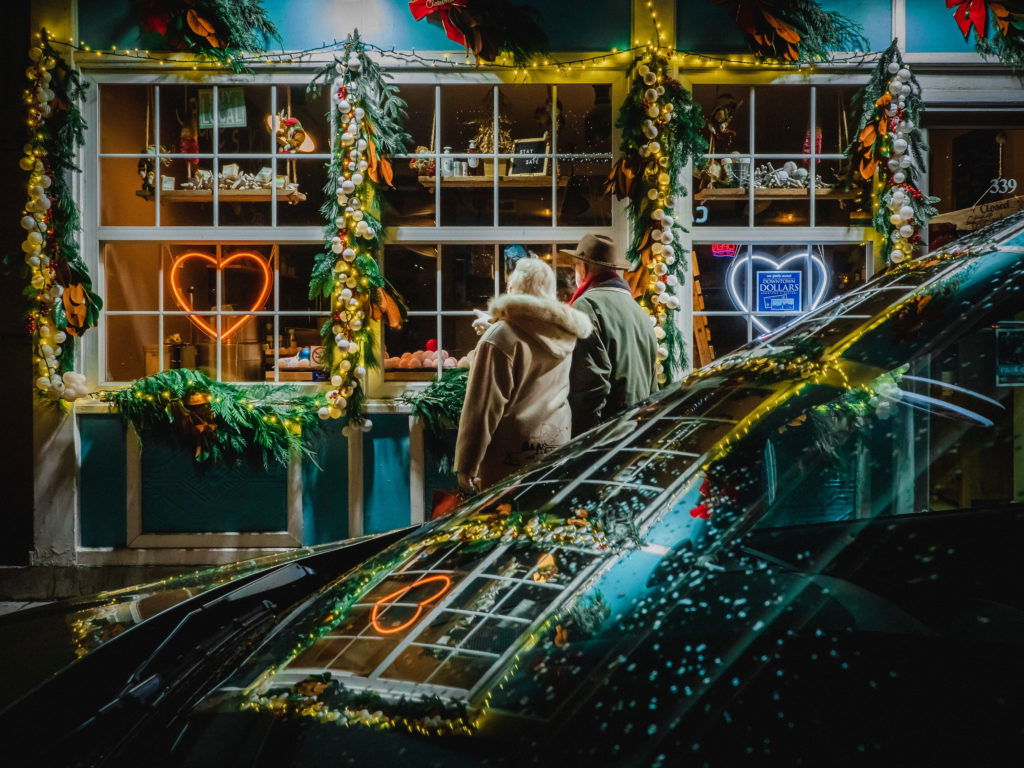 At General Brock's Commissary the pandemic really disrupted the flow of business and the number of shoppers dropped dramatically. When the neon hearts started going up in the windows of downtown businesses it lifted everyone's spirits and we saw a dramatic response from our customer base," says Chris and Cindy Shelley, General Brock's Commissary. "At Christmas we had customers telling us how the hearts had motivated them to act upon the "Shop Local/Love Kingston" campaign and we heard over and over how people had decided to shop downtown this Christmas to support us. As a result, we had a great Christmas season! The hearts touched our customers and with their support we will survive the pandemic and thrive. Love Kingston!"
Early on in the pandemic "Love Kingston" launched as a shop local campaign that quickly gained traction with the community as a way to express love for the city and the independent businesses that call it home. It became the thematic for our winter lighting installation in the downtown core," says Megan Knott, Executive Director, Tourism Kingston. "Just as hearts were displayed for health care heros, the neon hearts are a way for small businesses to show unity in the face of the economic impact of the pandemic. As soon as they were hung in storefronts, residents started to ask how they could purchase a heart. So far 300 have been distributed with another 300 on order."
Here at Trip Jaunt, we collectively have wonderful childhood memories of visiting Kingston, Ontario. I asked the staff to list their favourite spots.
Boat Cruise touring the Thousand Islands
Ft. Henry National Historical Site
Bellevue House
Wolfe Island
Touring the Kingston Penitentiary (now a tourist site – Canada's Alcatraz!)
The Jazz Festival
Canoeing on the St. Lawrence
Due to the provincial wide 'Stay at Home' order, we are not traveling at this time however, we are doing our best to support tourism not only in Canada but abroad. When things do open up, please travel responsibly.
Kind regards,
Helen, Trip Jaunt
Latest posts by Helen Hatzis
(see all)