Lake Nona, a master-planned community in Orlando, Florida, has emerged as a hotspot for technology, healthcare innovation, and sustainability. With its state-of-the-art facilities, eco-friendly initiatives, and an emphasis on collaboration, this vibrant community offers a unique and engaging experience for both residents and visitors.
At the heart of Lake Nona is the 650-acre health and life sciences park, Lake Nona Medical City. Home to prestigious institutions like the University of Central Florida College of Medicine, Sanford Burnham Prebys Medical Discovery Institute, Nemours Children's Hospital, and Orlando VA Medical Center, the Medical City fosters collaboration and innovation in healthcare research and delivery.
Lake Nona's commitment to cutting-edge technology and sustainability goes beyond healthcare. The United States Tennis Association's National Campus, the world's largest tennis facility, boasts advanced technology, while the Beep Inc.'s Move Nona system offers a sustainable transportation option for the community. This innovative autonomous shuttle system serves Lake Nona, featuring driverless electric shuttles that travel at a top speed of 15 miles per hour, providing a convenient and eco-friendly way for workers to commute.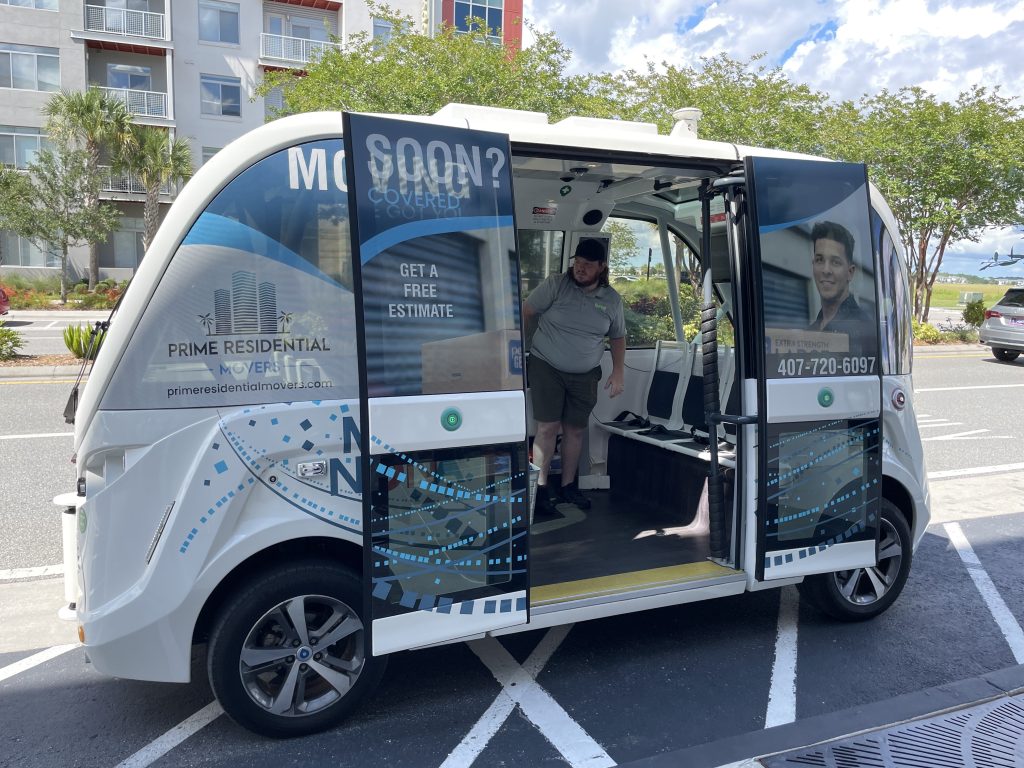 Green initiatives are central to Lake Nona's vision, incorporating solar power installations, sustainable construction practices, and an extensive network of parks, trails, and green spaces.
The Code Wall is in keeping with Lake Nona's creativity. Its facade, written in code in its dichroic glass, also serves as a parking area. There are signs to help you interpret the binary code. To save you the trouble, it reads, 'inspire, participate and connect.' How fitting!
Tavistock Group, the private investment company driving Lake Nona's development, has created a dynamic and sustainable community through projects like the Lake Nona Town Center, a mixed-use development featuring retail, office, and residential spaces. Tavistock has also played a significant role in the development of sports and entertainment facilities, including the Lake Nona Resort, which will offer a championship golf course and luxury accommodations.
Trivia: Joseph "Joe" Lewis, the founder of Tavistock, is a profound art collector. He purchased the "Charging Bull" (photo below) and agreed to leave it in its iconic place in Manhattan. He owns the cast and made a replica for all to enjoy in his sculpture garden at Wave Hotel.
Nestled within Lake Nona's Town Center is the stylish and innovative Wave Hotel. Owned and operated by Tavistock Group, this boutique hotel seamlessly blends technology and sustainability. The 234 guest rooms and suites showcase a modern, minimalist aesthetic with high-tech amenities and sustainable design elements.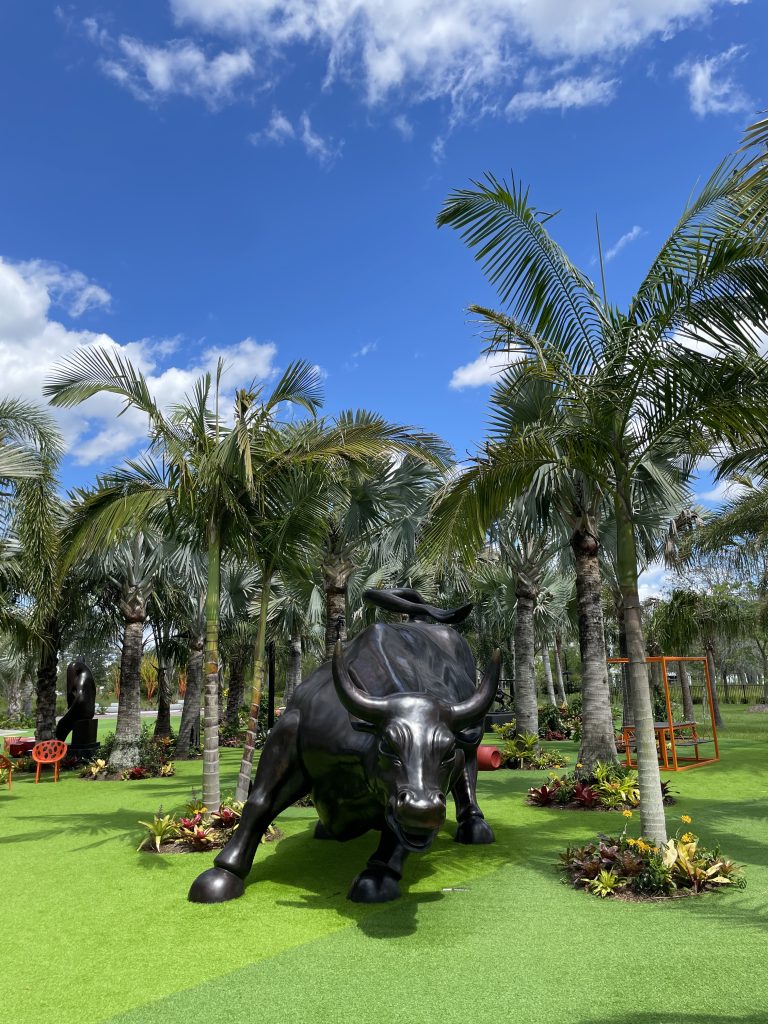 One of the Wave Hotel's standout features is its incredible sculpture garden, which offers a serene escape amid the bustling Town Center. The hotel's focus on technology extends to the dining experience, where "Rosie," the hotel's robot butler, helps deliver food and drinks to guests. Named after the housekeeper from the popular 1960s and 1980s animated TV show "The Jetsons," Rosie uses 3D cameras and light detection and ranging technology to navigate, similar to Lake Nona's Beep autonomous vehicle system.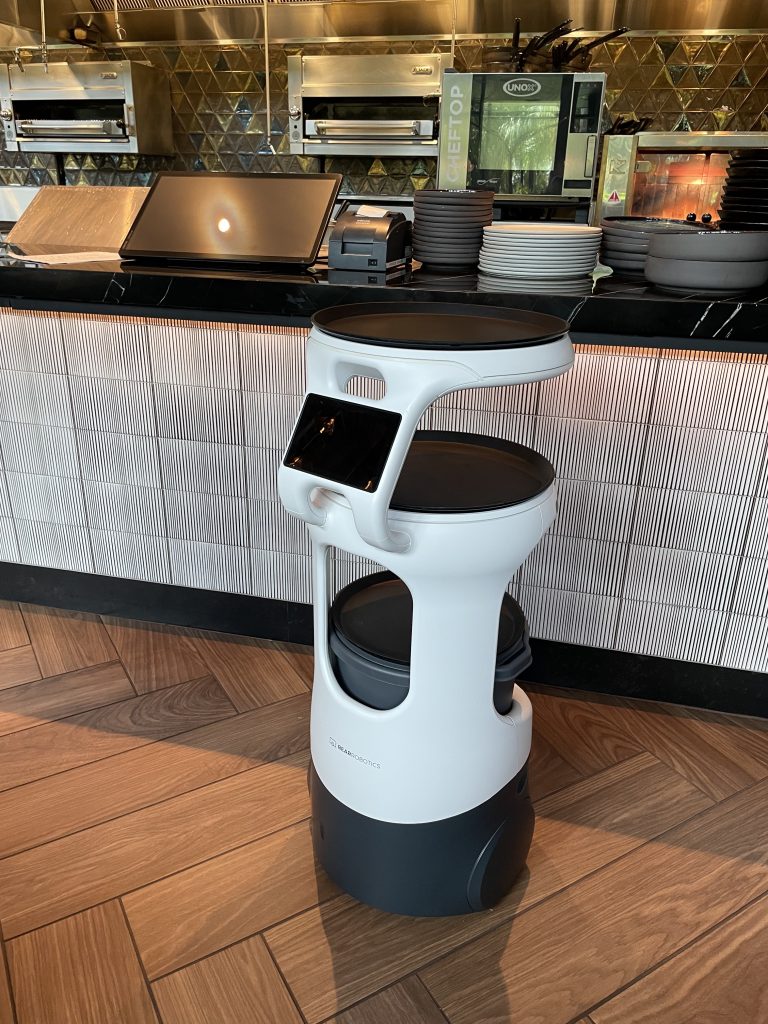 The hotel's commitment to sustainability is reflected in energy-efficient lighting and water-saving fixtures, while the mobile app allows guests to control room settings and request services for a seamless and convenient stay.
Conveniently located near Lake Nona's Medical City and a plethora of dining, shopping, and entertainment options, the Wave Hotel is an ideal choice for visitors seeking a unique and engaging experience in a community dedicated to technology, wellness, and sustainability.
Lake Nona serves as a model for innovative and sustainable urban planning, with its thriving Medical City, advanced technology, eco-friendly initiatives, and the Wave Hotel's blend of style, technology, and sustainability. Discover the vibrant and innovative spirit of Lake Nona for yourself, and explore a community that is truly shaping the future.
Latest posts by Helen Hatzis
(see all)