Mauritius underwater waterfall illusion defies reason.
Mauritius's underwater waterfall illusion is located at the Southwestern tip of the island in the Indian Ocean. What causes it? The trails of sand on the seafloor are dragged away by water going between the opening in the reefs. When you view it from above, the runoff of sand and silt deposits creates the remarkable illusion of an 'underwater waterfall'.
Towering high above is Le Morne Brabant, a basaltic monolith with a summit 556 m (1,824 ft) above sea level. The summit covers an area of over 12 hectares (30 acres) and is situated on Le Morne Brabant peninsula. The area (Le Morne Cultural Landscape) is recognized by UNESCO as a World Heritage Site. [1]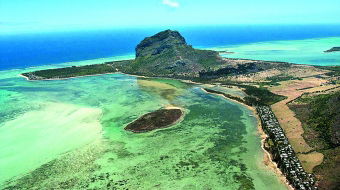 Le Morne Brabant is one of the most iconic hikes on the island with spectacular views of the southwestern corner of the island and the waterfall. It was named a UNESCO World Heritage Site in 2008 in recognition of its function as a refuge for freed slaves in the 19th and early 20th century. It served as a vibrant hub for Creole culture for over two centuries. The history of the area is very interesting; more information can be found at UNESCO.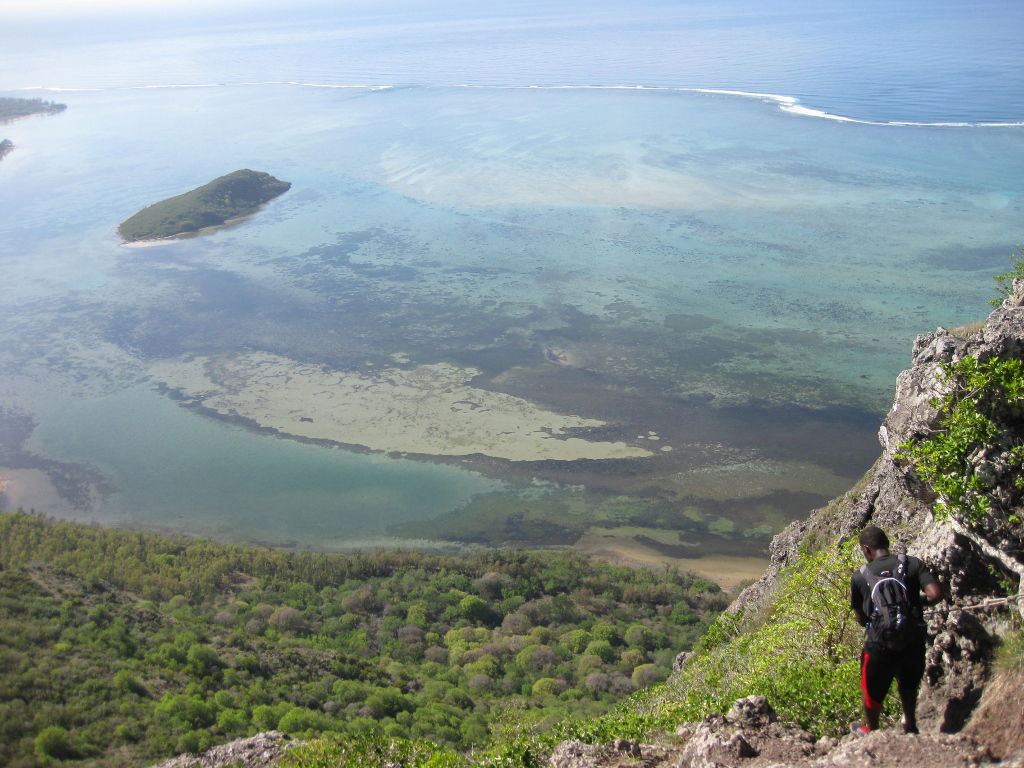 Hiking to get a view of the underwater waterfall
It is not possible to reach the true summit without climbing it. It now functions as a nature reserve with access restricted by the Le Morne Heritage Trust. The trail to the minor summit is very easy to follow and well worn. The hike is not very physically demanding. There are a few sections that are steep where using your hands is advisable. And, it is very exposed to the sun so an early start is recommended. There are a few steep, rocky sections that would not be advisable if the forecast is calling for rain.
The base of the peak is now surrounded by private landholdings. It is best to consult with a local hiking company that can assist you to avoid trespassing. [2]
Is the underwater waterfall illusion in Mauritius is on your bucket list? Take advantage of the culinary scene from Michelin Star chefs to sampling the ubiquitous street food: dholl puris, samosas, gateaux arouille and gateaux piments.
Latest posts by Helen Hatzis
(see all)