For a country that's been around for thousands of years, Jordan offers plenty of appeal to the modern visitor. Whether looking for a thrill-seeking adventure, a seaside retreat or a connection to ancient history.   Modern Jordan was founded by King Abdullal I, after World War One, and today has grown to over ten million residents.  With migrations from neighboring countries (Palestine, Syria, Iraq and Lebanon) Jordan has become a melting pot of many Middle Eastern Cultures.
The country's landscape is as diverse as its people, with fertile valleys along the Jordan River to the mesmerizing deserts in the south.   Jordan, the crossroads of Asia, Africa and Europe, is one of the safest Arab countries in the Middle East. Most of the cities in this (34,495 sq.mi.) country lie in the north-west due to the areas abundant rainfall; this area includes the highlands above the Jordan Valley and mountains of the Dead Sea, where they enjoy a Mediterranean climate. The eastern and northeastern areas are an arid desert.
The climate varies in Jordan. In the capital city, Amman, it's temperate with the average temperature in July of 25°C and in January of 8°C. In the higher elevations, they experience cold winters, while in the desert there's a dry, arid climate.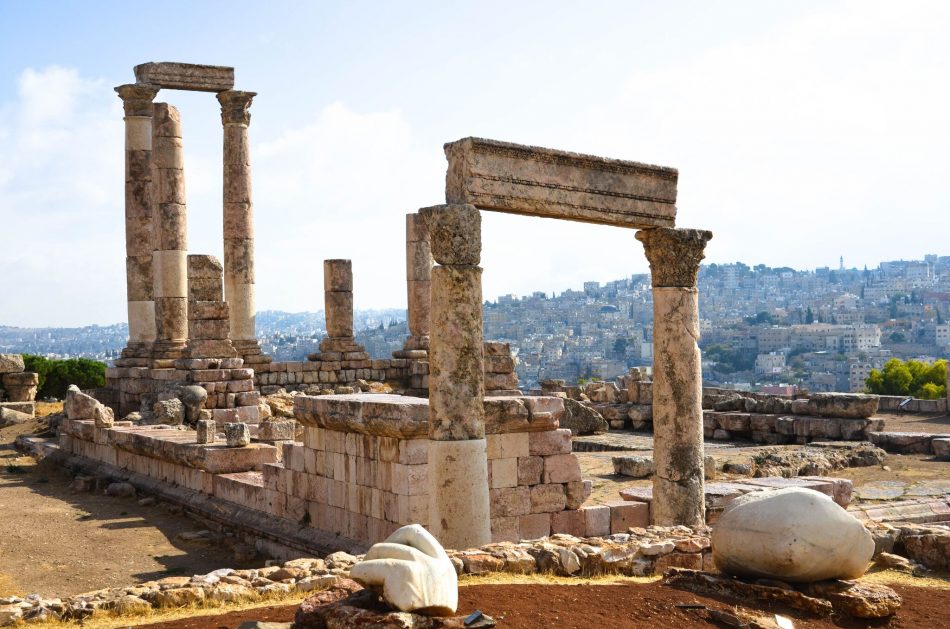 Amman is the largest city and also the capital. It's not uncommon to wander the streets and see skyscrapers next to centuries old buildings. It's the blend of old and new that gives Amman its charm. Other cities like Petra are known for their ancient monuments and archaeological sites attracting millions of visitors a year.
Jordan is a food lover's paradise. It boasts a culinary scene that is diverse and exciting.  Hospitality and food are at the forefront of Jordanian Society. Just as it was in ancient times, much of Jordan's culinary delights can be found in restaurants, homes and of course the Souk, a marketplace where visitors and Jordanians alike can pick up traditional foods and meet local vendors.
Explore the Souk markets, near Hashemite Plaza in Amman, the smell of cardamom, cumin and za'atar waft through the air. Your senses come alive with people watching, vendors selling everything from live animals to meat, vegetables and of course everything made with sugar and honey.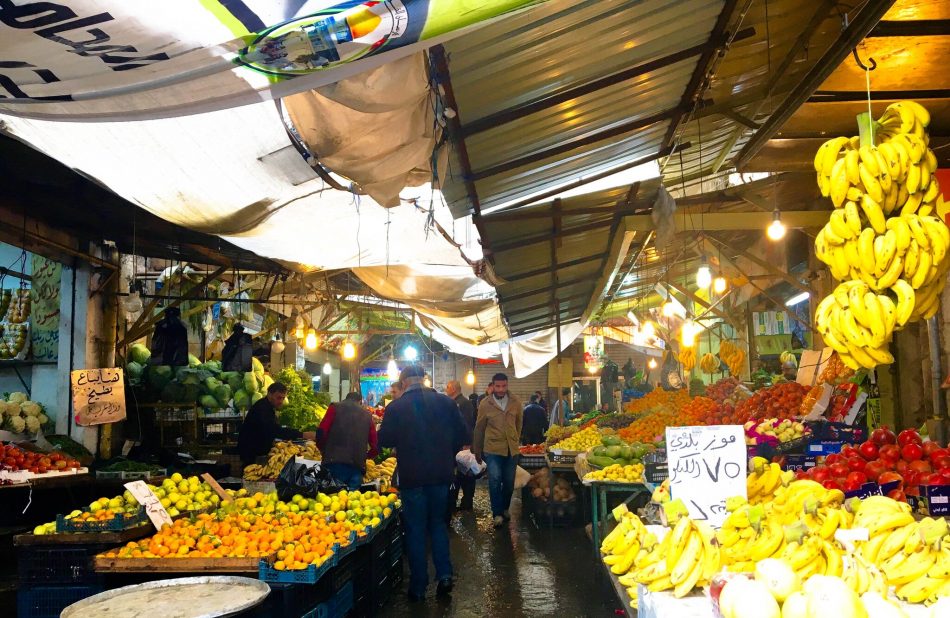 For fine dining in Amman, head to Sufra. A staple in Amman since 2011, this elegant restaurant's menu is filled with traditional homemade Jordanian dishes like Mezze (hummus, baba ganoush and fukharat.  When in Jerash, dining at the stylish Lebanese House Restaurant is a must. The mix of local delicacies and international dishes will please everyone's taste buds, even those with specific dietary needs like gluten-free and vegetarian. Always start with the mezze (cold salads and dips) then hot appetizers and then on the meat or fish dishes.  That's how Jordanians eat!
When visiting the Dana Biosphere, head to the Feynan Ecolodge. Enjoy vegetarian cuisine prepared by the Bedouin cooks then join a nearby Bedouin Tribe for a Bedouin coffee experience.
Depending on your idea of fun, Jordan has many choices. From hot air ballooning over the desert, a 4×4 Jeep ride, riding a camel or buggy through Wadi Rum's majestic desert at Hasan Zawaideh Camp, there's a little something for everyone.
If your passion is archaeology or history, a visit to Unesco site Petra is a must. This wind-blown Rose city is filled with Nabatean archaeological treasures and was even dubbed one of the "New Seven Wonders of the World. Take a hike high in the hills to sneak a peek at Monastery, a former Nabatean Tomb, by climbing the 900 steps through an ancient rock-cut path.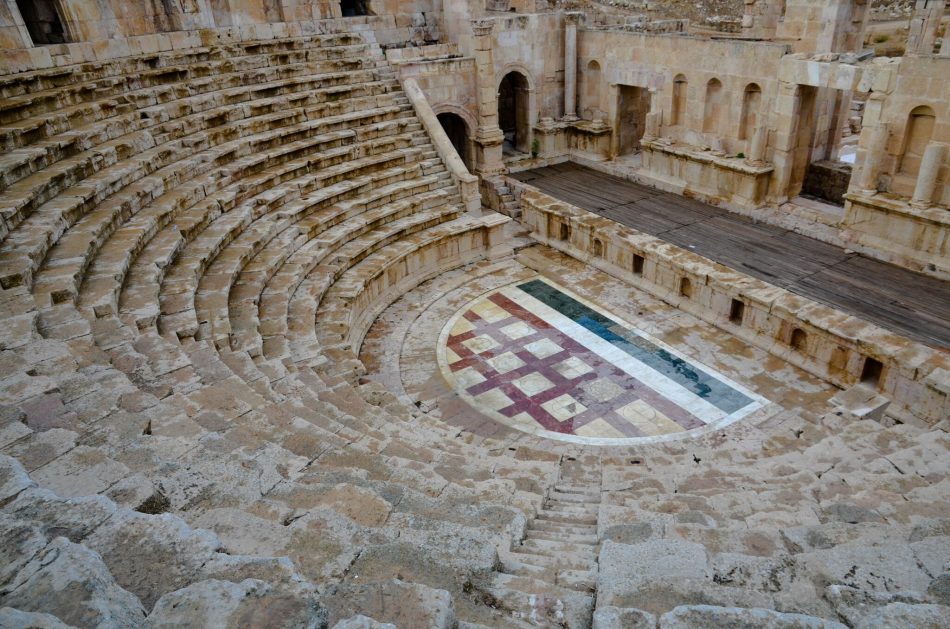 Another must-see destination is the ancient city of Jerash, often overlooked by travelers.  Once under Roman rule, this city now prides on being one of the best-preserved Roman provincial towns in the world. Over the last seven decades, this town, once covered by sand, has been carefully unearthed revealing paved streets, hilltop temples, public squares, fountains and city walls with towers and gates. It is truly a treasure.
For those of you looking for a more low-key vacation, Jordan features lots of relaxing options. You can connect with nature, walk amongst centuries-old cities or choose one of the many resorts in the Jordan River Valley to rest and recharge a weary soul.
At the Dead Sea, you will not only find a rich history, you can get pampered at one of the many world-class resorts and spas like the Kempinski Hotel Ishtar.
Visiting Umm Qays (Gadara) will give you a look at a simpler way of life. Visit the local beekeeper, weave a basket or press olives.  Besides seeing the ancient ruins of Umm Qays Museum, you will also see the Roman city and it's Western Theater, spectacular views of the Jordan Valley and Sea of Galilee, where sunsets are spectacular.
At Bethany on the Jordan, you can see the exact spot where John the Baptist performed his baptisms. Afterward head to Madaba, the "City of Mosaics" to see its extensive collection of Byzantine-era mosaics like the one found at St.George's Church.
Make a pilgrimage to Mount Nebo, it holds special meaning for Christianity. This elevated ridge is the site where Moses was granted a view of the Promised Land and from this hilltop, you will get one, too. On a clear day, you get a full panorama of the Holy Land including the Jordan River, city of Jericho and Jerusalem.
Jordan has many different kinds of accommodation to choose from, depending on the area you are visiting. For those looking to be pampered, the Kempinski Hotel Ishtar at the Dead Sea has luxury accommodations and five-star spa treatments. For city-dwellers the Fairmont Amman is the ultimate in luxury. This five-star resort is centrally located downtown and boasts an address in the prestigious 5th Circle, the most affluent neighborhood in Abdoun.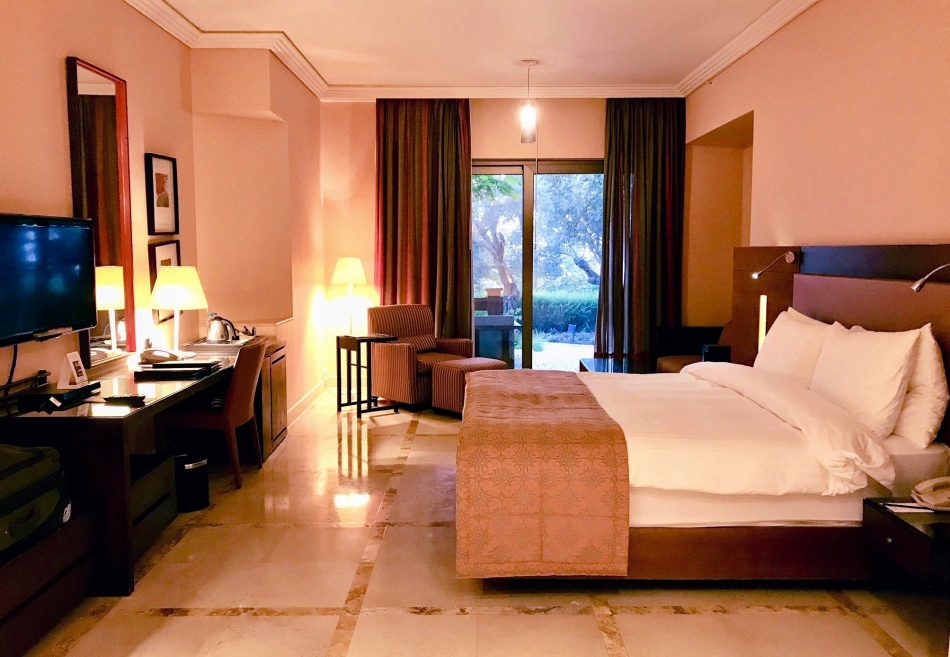 Those with a sense of adventure should head to the Sun City Camp in the Wadi Rum desert and stay in a dome or stay at the Feynan Ecolodge in the heart of the Dana Biosphere Preserve. If these seem too adventurous, you can stay the night at Petra Movenpick Resort at the entrance to the ancient city of Petra.
When visiting Jordan, here are a few things to keep in mind to assure your vacation run smoothly.
Because of religious traditions, for women, it's best to dress modestly with arms covered. At resorts, the dress code is a bit more relaxed.
If you are travelling all over Jordan, be sure to pack clothes that range from cool weather to hot.
Alcohol is only served in hotels and resorts and major cities. Don't overindulge!
Travelling by taxi is inexpensive, but choose carefully. In the white-painted taxis, you will share the ride with others, while the yellow taxis you will not.
Jordan's currency is known as the Jordan Dinar. Current exchange rates for 1 Jordan Dinar equal 41 US and 1.80 CDN.
Thank you to Parm Parmar of Planet Blue Adventure for compiling this guide.