The Thunderbolt Mountain Coaster is located at the Berkshire East Mountain Resort, in Charlemont, Massachusetts.
Mountain coaster details
Think alpine slide meets roller coaster. The Thunderbolt takes riders up 1,580 feet of up-track through the forest before the cart disengages and gravity takes over.
The 3,870 feet of downhill track is designed with swooping turns, banked corners, rolling drops, and 360° turns. Each cart is equipped with its own braking system, allowing you to slow speeds to a comfortable pace or accelerate to G-Force inducing levels!
Their opening hours are weather dependent, but they are generally open
11 am to 4 pm. on weekends.

Spring Hours:
Saturdays & Sundays from 12 pm to 5:30 pm. The last ride is sold 30 minutes prior to closing.

Summer Hours (June 27 to September 7):
Thursdays to Sundays from 12 pm to 5:30 pm. The last ride is sold 30 minutes prior to closing.
Fun for ages 5+
Ages 5 and under ride for free (with an adult).
6-8 can ride only for $10 (one ride), $40 (5 rides) and $70 (10 rides)
9+ can drive for $15 (one ride), $55 (5 rides) and $105 (10 rides)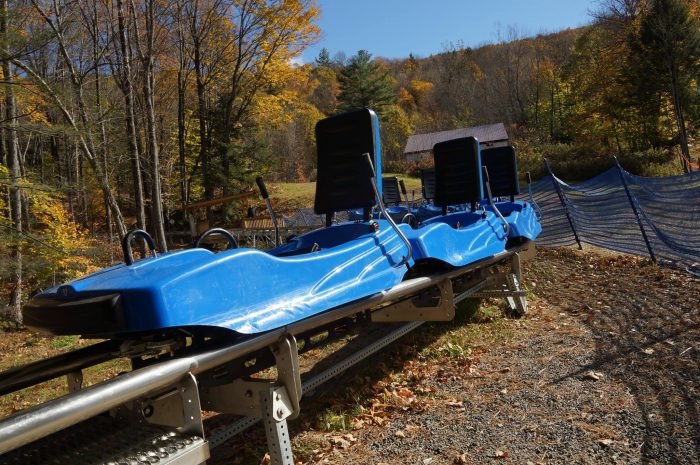 Requirements
Minimum Age: Driver: 9 years old | Rider: 3 years old
Minimum Height: Driver: 52″ | Rider: 36″
Maximum Weight 300 lbs total per cart (individual or combined weight
Must be at least 16 years-old to have a rider with you.
Book your tickets here. To learn more about the Thunderbolt Mountain Coaster, click here.
Travel responsibly taking only memories and leaving a near to zero carbon footprint. We are all visitors on this beautiful planet of ours. Let's treat it and all inhabitants with love and respect!
Latest posts by Helen Hatzis
(see all)