Add this adventure to your travel list! The Rails-to-Trails Conservancy (RTC) is working away on a 4000-mile bike path that will allow cyclists to travel from coast-to-coast; Washington D.C. to Washington State! They are over a year into the project and it is expected to take several more to complete.
RTC has committed more than 18 months of analysis and collaboration with local trail partners and state agencies whose work is critical to the success of this significant undertaking. Analyses that were used to confirm the project's viability included a thorough assessment of route options using RTC's database of more than 34,000 miles of open trails nationwide. And, analyses of state and local trail plans; and discussions with hundreds of local trail partners and state agencies representing all of the trails along the potential route.
Separated from vehicle traffic, Great American Rail-Trail travellers will be able to experience the diversity of America's landscape, its people and its places. The route traverses 12 states moving west from its start in Washington, D.C.
Bold vision
"The Great American Rail-Trail is a bold vision—one that will take years to complete. The investment of time and resources necessary to complete this trail will be returned many times over as it takes its place among the country's national treasures," said Keith Laughlin, RTC president. "As we embark on the journey to complete the Great American Rail-Trail, we embark on the single greatest trail project in the history of the U.S. One that comes with an important legacy of unity, ambition and access to the outdoors for the nation. One that represents an opportunity to do something big for America."
The Great American Rail-Trail is a signature project of RTC and the most ambitious in its portfolio of TrailNation™ projects. The organization's initiative to encourage the rapid replication of regional trail networks across the country. The trail was first envisioned in the late 1980s by RTC co-founder David Burwell. And for decades, has been an underpinning of the organization's strategy to create a nationwide network of public trails.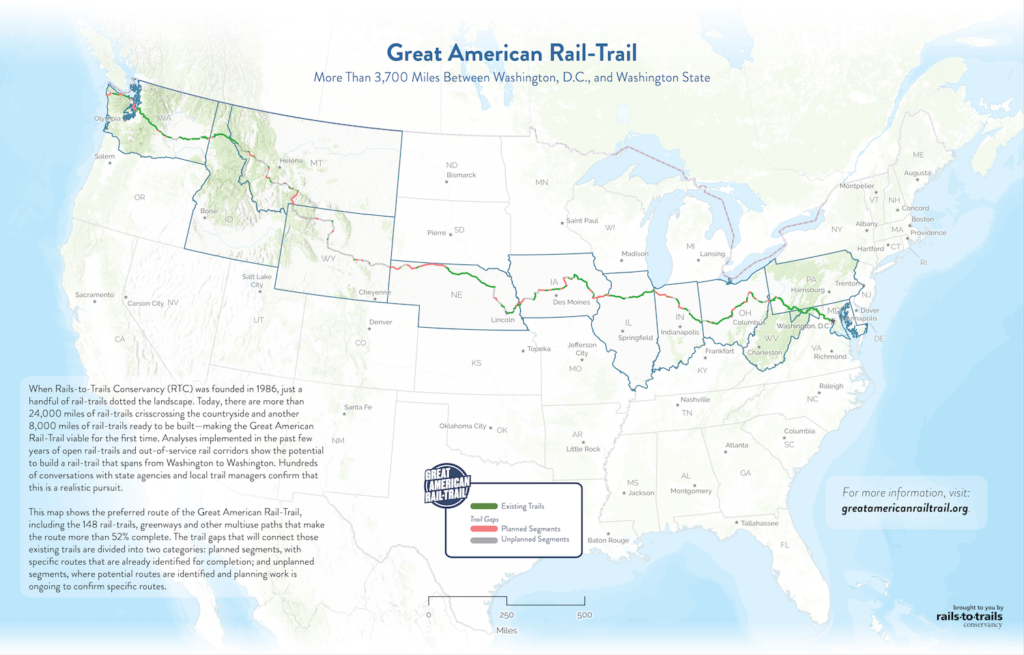 More info
For more details about the Great American Rail-Trail, visit www.greatamericanrailtrail.org.
The Rails-to-Trails Conservancy is the nation's largest trails organization. It has a grassroots community for more than one million strong. They are dedicated to connecting people and communities by creating a nationwide network of public trails, many from former rail lines. Connect with RTC at railstotrails.org and @railstotrails on Facebook, Twitter and Instagram.
If you want to explore more of cycling trails click here.
Travel responsibly taking only memories and leaving a near to zero carbon footprint. We are all visitors on this beautiful planet of ours. Let's treat it and all inhabitants with love and respect!
Latest posts by Helen Hatzis
(see all)