I spent five days in the Florida Keys earlier this year with fellow Canadian travel journalists and bloggers. While that's not enough time to take in everything the keys has to offer, it's enough that I gathered a good sense of what it's all about.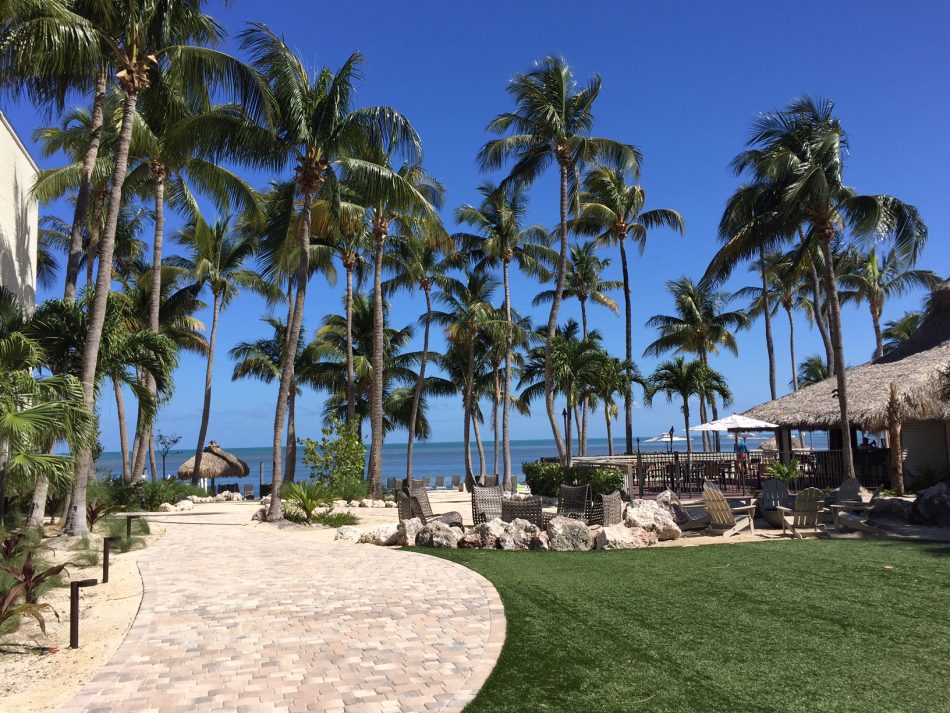 For many Canadians, Florida is a refuge during the winter months. In a short flight, you quickly transition from bulky winter gear to bathing suits and flip flops. I've enjoyed Florida since my teens in the 80s when thousands upon thousands of high schoolers on spring break flocked in Ft. Lauderdale and Daytona Beach. At the helm of these trips in my region, I brought in bus loads of students annually through a local company called Hi-Life Tours. While I loved to travel, I did not have enough of my own money. Working with the company proved a resourceful way to explore the world and earn something as well. I had already worked with Breakaway Tours organizing a winter break ski week in Mt. Saint Anne, Quebec, so taking on spring break came as a natural progression. What wasn't natural (for me) was what went down (south)!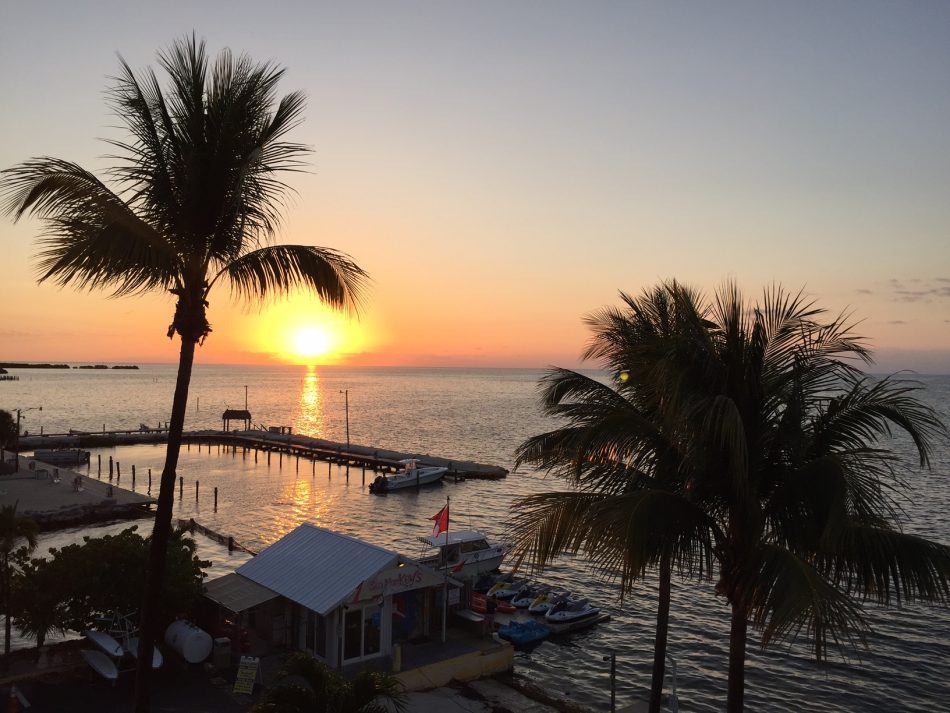 What started out as local businesses embracing this boost in tourism, called for a stop in the early 90s. Why you ask? Well, it appeared that hosting 5,000+ unsupervised teenagers, exposed to sex, drugs, bikini contests and more came as a recipe for disaster for those without limits. The local tourism boards did not want to be known as the place where debauchery happens; they'll leave that to Vegas. So what does this have to do with the Florida Keys? Well, our first stop in the Keys was Key West. Think Jimmy Buffet, Margaritaville meets retired spring breakers.
Key West
Key West is quirky, full stop. I mean that in the best way possible. I have traveled so much in my life that some places start to look and feel the same. However, visiting Key West gave me a bit of a jolt; it offered a bit of nostalgia (80s spring break vibe) with a collective eccentricity that I'd not seen before. In my hometown of Toronto, you have neighborhood pockets that cater to particular cliques from posh to punk. In the Keys, everything and everyone seems to mesh together. Somewhere in time, Key West created the land of misfit toys and slowly found its milieux: a Conch (born and raised in Key West), a Fresh Water Conch (someone who has lived there 7+ years) and an Honorary Conch (someone who has done something good for the community).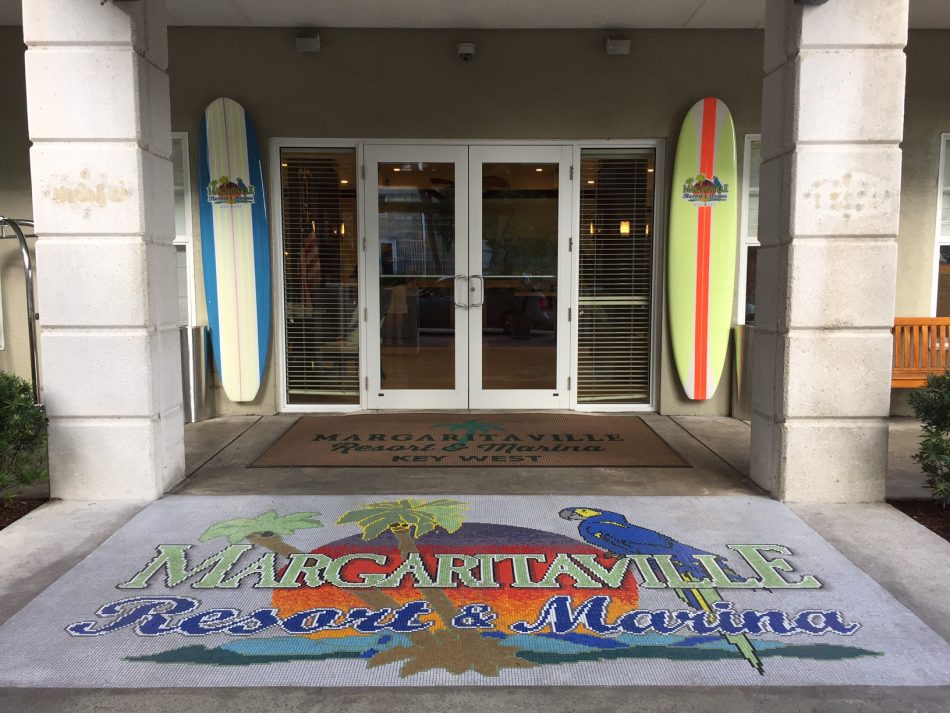 Attractions
Our group stayed at the Margaritaville Key West Resort & Marina. In the morning, massive cruise ships would moor next to the hotel and increase the population of approximately 27,000 Conches by another 7,000 people. In droves, they would head to Duval Street named after the first Governor of Florida, William Pope Duval. The famous street has a downtown commercial strip that runs 1.25 miles north to south (The Gulf of Mexico to the Atlantic Ocean).
Along the strip, you will find everything you need from restaurants serving up fresh seafood to traditional bar food; local artisans dot the streets selling their wares. Plus, there is the famous Sloppy Joe's Bar where Hemingway slung a few beers and fists. A drag and cabaret bar called Aqua Key West with regular programming, where our Old Town Trolley Tour guide performed in the evenings. There is also a clothing-optional bar called Garden of Eden. Anything goes in Key West!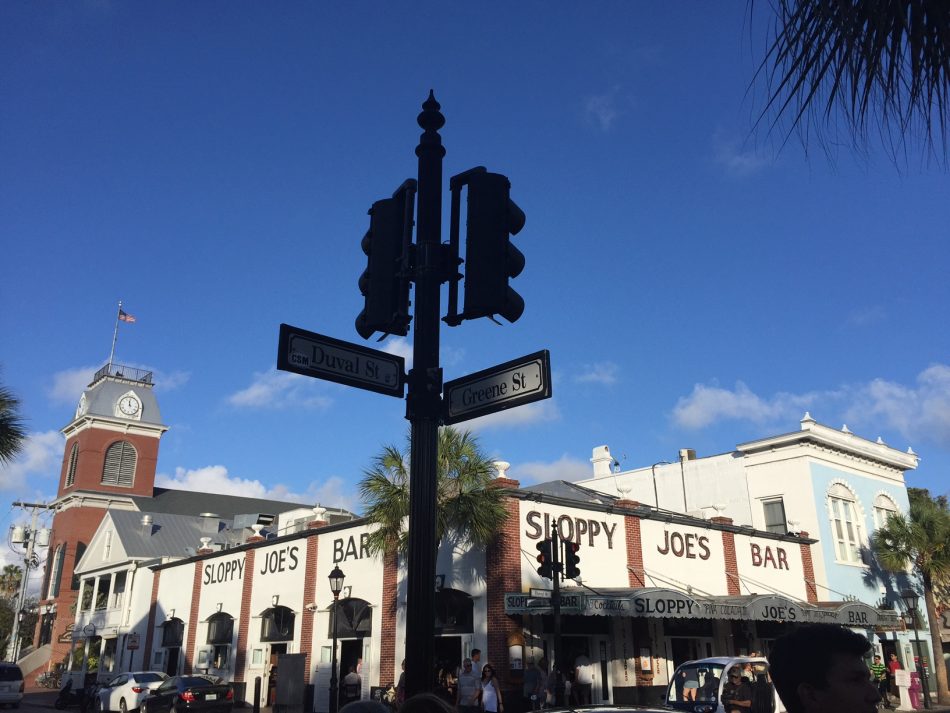 For families, there are plenty of places to visit, such as the Hemingway Home and Museum, Old Town Trolley Tour, The Key West Butterfly and Nature Conservatory or Mel Fisher Maritime Museum. Options for Glassbottom Boat Tours and Jet Ski rentals are available on the south side of Duval Street by the water.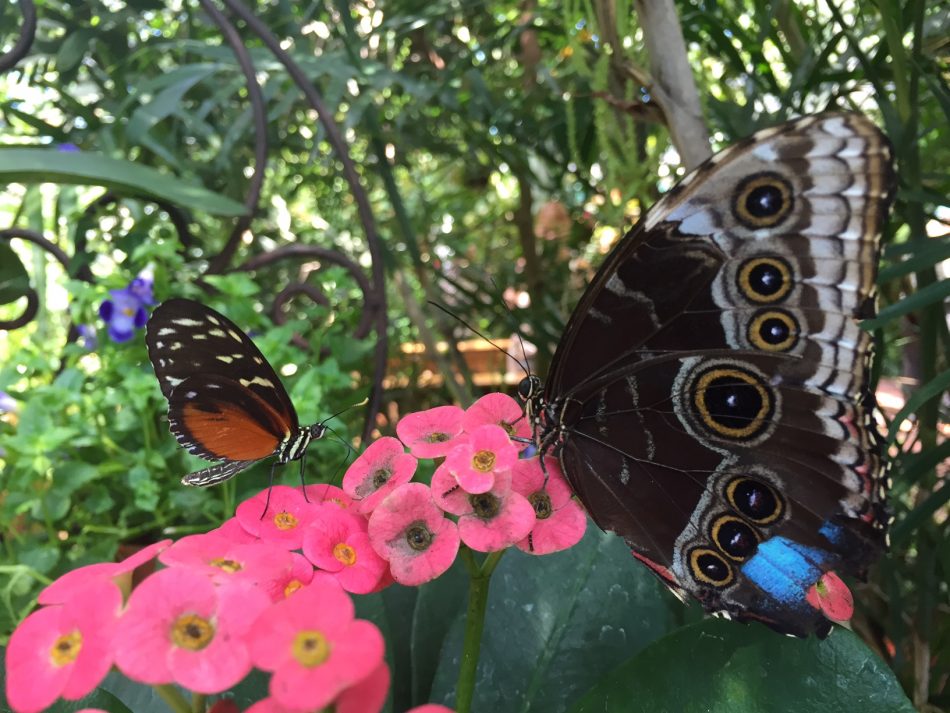 Tourist attractions aside, you can also simply walk up and down Duval and take it all in. Maybe try and see if you can sort out the difference between a residential, Freshwater, or Honorary Conch!
Big Pine Key
Big Pine Key is a 45-minute drive from Key West along the U.S. Route 1. But if there's an accident or broken down car, you're out of luck until help comes. This 113-mile stretch of highway runs north and south with one lane going each way. Big Pine is much smaller in population than Key West with approximately 5,000 inhabitants. Though not including the adorable Key Deer that you'll see scampering around!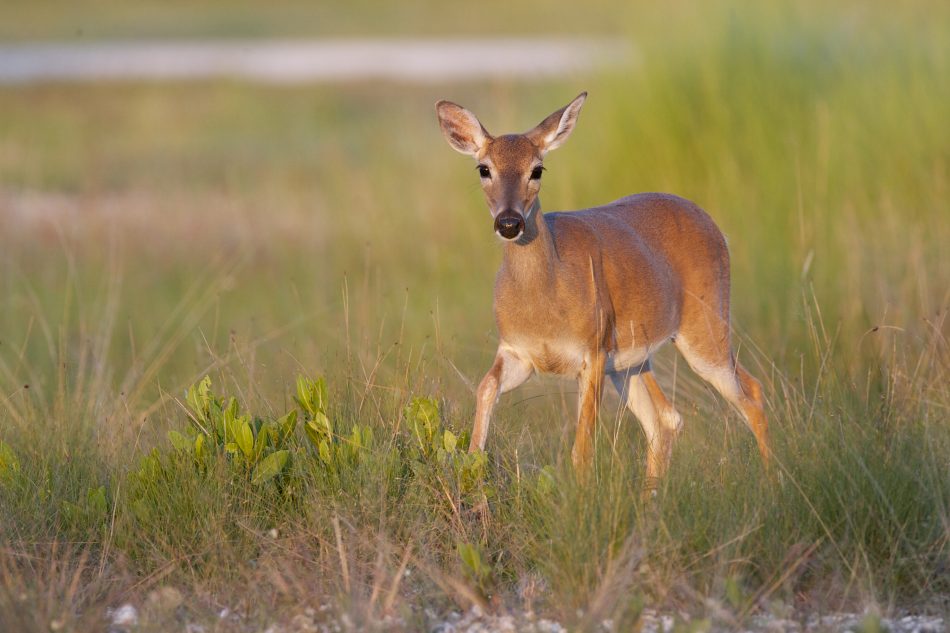 We stayed in Big Pine for a few hours to do a little eco-kayaking with Big Pine Kayak Adventures proprietor Bill Keogh.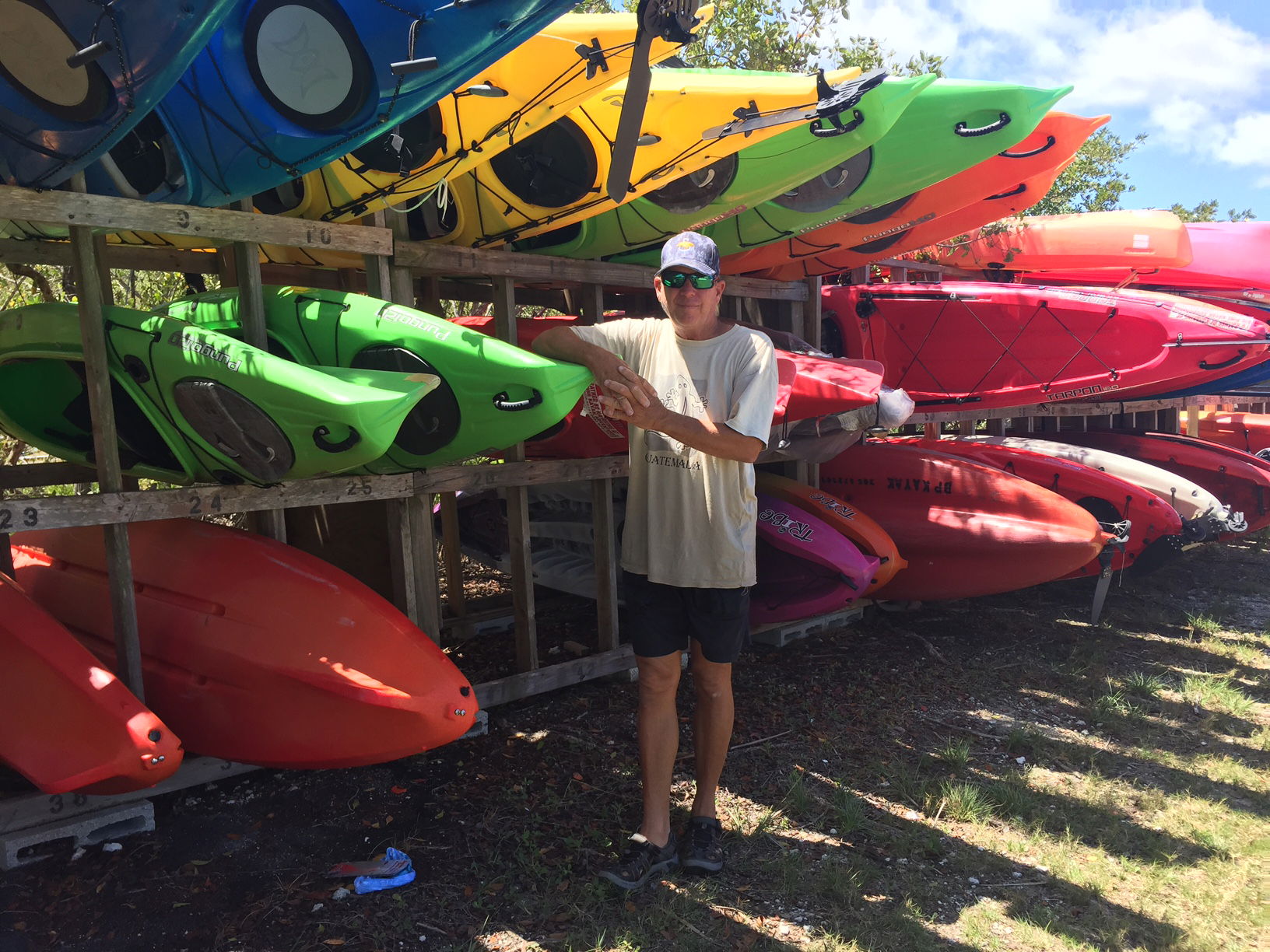 Pairing up in kayak's, Bill showed us an abandoned boat that came from Cuba. It's incredible to see how this vessel was pieced together with scraps of material and wood. He also lifted a crab trap out of the water releasing one crab while the other cleverly escaped!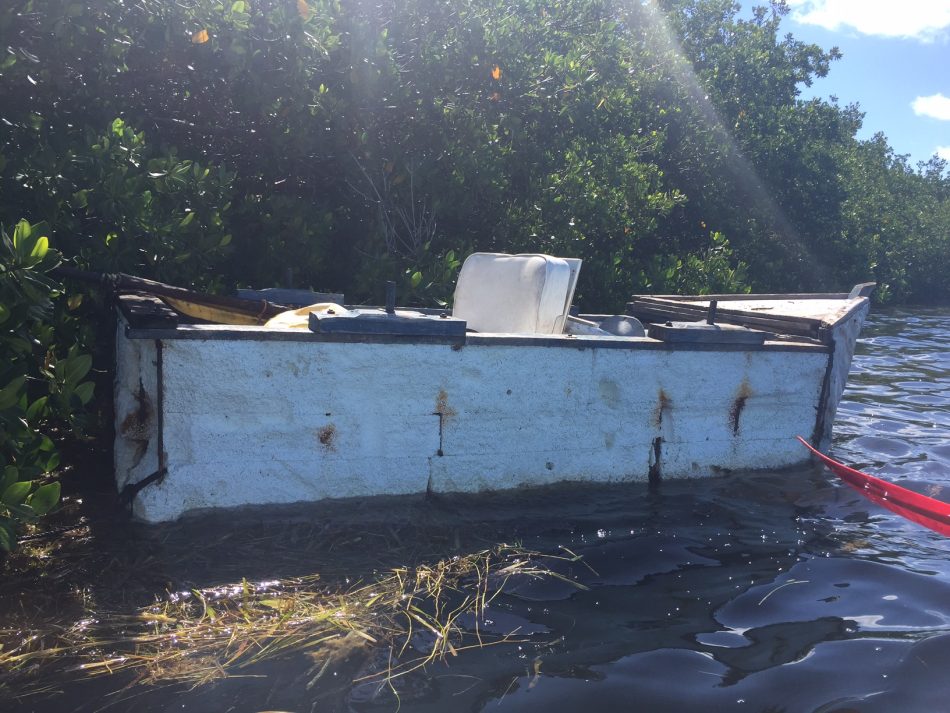 Paddling along further, we glided through a small opening that revealed a vast canopy created by trees; a breathtaking scene. While we stopped only for a moment because of the mosquitos, it was a welcoming bit of tranquility.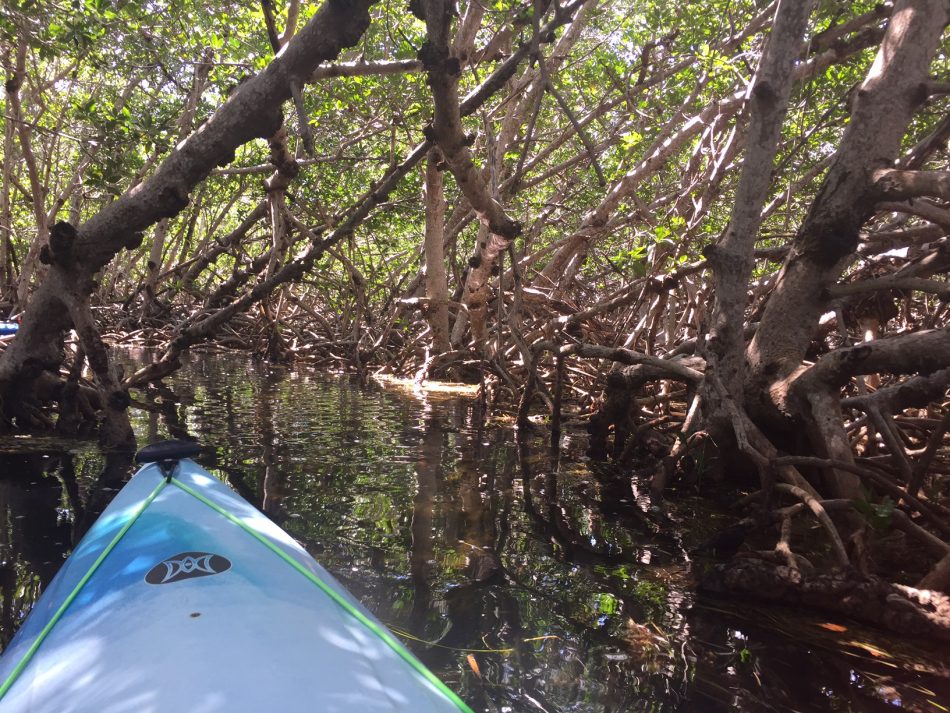 If you plan on staying in Blue Pine Key, there are plenty of beach house and condo rentals. If you enjoy water activities, be sure to visit The Blue Hole. It is the only freshwater lake in the Florida Keys and is part of the National Key Deer Refuge. The refuge is unique in that it protects 16 endangered and threatened fish and wildlife species.
Marathon
After our canoeing adventures, we drove 30 minutes from Big Pine Key to Marathon to enjoy a healthy lunch of fresh fish at the Sunset Grille & Raw Bar oceanfront restaurant. The bar is a great spot to capture a photo of the historic Seven Mile Bridge. They also have a massive pool and host a weekly beach party on Sundays called Funday. We also spent our remaining time at The Turtle Hospital, a not-for-profit, fully functional veterinary hospital with a mission to rescue, rehabilitate, and release sea turtles in the Florida Keys.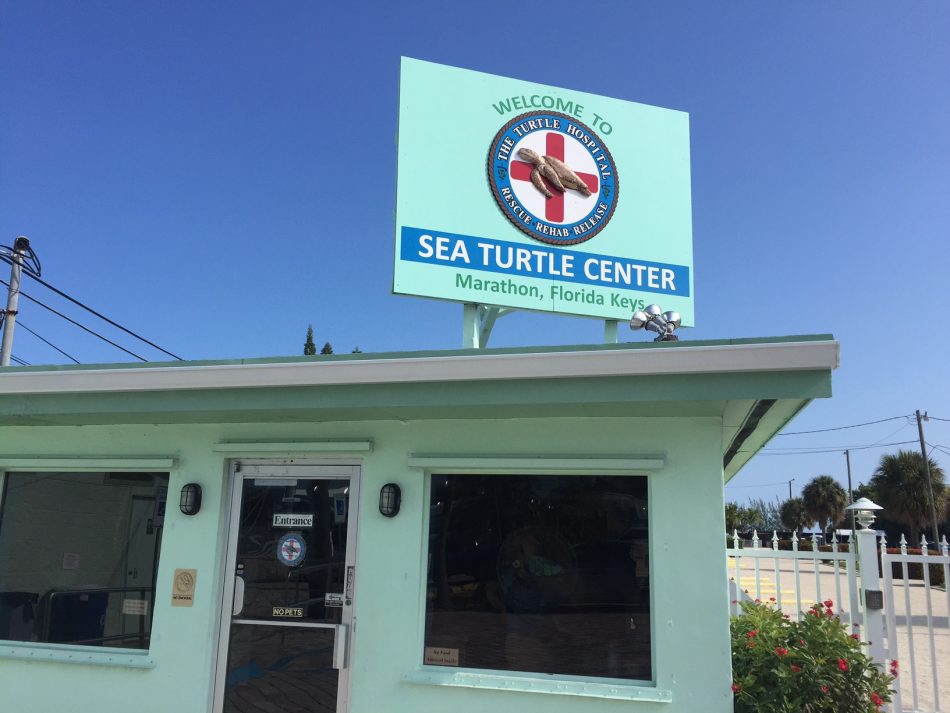 They offer educational tours as well as opportunities to join the staff as they release turtle(s) back to the sea!
Islamorada
We spent the night at Islamorada at the beautiful Amara Cay Resort. Relevantly, in 2015, the Hotel received the Sandi Design Award for Design Excellence Hospitality by the International Interior Design Association. That said, I appreciated the swing chairs in the lobby which brought out the 12-year-old in me as I tried to collide into my colleagues bumper car style!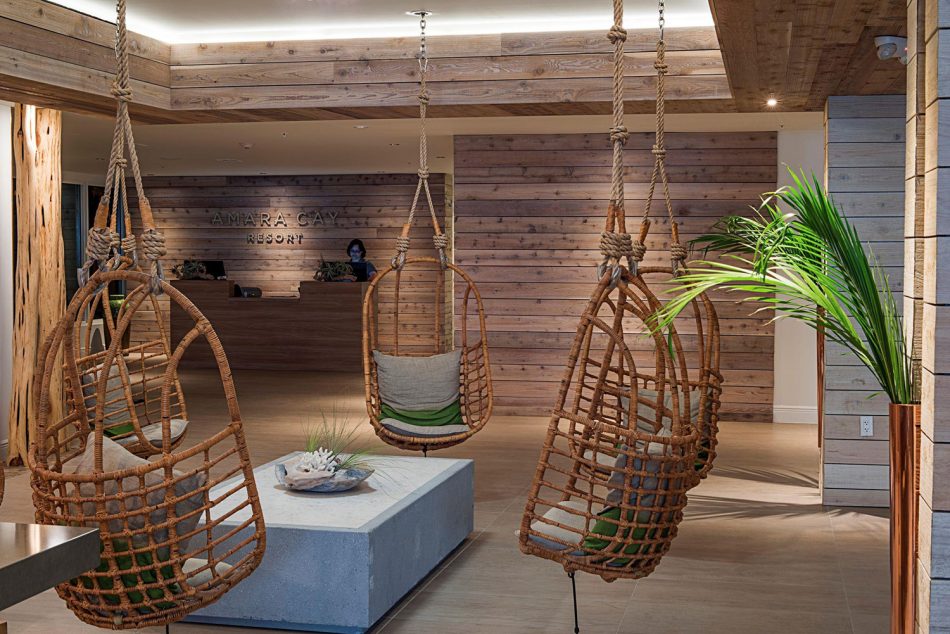 Our group also spent a great deal of time basking in the sun in the hotel's saltwater pool and comfortable lounge chairs.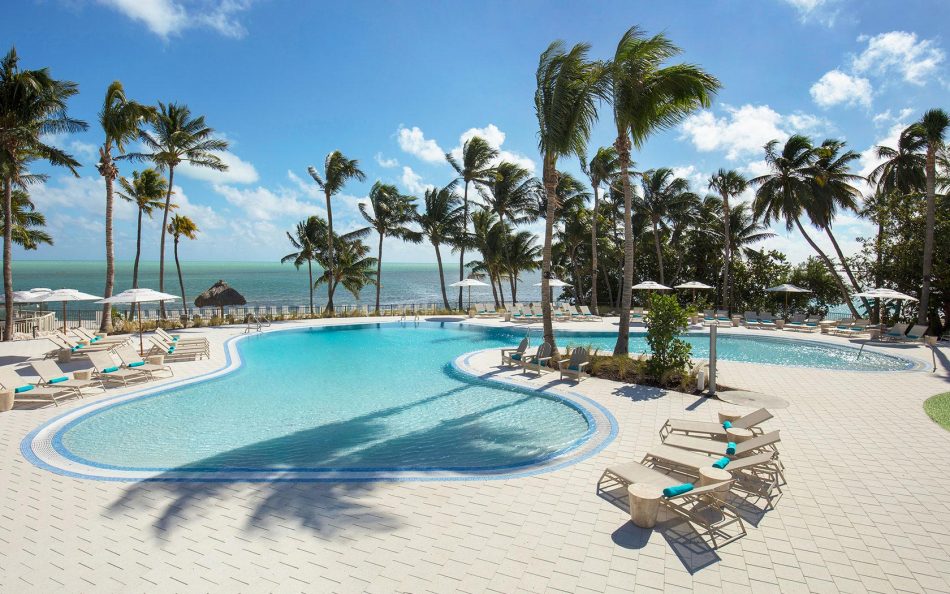 In addition, the hotel suites offer a gorgeous view, making it all the more tempting to stay just a little bit longer.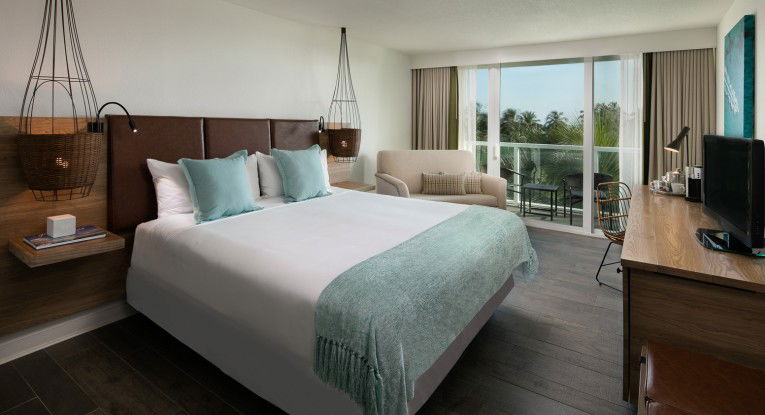 Islamorada is a small village with three distinct neighborhoods: Lower Matecumbe Beach, Matecumbe and Plantation Key Colony. The population, combined, is a mere 6,100 inhabitants – only slightly larger than Big Pine Key of approximately 5,000. Also known as the sportfishing capital of the world, Islamorada welcomes visitors and fishing enthusiasts from far and wide.
Come dinnertime; we had the opportunity to eat at Marker 88, one of five restaurants owned by Upper Keys chef Bobby Stoky. Bobby and I met in Toronto at a Florida Keys 'Cook-Off' event a couple of years ago, filming the event for  The Florida Keys & Key West tourism board. He brought a taste of home as local travel writers prepared fish flown in from The Keys and took a stab at making the famous key lime pie.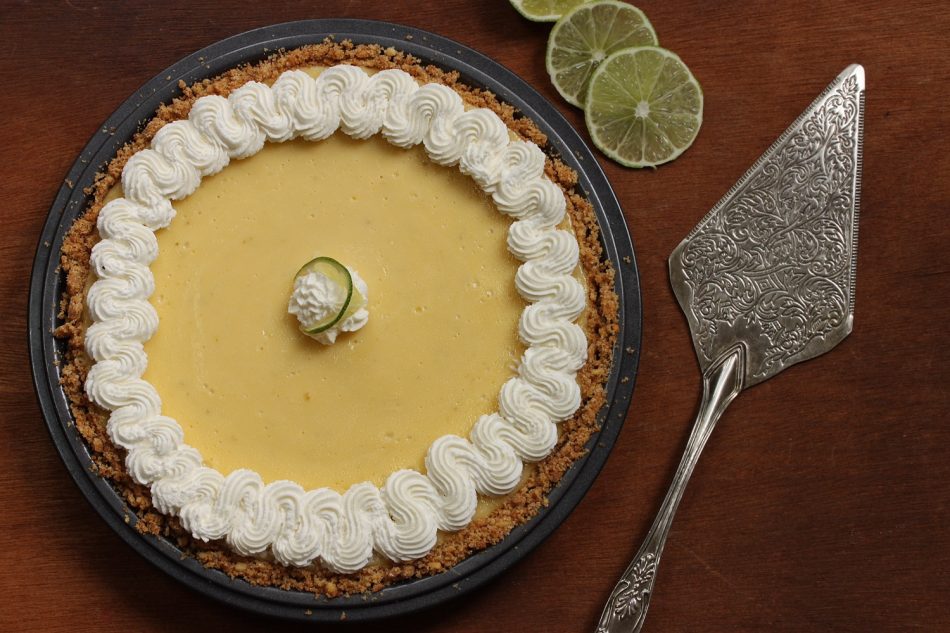 Notably, we sampled key lime pie at every meal on this trip. I found it interesting how each restaurant has their take on the famous dessert. I would love to hear who makes your favorite key lime pie! Dinner at Bobby's restaurant proved delicious, and the table-setting directly on the beach was a lovely touch.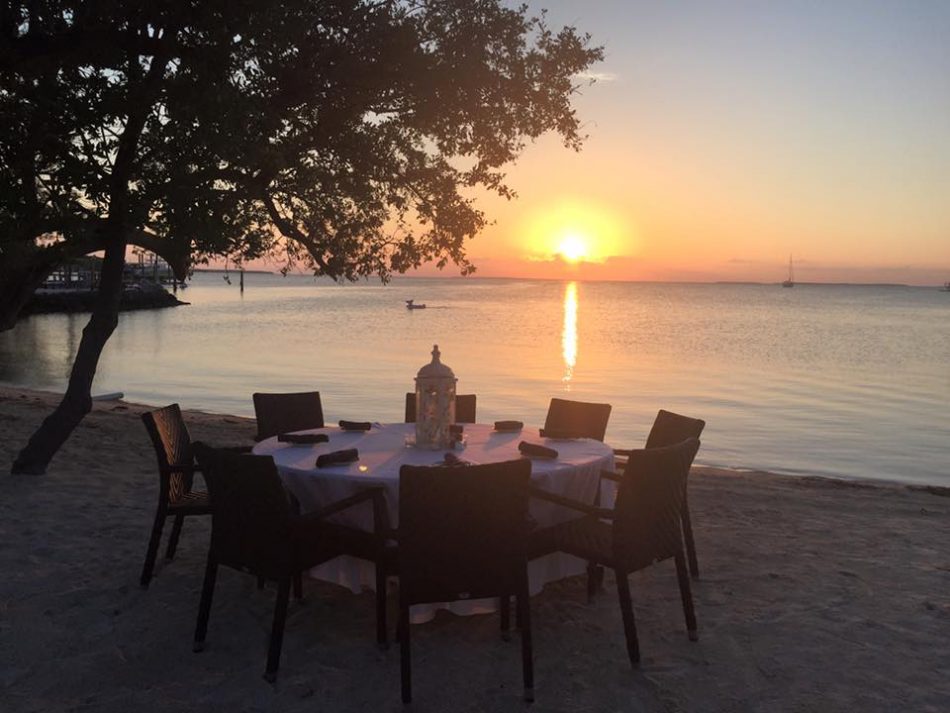 Key Largo
Key Largo (I've got the Beach Boys song in my head) is a quick 30-minute drive from Islamorada and we stopped in briefly to experience a ride on the African Queen. Yes, it's the same boat from the 1951 film starring Humphrey Bogart and Katherine Hepburn! Brought to Key Largo in 1982, this timeless classic became registered as a National Historic site in 2012 celebrating her centennial year. The site is one of those experiences that makes for great conversation, not to mention a great time. I'd certainly add this to your things to do list while in the Keys.
Before heading to Miami to catch our flight home, we made sure to stop in and have lunch at the Hungry Tarpon – Robbie's Marina in Islamorada. It is a local marina, with a local artisan market set up in front with numerous small shops. Here you can buy souvenirs, t-shirts, artisanal crafts, sunglasses, snorkeling gear and more. Plus, next to the restaurant patio is a small tuck shop that sells buckets of bait to feed huge tarpon fish. Buy a bucket and enjoy this neat experience. However, as you can see from this clip, you have to keep an eye on the pelicans waiting patiently to snatch the bait from you!
Finally, as you are driving out of Islamorada into Key Largo towards Miami, treat your sweet-tooth at Key Largo Chocolates and Ice Cream.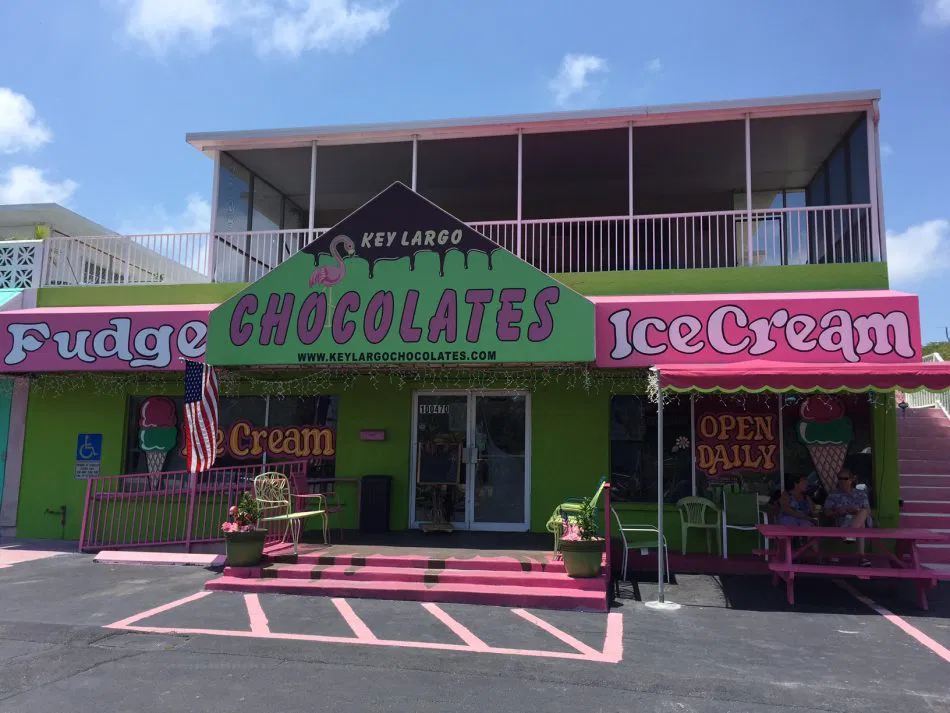 Proprietor and Master Chocolatier Kristie Thomas is the one who bakes the rum cakes and key lime pies. While they ship all over the US, deliveries all depend on hot how it is. If the temperature is too high, they will suspend shipping so as not to compromise her delicious treats!
Souvenir tip:
Aside from key lime pie, I discovered The Keys Salt Scrub at Bobby Stoky's Marker 88 restaurant. It is a handmade artisan product that leaves your skin feeling smooth. It's a unique gift only available in the Keys.
Safe travels!
Helen xo
Photos and videos by Helen Hatzis. Trip hosted by The Florida Keys. For more information on the Florida Keys & Key West, visit www.fla-keys.com
SaveSave
SaveSaveSaveSave
SaveSave
SaveSave
SaveSave
SaveSave
SaveSave
SaveSave
SaveSave
SaveSave
SaveSave
Latest posts by Helen Hatzis
(see all)