Weddings are celebrated differently in most cultures and areas of our globe. From the garb to food, to the location, the choices made are often deeply entrenched in tradition or religion. But, what about when they're not? For many years now, new couples have been carving their own paths and picking new and exciting places to tie the knot. And in particular corners of the world, these choices take on a slightly more bizarre shape.
1. McDonald's
In Hong Kong, it is becoming increasingly popular to celebrate nuptials at McDonald's. Yes, you read that right. While McDonald's may be an inexpensive, fast-food, drive-through experience in North America, in Hong Kong McDonald's is a proper sit-down restaurant with fancier decor and higher price points. It isn't uncommon to see families dining here together, or couples sharing an intimate meal, either. As a result, many lovebirds celebrate McDonald's as the setting of their very first date. In turn, they enjoy coming full circle and tying the knot where they first fell in love.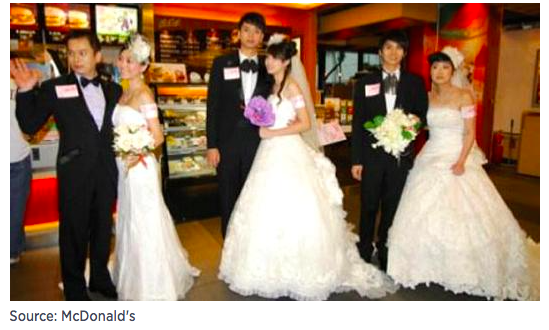 Yes, it may seem unconventional to those of us in North America. However, it offers locals a way to relive their sweet beginnings over a BigMac or a McFlurry. Packages (which can be individually tailored to suit Chinese or Western couples) include McDonaldland character gifts for each of the guests, wedding invitations, a pair of inflatable balloon wedding rings (McDonald's emblazoned, of course), a bridal bouquet, an apple pie tower, decorations, and also an MC.
The cost of a McDonald's wedding in Hong Kong starts at $300USD and a premium package can run as high as $3000USD. But be prepared for a short and sweet ceremony, the price only secures you the location for two hours.
2. 99 Cents Only Store
In 2009, a 99 Cents Only Store in Los Angeles, California, married nine couples in their ninth aisle. The weddings came at the low price of $.99 each. The idea was to celebrate the numerical marvel of the date 09-09-09 (September 9, 2009). While the idea may seem a little outlandish, the store, as a result of the price and uniqueness, garnered around 3000 responses from engaged couples. Each one more eager than the next to land a spot on the 99 cent marrying squad.
As it seems, if this were more than just a limited time offer, the lineup to marry here would be sizable!
3. Underwater
In the province of Trang, Thailand, live out the fantasy of marrying your loved one under the sea. Celebrating its 21st birthday this year, the ceremony incorporates traditional Thai and Buddhist wedding practices. The event occurs during the week of Valentine's Day every year and usually runs for about three days. During this time, couples have the opportunity to say "I do" while completely immersed underwater.
4. A Haunted Castle
In Staffordshire, England, the ruins of Tutbury Castle are said to be plagued by hauntings of unsettled spirits. However, for thrill seekers and horror fans, this might be the perfect wedding venue!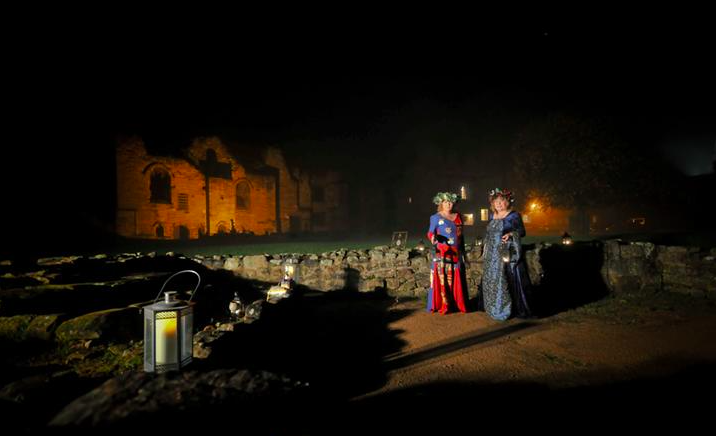 The castle's history includes several gruesome highlights, including four instances of holding Mary Queen of Scot's captive. When considering Tutbury as a wedding destination, keep in mind that they do offer afternoon packages. However, if you are after the creepy, haunted atmosphere, their midnight option is the ideal choice! Torchlights light the evening ceremonies and a single flood light cast an eerie glow on the castle's remains. Tutbury's marriage packages also include an optional authentic Medieval Handfasting. Plus, if your guests fancy a little ghost-hunting, incorporate a spook-hunt through the remains between activities!
Or, if you want all the horror but a more glamorous backdrop, you can instead say "I do" at Bran Castle, Dracula's residence in Transylvania.
5. In Space
Talk about a real destination wedding! While this wedding choice may be one of the most expensive in the world, it is definitely outside the norm! Several companies including Virgin Galactic and First Advantage are accepting bookings for weddings orbiting the earth! The weddings have just barely become a reality in recent years and as a result, will cost couples upwards of a million dollars for only a 60-minute ceremony.
Alternatively, save a few dollars and simulate the space experience by choosing a zero gravity wedding (pictured above in Florida) or aboard a 727 passenger jet in flight.
Latest posts by Helen Hatzis
(see all)