Bournemouth has been a popular tourist destination in England for many years. Its repute is mainly due to its coastal location and warm summer sun. Every summer, thousands of families and travelers flock to the beach town to partake in the many waterfront activities that the Bournemouth Tourism Association can advocate for. It may not be a particularly large city, but Bournemouth seems to supply an endless amount of fun activities – all of which I highly recommend checking out.
While these activities have their value, the real heart of Bournemouth lies where the locals are. From spending time in the popular vacation destination with friends who actually live there year round, I've been able to put together a list of 3 unique places in Bournemouth to visit if you want to step outside the typical "tourist" boundaries.
1. Platform 19
It was a rainy Saturday afternoon when we stopped into this quiet café on Queens Road for a cup of tea. After a long day of wandering around the city, we were looking for somewhere cozy to wind down. The hospitable shop owner and an even friendlier dog greeted us right away. I remember looking around in awe of the lovely decorations all over the store.  Everything from vintage road signs to unique art and old books lined the walls and shelves. After taking a closer look, I noticed a lot of the items came with prices. When I asked, I discovered that just about every single thing in the shop was for sale, down to the chairs we sat on.
After browsing around, we ordered some tea and took a seat. Benson, the friendly collie, laid down under the table at our feet. Our delight only brightened when the shop owner showed us the menu. The café offers extensive brunch options as well as lunch and dinner specials! Naturally, this café/antique shop became our daily fuel stop while in Bournemouth.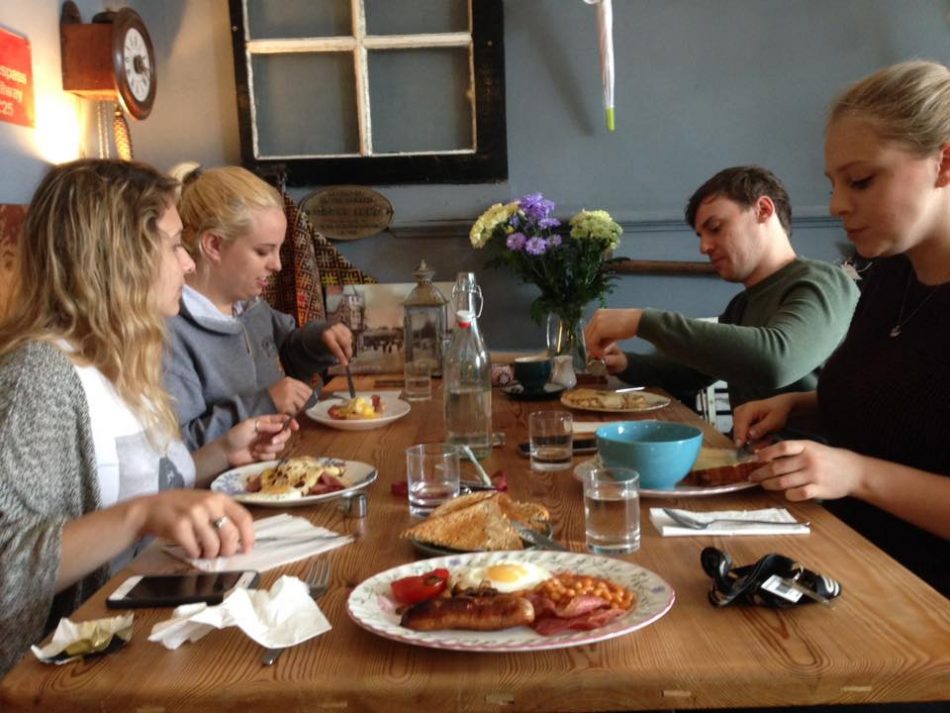 2. Comix Books & Dvd's
This shop is a booklover's paradise. The store doesn't really have a clear sign, which makes it a bit difficult to find, but it's a gem nonetheless. Located on Queens Road just around the corner from Platform 19, the shop has limited, peculiar hours. But that doesn't mean you can't have a look around and browse some books.
As you approach the unmarked door, you may see a slip of paper with a number on it. All you have to do is call that number, and if the owner is around, he'll happily let you in to take a look. You walk in to find a never ending tunnel of old books stacked on top of one another. Books line the floor; shelves reach up to the ceiling, all in an organized chaos. It can be overwhelming looking around on your own, especially if you're looking for something specific.
Despite the disorganized look of the shop, the owner, Gerry knows exactly which books he has in stock and where they all are. If you search hard enough, you can find first editions and out-of-print books. When I visited, I managed to find an early edition of the Jungle Book from 1950 for my brother.  Old records, movies, and posters are also available, and you never know what vintage finds you may stumble across. You could easily spend an entire day looking through this never ending tunnel of books.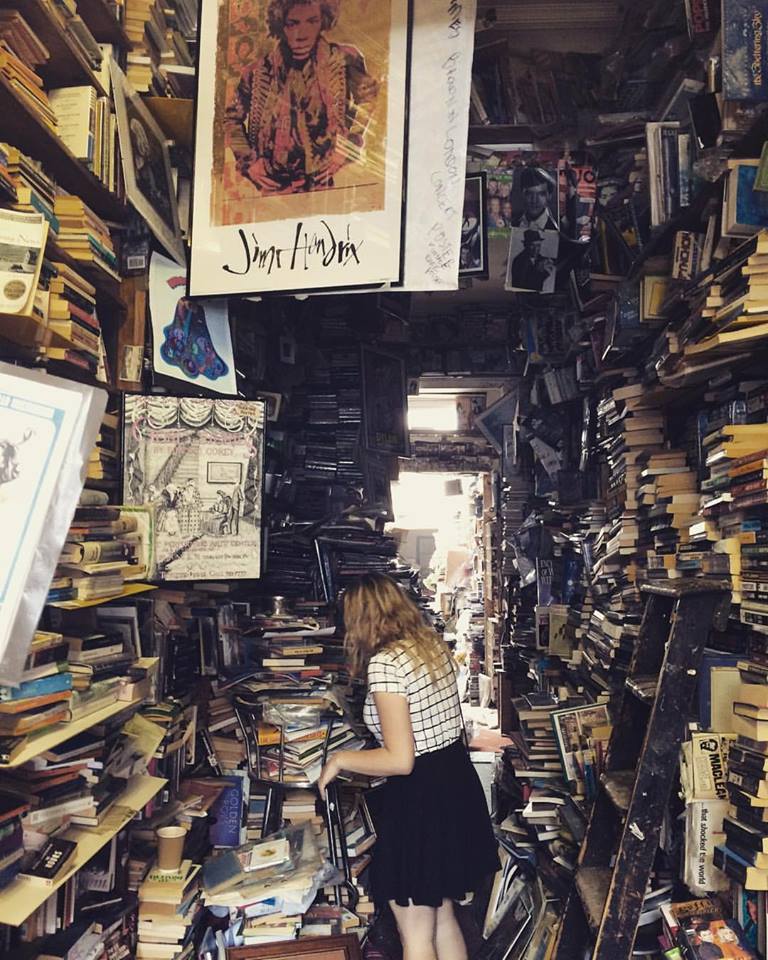 3. Cliffside Camping
On my third day in Bournemouth, we managed to persuade a friend who owned a car to join us in our sight-seeing. We drove about an hour over to a village called Worth Matravers to go camping. This quaint village sits on the English channel along the stunning limestone cliffs. It was nothing like any camping I'd ever experienced before.
Carrying all of our camping gear, snacks, and warm clothes, we pitched a tent on a site not far from the village with a perfectly picturesque view. The village,  populated with stone cottages, hosted the most beautiful cliffside views overlooking crystal waters. A very cool bar in town called the Square and Compass is surely a staple for anyone in Worth Matravers. The bar is a piece of history in Dorset, and is home to so much tradition, as well as fantastic beer and friendly staff! It really couldn't get much better than camping on the English coast, sharing drinks at a true English pub. The trip was well worth freezing in tents in the pouring rain in the middle of May, and I'd do it again any day.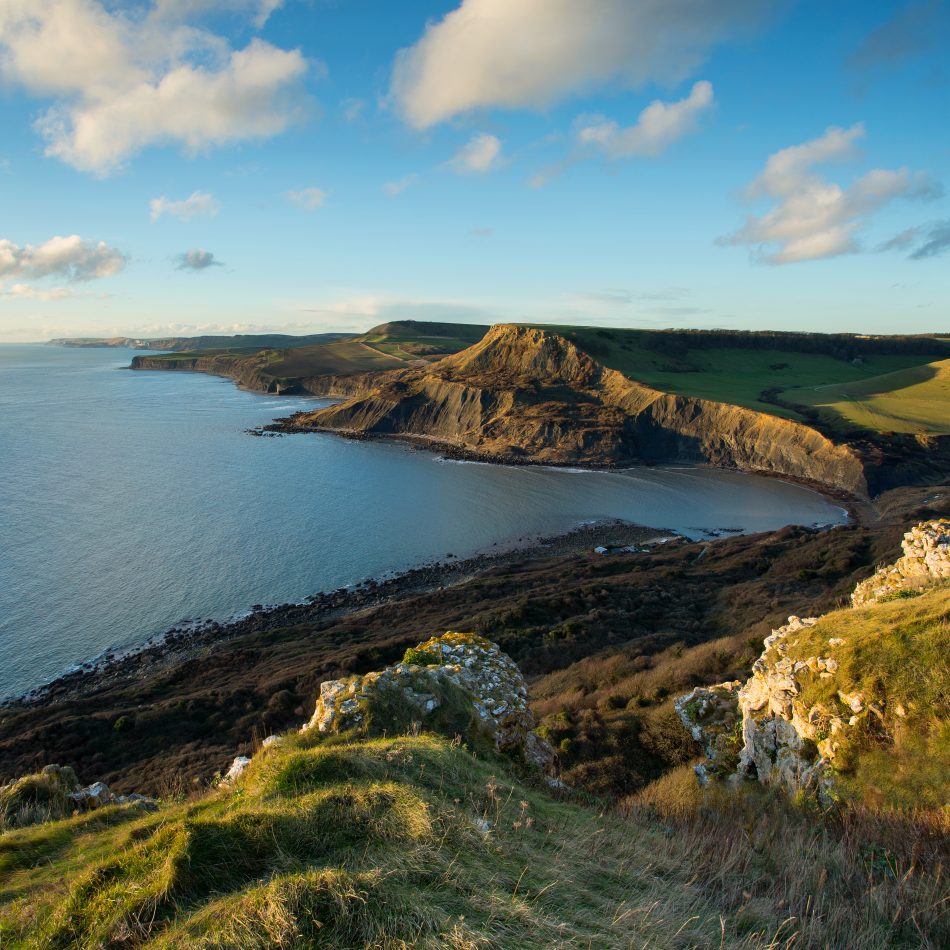 BONUS:
Durdle Door
…Ok so you probably will find some tourists here, but I couldn't leave it off the list because even the locals know how spectacular this nature preserve is.
With no access to a car while in Bournemouth, it proved to be difficult to get anywhere outside of the relatively small city. Thankfully for must-see places like Durdle Door, it was really easy to find transportation. Down by the beach, there's a tourists hub where you can book just about anything you need to help explore Dorset and the surrounding area. I suppose that's one of the benefits of being surrounded by tourists for the entire summer.
Once at Durdle Door, there are a bunch of things to do, including visiting the Lulworth Castle. You can walk around there and get a stunning view of the Dorset countryside. I suggest spending the money on a half-day tour to make the most of the national site. The real attraction though is the landscape at Durdle Door Holiday Park. When we visited it was absolutely pouring rain, but that didn't take away from how beautiful the coast looked. It seemed like a perfectly untouched piece of nature, well worth the 1.5-hour bus ride.
Latest posts by Helen Hatzis
(see all)