It is no surprise that the number of families with pets is steadily continuing to grow. More than half, 52% of households in Canada have a pet, according to the 2015 Canadian Pet Market Outlook. These furry friends are a part of our family, making it hard sometimes to leave them as we jet set off around the world. If you wish you could bring your four-pawed friend along then look no further! This article is all about how to travel with your pet while staying sane. Traveling pets!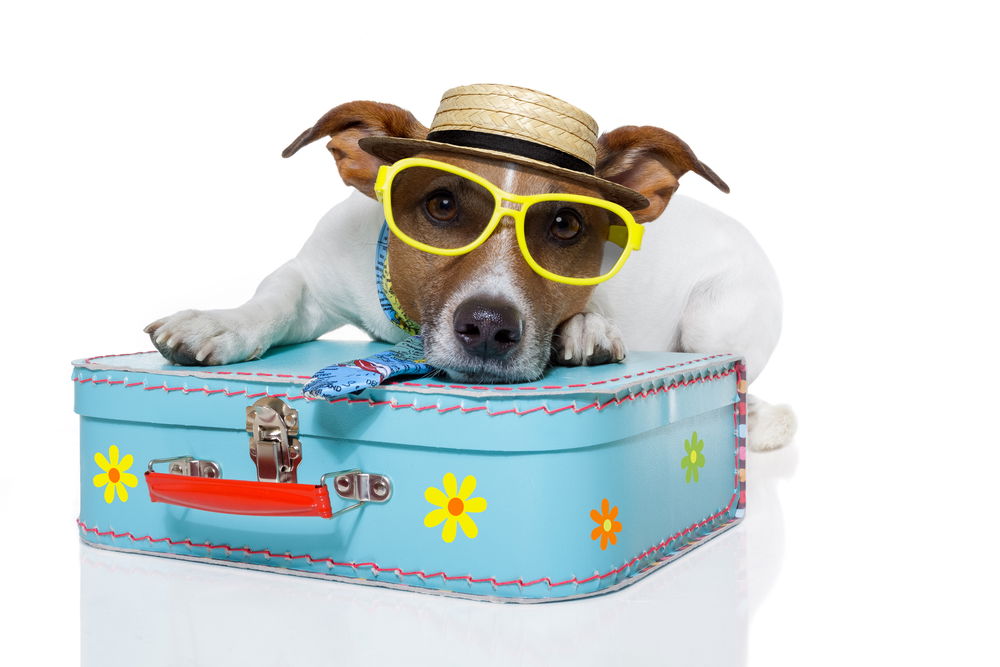 Now don't worry you don't need to sacrifice your Zen stress-free week just because you are bringing your furry baby on the road with you. Follow these guidelines, and you'll be relaxing even before your plane takes off!
Before the Airport:
You've made the leap and decided to bring your four-legged best friend on vacation with you, now you need to prepare your pet carrier and pet ahead of time to make sure the trip is as smooth as possible. First off discuss your travel plans with your vet. They will be able to help you make sure your pet has all the vaccinations needed for the country you are flying to. A rabies vaccination is recommended for most areas to keep your pet safe and healthy. Second, to stay organized create a folder that has all your pet's documentation, licensing and vaccination updates, this will help for a quicker process upon descending to your destination.
Think of purchasing tags for your pet's collar if they don't already have one, get your cell phone number engraved on the back as a precautionary measure. It is not necessary for every country, but some vets recommend looking into microchipping your pet as a safety precaution in case you get separated, this will allow for easy identification.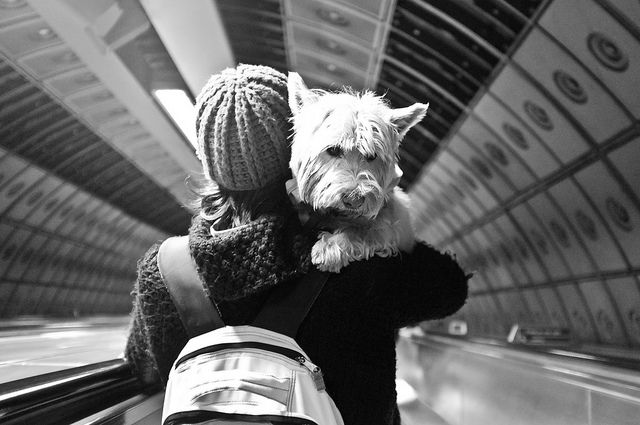 Owners should keep track of when they feed their pets before departure as there will be no place for the animal to relieve itself. Veterinarians recommend you feed your pet four to six hours before departure, as having a full stomach may cause discomfort for them during travel especially if the pet becomes nervous during the flight. Bring a water dish with you on the flight, so you can provide your pet with water if they become dehydrated. You can purchase pee pads for your pets at most pet stores in case they have an accident on the flight, line their carrier with the pads beforehand. Consult your veterinarian if you have any other questions before you set off on your vacation.
Airline Policies:
Once you have decided where you want to vacation check out the regulations your airline asks you to follow when traveling with a pet. This will save you from buying a ticket and then realizing your pet is too large to ride in the cabin with you. Most airlines will have their regulations posted on their website. Once you have booked your tickets for your flight, you should register your pet within 24 hours of completing your booking. It ensures that if your pet is not able to be accommodated on the flight on the specific dates you have selected, your ticket will be refunded with no charge. To register your pet, the airline requires you to contact their reservations staff and provide the dimensions of the carrier and the breed and weight of your pet.
It is recommended to look at your airline's website, as you will be able to print off their particular travel form needed for your pet. Do this before you arrive at the airport to save time. Arriving at the airport early will give you peace of mind if you are nervous or new to flying with your pet.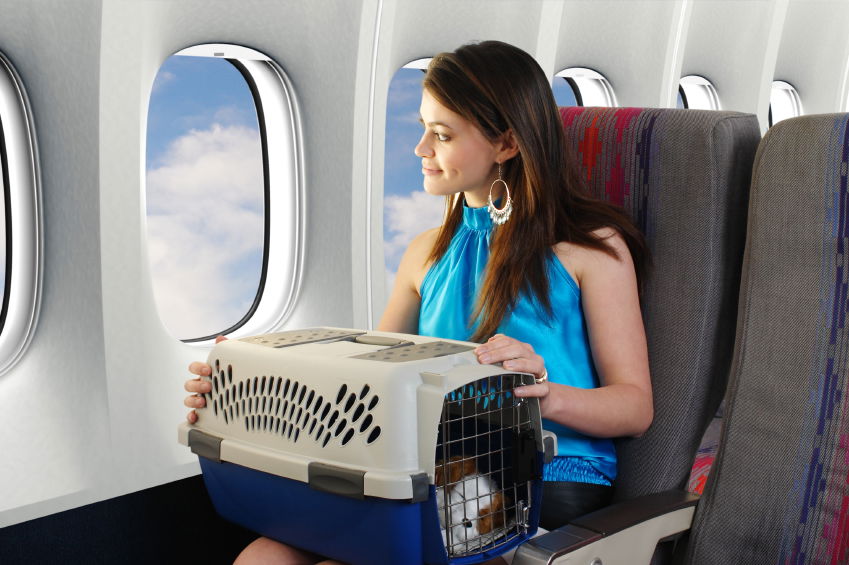 There are three ways in which you can travel with your pet on an airline: in the cabin, as checked baggage, and as cargo. Most airlines have a surcharge for bringing a pet on board, even if they are stowed under your seat. Make sure your carrier is compliant with your airline's regulations if your pet is flying in the cabin with you.
Arriving in Country:
Upon your arrival in any country, government veterinarian officials may inspect your pet and charge inspection fees. Most countries will not accept veterinarian health certificates as a sufficient reason to clear government vet inspections. However, we still recommend to have all of your pet's vaccination certificates and medical history handy upon arrival. To obtain government approved health certificates contact the consulate or embassy of the country you are traveling to. If your pet has a poor health record they may be denied entry upon arrival, check with your vet before planning your trip.
Before taking off educate yourself on the rabies classification of the country your pet is leaving from according to your destination. Most countries have a strict rabies policy. The World Organization for Animal Health is a reputable source for the classification of rabies free, rabies-controlled or high-risk countries. Every country requires a minimum of proof of good health and a rabies certificate.
Hotels, which allow pets:
Pet policies change even within hotel chains depending on the location, so be sure to mention your furry one when you are booking your reservation! At most hotels, there is usually a minimum charge of $30 to $40 a night to accommodate your pet. Most hotels request that you do not leave your pet in your room unattended and ask that they stay on a leash at all times in common areas of the hotel. Due to health regulations, most hotels do not allow pets in the restaurant areas of the hotel.
Some of the top pet-friendly hotel chains are:
The Four Seasons Hotels and Resorts, most locations offer pet-friendly rooms if you mention your pet during your booking. Depending on the location you are staying at the Four Seasons limits guests to one pet per room and it must be under 20lbs.
The Fairmont also allows pets at most of their locations with a daily rate ranging from $25-$50. Other Canadian locations offer "Pet Sitters" for hire at an hourly rate, which guests set up at the concierge desks. Some locations offer additional supplies such as dog beds, water and food bowls, baggies, and treats, which are also available through the concierge. Some of the hotels even include a welcome package for your pet, which includes special pet amenities, walking services, and special room service for your pet.
The Best Western offers more than 1,600 pet-friendly hotels across North America and the Caribbean. The amenities vary depending on location so make sure you check when making your reservation. Most locations will allow up to two domestic dogs with a maximum size of 80 lbs per animal, and a refundable damage deposit of up to $50 per stay.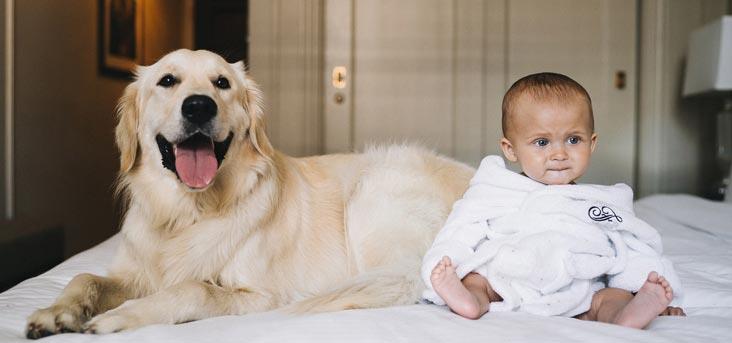 photo from Fairmont.com
Luxury hotels that allow pets:
Mandarin Oriental Hotels: Depending on the location, this luxury chain of hotels allows one dog up to 25 lbs for an added fee of $150 per stay along with a refundable deposit of $100. They also offer welcome amenities such as a keepsake collar tag, treats, and bottled water. Luxury pet beds, food, and water bowls, as well as training pads, are available if requested. Your pet will also be able to experience his or her gourmet room service with their own in-room menu featuring all natural pet cuisine. Guests can contact their concierge for information on walking routes, dog parks and pet-friendly places to visit.
Loews Hotels: Each property of this luxury hotel chain allows up to two pets per room, and they require up to date vaccination certificates. Upon checking into the hotel every cat or dog receives a welcome gift which includes a collar tag, water and food bowl and special treats. They offer guests pet in room signs to make house-keeping staff aware your furry one could be in your room. The hotel also offers complimentary pet accessories such as litter boxes, litter, scoopers, scratching posts and pet beds. They also have gourmet in room service pet menus. Pet sitting, and walking services are available upon request.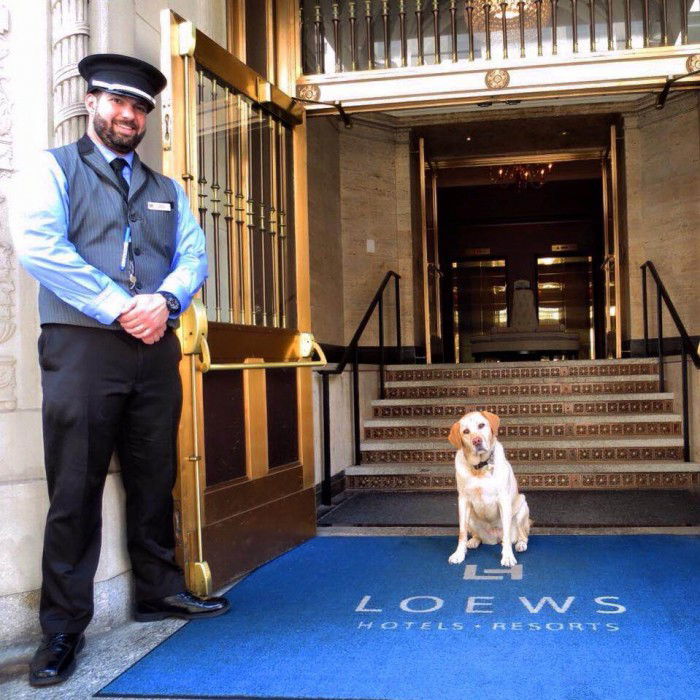 The W Hotel: All North American locations allow pets to stay with their guests for a fee of $25 a night and a $100 nonrefundable cleaning fee. Your pet must be 40 lbs or under and there is a limit of one pet per room. Guests are provided with a welcome package with information about dog parks; pet-friendly restaurants, and local pet services, pets also receive an amenities package with a W hotel pet tag, treats, and disposable waste bags.
What to bring:
When traveling with your pet, it is smart to pack a small bag for your animal as well as necessities such as litter box, litter, food, medicine, pet towels, and leash. Call ahead to your hotel to see if they offer any amenities for your pet to lighten your baggage.

General Tips:
Acclimate your pet to its crate or carrier months ahead of your travel date, so they are comfortable on the flight
Use pet pads for accidents
Contact your vet before leaving
Bring toys for your furry one to feel at home on the trip
Allow your pet to get comfortable in their new space once you arrive by taking them for a walk
Drain their energy before the flight by keeping them active the day before
Bring an extra leash and collar
Pack a small first aid kit for your pet with necessary medications, bandages, and ointment they might need
Make sure your pet's tags are up to date, and there are emergency contact numbers on their collar
Taking your pet on vacation with you doesn't have to be stressful, if you follow these tips you'll be relaxing in no time!
Latest posts by Helen Hatzis
(see all)