Everyone has heard of Las Vegas, but how many of us are familiar with its distant, South-East Asian counterpart, Macau? Separated from Hong Kong by the Pearl River Delta to the east, stands an island with an immense gambling industry. The annual casino revenue here is seven times that of Las Vegas.
The region was a Portuguese colony well into the late 1990's and will retain the majority of its autonomy until 2049. The 300 years of European rule have left Macau with a profound mixture of cultural influences to absorb. Reflected in almost all aspects of the city, behold the stunning European-inspired architecture, cuisine, and culture. But on an island as densely populated as Macau, where should you begin?
Check in with us for a list of which casinos to visit for an epic stop in Asia's neon casino haven.
The Venetian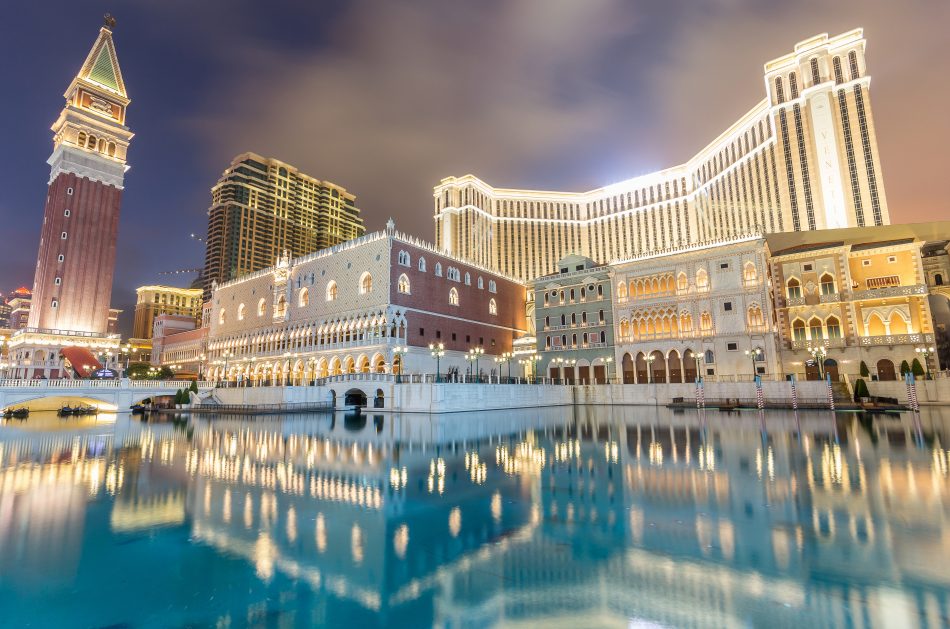 Stretching over 550,000 square feet, The Venetian Macau is the largest casino in the world. As you may have deduced from its name, it is an homage to Italy's Venice from top to bottom, fully equipped with canals and gondolas.
Apart from its gambling scene and elegant aesthetic, The Venetian also boasts top-notch dining options, a vibrant entertainment scene, and mini-golf. It also often hosts international musical sensations in its theater. The hotel accommodations found here are lavish but very pricey. As far as the casino goes, locals often choose less touristy locations for more serious gambling. However, if you're looking for a little bit of fun in an elegant setting, The Venetian is the casino for you!
Wynn Macau
A true Las Vegas incarnate! The foreign twin of its American counterpart, the Wynn Macau shares its design (both inside and out) with Wynn Las Vegas. The posh casino oozes luxury, showing off 2,450 square feet of gold leafs on its walls. Wynn also offers a lineup of some of the highest-end shops the world has to offer, such as Louis Vuitton and Prada. If shopping and gambling aren't enough for you, you'll also get a healthy dose of culture at Wynn. The casino performs an authentic dancing dragon show every hour. Plus, a rising of the Tree of Prosperity (a golden tree that emerges from the floor) happens every half hour. Wynn is a hub for more serious gamblers and is particularly popular amongst wealthy crowds.
Grand Lisboa
While slightly gaudier in aesthetic, the Grand Lisboa demands a dramatic presence in the city. The Lisboa's tower is a totem of the Macau skyline. While lacking the frills of the Venetian or Wynn inside, the casino is hailed as having the biggest and best poker room in all of Asia. This same room holds Asia's largest poker tournaments. The hotel within the casino is relatively affordable (as the high-end casinos go). It has an exceptional rewards program for any prospective members and offers guests the widest variety of Western gambling games in Macau.
Tips
As a bonus, Macau is a customs-free port, meaning that liquor imports at a lower cost than most areas of the world. Splurge on that special bottle of bubbly champagne or your favorite Portuguese Porto! In some cases, the alcohol prices are even more economical than in their country of origin!
If you are coming from Hong Kong, try taking the helicopter ride over. While it does come at a much higher price than the high-speed ferry, you will arrive much faster and avoid the lines at customs. Plus, the experience provides views of Hong Kong, the Pearl River Delta, and Macau that will amaze you.
Macau is home to the world's highest bungee jump of 338m or 63 floors! This is an attraction to check out for the adrenaline junkies out there.
Macau is the only place in China that gambling is legal.
Latest posts by Helen Hatzis
(see all)