I have always marveled at the allure of the Niagara region. As a child, with my extended family, we would pack lunches—enough to feed an army—and embark on summer day trips to Niagara Falls. We would pose along the iron gate with the falls in the background, trek up and down Clifton Hill, and park our weary legs near the flower clock for a picnic. I would lie on a blanket my mom would lay out and share historical facts about the war of 1812—information that I just happened to learn in history class that year.
For history buffs, the Niagara region offers numerous historical sites that have been carefully restored. You can visit the past via guides in period costumes or meet the past by participating in a Ghost Walk experience in Niagara-on-the-Lake. There is a monument and/or colorful story within every mile and, for wine lovers, Niagara-on-the-Lake boasts 25 wineries! On this weekend jaunt, with the help of Betsy Foster at Tourism Niagara, I plotted my two-and-a-half day visit with vigor!
Friday Afternoon (Departure Day): From ZipCar to Vineland
I had left Toronto by 2:00 p.m. in my trusty ZipCar. For those of you who are not familiar with ZipCar, it is the world's largest auto-share company that was conceived in a coffee shop in Cambridge, Massachusetts, over ten years ago. Having been a member since 2007, I decided to relinquish my ties to owning a car last October and utilize my ZipCar membership to its fullest. I not only save approximately $10,000 a year, but I am also contributing to our environment by reducing my carbon footprint. ZipCar works on an hourly rate with both gas and insurance included; a credit card for gas is included in every vehicle with 24-hour, seven-days-a-week customer service. I collected "Olympia" the Subaru—yes, every car had a name—at the location closest to me and headed to my first stop: My favorite winery.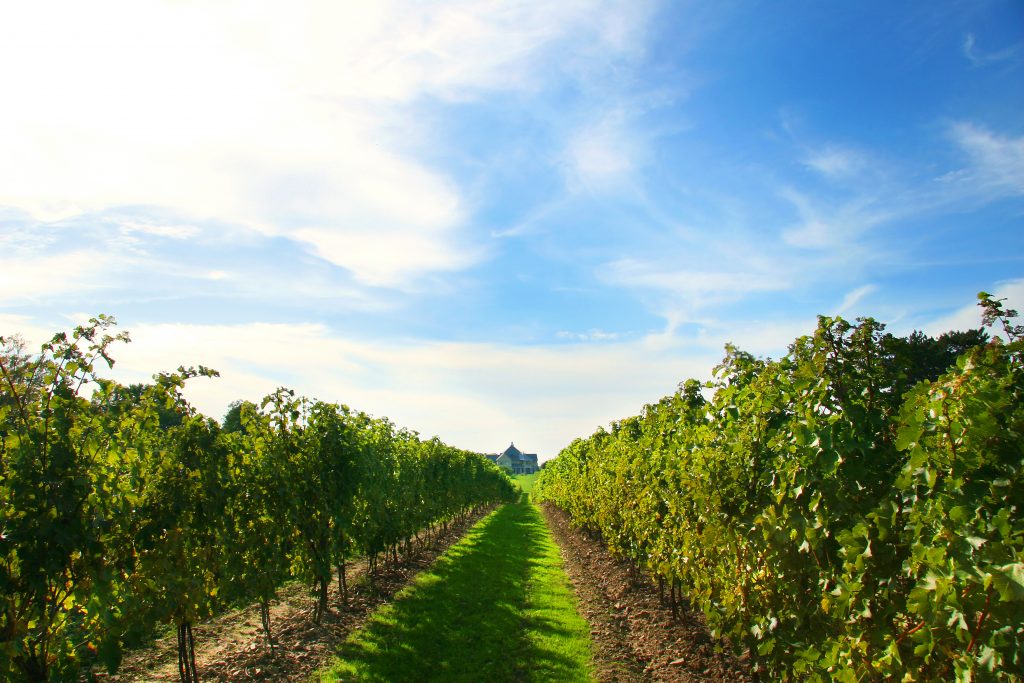 First Stop: The Foreign Affair Winery
Last spring, I attended an RBC customer appreciation event in Toronto. The fare was wine and cheese that featured both local and rural wineries. One merchant in particular caught my attention, so I spent most of my time getting to know him and the story behind his winery. Len Crispino, the dreamer and proprietor behind The Foreign Affair (as well as the CEO of the Ontario Chamber of Commerce), was diagnosed with a life-threatening illness in the '90s. It was this moment that propelled him to realize his dream. "At that point in my life, there was no risk really," shared Crispino. And, with the support of his wife Marisa, and encouragement from friend John Howard (proprietor of Megalomaniac winery), they acquired 40 acres of land in Vineland, Ontario, in 2000 and embarked on a lifelong dream—to own and operate a winery.
Over the next few years, the Crispinos patiently perfected the process of the time-held northern-Italian tradition of the Amarone-style winemaking of drying grapes. "In our first year, we dried our grapes in a friend's barn and the conditions were not ideal, so we moved into a greenhouse in the second year and. well, it was too hot. Finally, in our third year, we discovered this building [that we are in now]. They were going to demolish i,t and we decided to take it. It's an old laboratory—but ideal for our purpose. And the unique aspect of this building is that the first VQA testing occurred in these very walls," shared Crispino.
Their trademark wine Ti Amo a Cabernet Franc is what drew me to The Foreign Affair table that evening last year. It is a delicious wine with a sumptuous aroma that is, by far, top on my list. When heading to the Niagara region, be sure to stop in and say "hello" to the Crispinos. Combined with their old-world hospitality and incredible selection of wine, they are a must-go-to destination.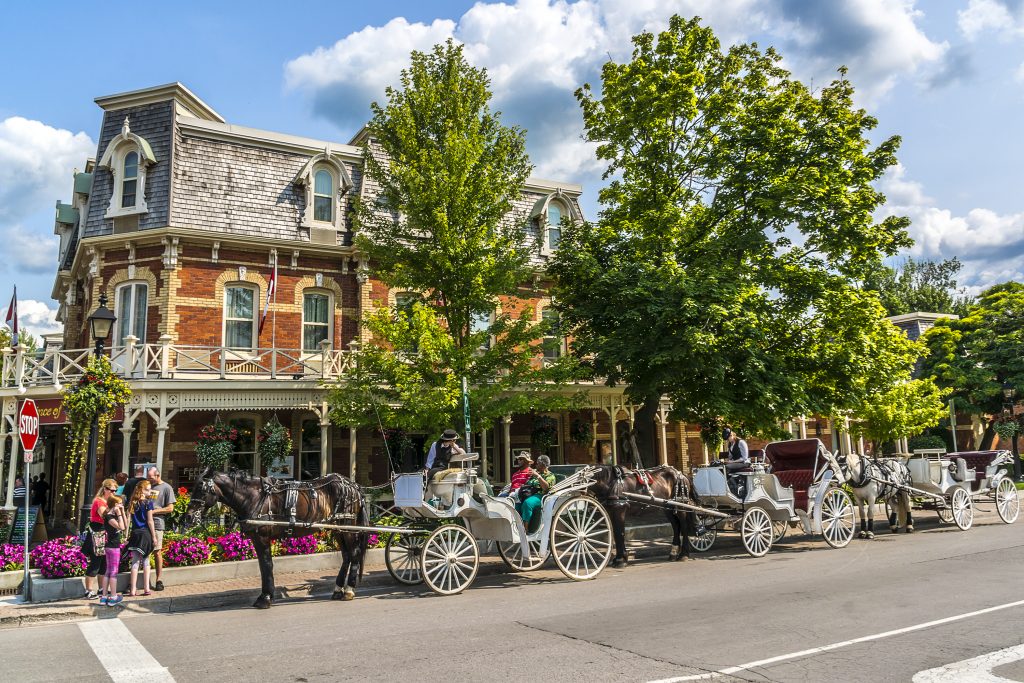 Second Stop: The Old Winery
I said my farewells and headed into Niagara-on-the-Lake for my 6:30 p.m. dinner reservations at The Old Winery. They happen to be clients of The Foreign Affair so I didn't mind dropping off a delivery on their behalf. The Mediterranean inspired restaurant with a Tuscan flare is off Niagara Stone Road and backs onto a shallow ravine. The staff is friendly and accommodating and the setting is a bright open concept. As I settled at my table by a large window overlooking the ravine, the manager, Kelly, selected my dinner. His suggestions were as follows with wine pairing by Audrey (my server):
Baby argula tossed with roasted beets, asiago cheese and toasted walnuts (paired with Hillebrand 2009 Riesling)
Hand cut ricotta gnocchi with Gorgonzola cream sauce (paired with Pondview Chardonnay)
Lindt Milk Chocolate Crème Brulee (paired with Southbrook Framboise dessert wine)
I thoroughly enjoyed my experience at The Old Winery. The atmosphere was welcoming, the setting was comfortable and the pacing between each course were well timed. The restaurant is located minutes outside of the old town allowing me ample time to settle into my hotel before heading to The Royal George Theatre.
3rd stop: The Oban Inn
Niagara-on-the-Lake is known for their boutique hotels and bed and breakfasts. On this trip, I stayed at the Oban Inn. This officially designated heritage site was originally the private home of Captain Duncan Milloy of Oban, Scotland built in 1824. Situated across from Lake Ontario and the oldest golf course in Canada, the Niagara-on-the-Lake Golf Club, the Oban Inn and OSpa features 26 guestrooms, a library, fitness center, outdoor swimming pool, a gastronomy restaurant, Shaw's corner, lovely gardens, a koi pond and more. I nestled into the cottage next to the main house in the Rose Room with a view of the lake. The Victorian motif is reminiscent of my many years spent in the English countryside. From 18th century paintings to traditional china pieces adorning the room, the Inn combines old world sensibilities with modern comforts such as a gas fireplace, flat screen television, and internet access. The property is stunning. A perfect backdrop for a wedding or simple garden party. Above all, the location allows for a peaceful and restful stay.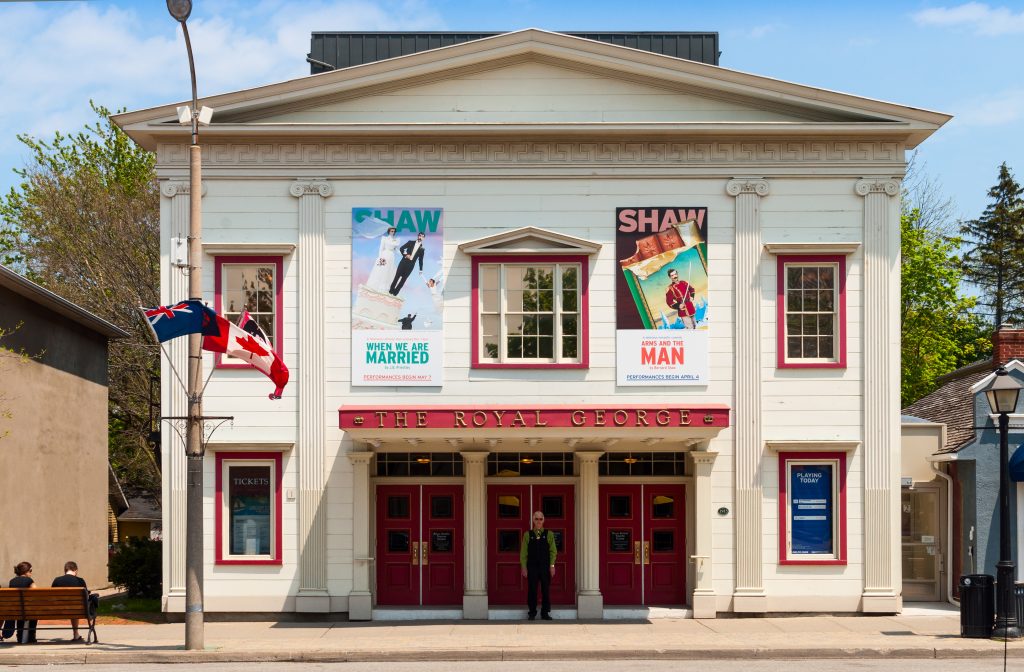 4th stop: The Royal George Theatre
After settling into the Rose Room at the Oban Inn, I hopped into my Zipcar 'Olympia' and drove over to The Royal George Theatre. I could have simply walked as everything in the old town is within walking distance however; I had plans after the play that required a vehicle.
The Royal George Theatre is one of four theatres operated by the Shaw Festival now in its 50th season. At the height of the season, the festival employs approximately 600 people (including 72 actors). The economic impact (according to surveys) indicates that for every dollar spent at The Shaw translates to approximately $8 being spent within the Niagara Region.
I was privy to a performance of Candida by Bernard Shaw, directed by Tadeuscz Bradecki. Now in its second week and coined as Shaw's most charming comedy, the cast including Clair Jullien, Nigel Shawn Williams and Wade Bogert-O'Brien (to name a few) delighted the audience. This production will run till the end of October 30.
If you are planning a visit to Niagara-on-the-Lake, adding the Shaw Festival to your itinerary is an absolute must.
5th stop: a horse-drawn carriage tour
Candida ran for approximately two hours (including intermission) and upon exiting the theatre, a stunning horse and carriage awaited my arrival. Since 1989, Sentineal Carriages has been welcoming tourists with their fully narrated tours. My 45-minute ride through the old town was hosted by Alicia and a beautiful Clydesdale named Po. Po was previously owned by Mennonites who opted to sell him. Destined to be sold and terminated for other uses, the owner of Sentineal Carriages rescued Po and have given him a second chance. Clydesdales are a working breed and he led us on the tour that evening without guidance from Alicia. She in turn spent time pointing out the multiple historical sites within our tour. I can't think of a better way to rehash history then in a horse and carriage.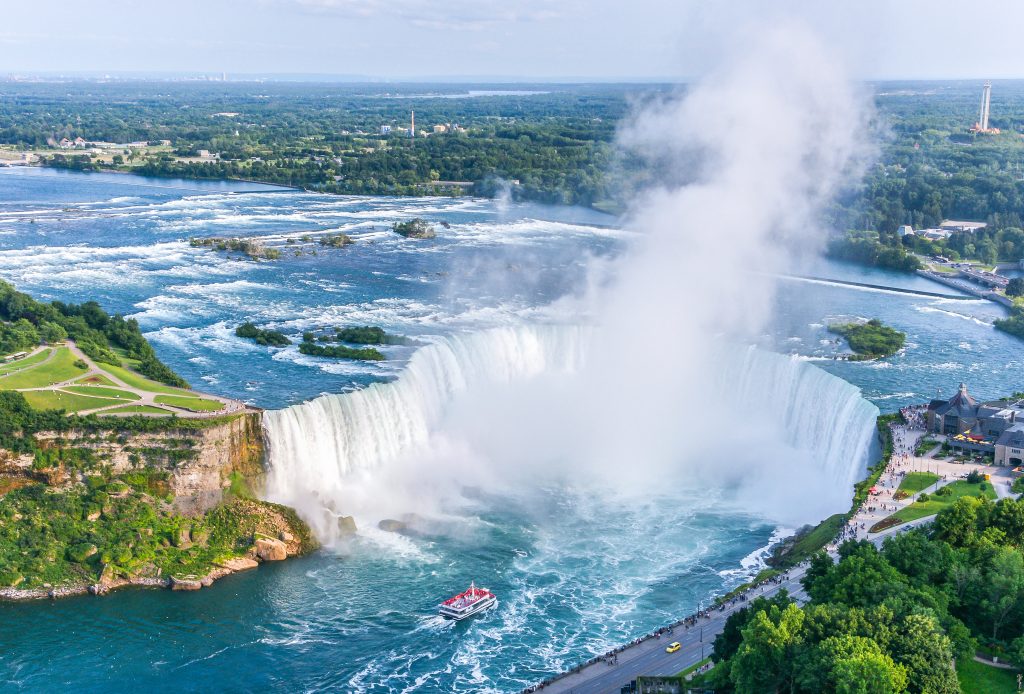 6th stop: a quick jaunt to Niagara Falls to collect my travel partner
Alicia and Po dropped me off at the theatre. We took a couple photos before I hopped into my Zipcar 'Olympia' to collect my friend and weekend jaunt photographer Kim Alison Fraser in Niagara Falls before settling in for the night.
With a full day of activities planned over the next two days, Kim Alison and I reviewed our schedule and called it a night!
Saturday: Niagara-on-the-Lake
Considering yesterday was a long day, we opted to skip the rain and toured the indoor amenities of the Oban Inn. This stunning boutique hotel offers a warm and welcoming setting with friendly and accommodating staff. One could spend a day relaxing in the lounge, followed by spa treatments and either dinner or cocktails at the bar or a simply a quiet afternoon reading in the library. And after chatting with the staff in the lounge, we dashed out the front doors into the rain and into our car. We had a morning appointment at Riverbrink Art Museum.
1st stop: The Riverbrink Art Museum
The Riverbrink Art Museum was once the private home of Samuel E. Weir Q.C., a lawyer from London who fell in love with the Niagara area. A collector of art that includes paintings by Tom Thompson and sculptures by Marc-Aurèle de Foy Suzor-Coté most prominent in the house is paintings depicting the Battle of Queenston. Approximately 70% of the diverse collection is Canadian with the remaining 30% representing international artists. When Weir passed on, he left his home and collection to The Weir Foundation and the museum officially opened its doors on June 15, 1983. The expansive grounds off the Niagara Parkway offers a beautiful view of the Niagara River, ideal for a garden party or wedding. Curator Gary Essar opened the doors pre-season to give us a tour. Mr. Essar gave us an up close and personal look into the life and times of Mr. Weir and his love of the Niagara region. Be sure to visit the library in the basement. For a rare look into Niagara's past, a visit to the gallery is a must. And, be certain to chat with the Curator Mr. Gary Essar. His knowledge and passion for the arts is contagious!
2nd stop: Kurtz Orchard and Gourmet Marketplace
Kurtz Orchard and Gourmet Marketplace is located between the old town of Niagara-on-the-Lake and The Riverbrink Art Museum. This multi-generational family run business began with Polish immigrants who were taken aback by the beauty of the region. On this visit, Anne Just, the granddaughter now running the family business, welcomed us. Well known for their products made from seasonal harvests, you are literally eating the fruit of the land! When you enter the gourmet market, there are numerous sampling stations set up. From delicious jams to their sumptuous asiago bread topper, even the discerning palette will leave satisfied. And if you are so inclined, pick up a few colourful recipe cards courtesy of Kurtz Orchard at the cash register. The recipes are by Niagara Cooks author Lynn Ogryzol, winner of the Best Local Food Cookbook award. Kurtz Orchard is known for recognizing and promoting local artisans with their products lining the shelves. Be sure to ask either Anne, Kyla or Kristin for assistance. And while you are there, take a tour, a cooking class or for a hearty lunch and let the kids feed the over 1000 Koi fish in the pond next to the market. Say hello to Anne, she is a wealth of knowledge and has a lot of wonderful stories to share!
Kurtz Orchards and Gourmet Marketplace has a boutique shop in the old town of Niagara-on-the-Lake, Carmel-by-the-Sea in California and Bayview Village in Toronto.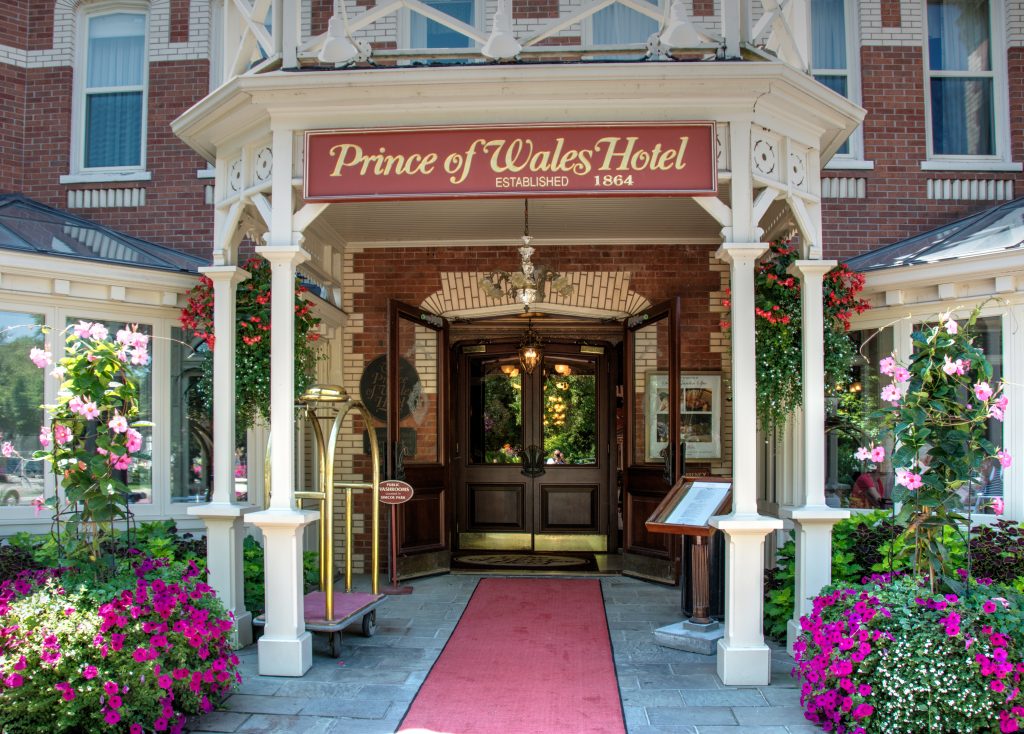 3rd stop: Prince of Wales Hotel for Afternoon Tea
Niagara-on-the-Lake's old English ambience would not be complete without afternoon tea. So, we ventured into The Drawing room at the Prince of Wales hotel located in the heart of historic Niagara-on-the-Lake. The setting is reminiscent of 1840, when Anna, the seventh Duchess of Bedford, introduced afternoon tea in England. She found the long delay between lunch and dinner unbearable that she began a ritual of 'snacking' between meals to bridge the gap. Eventually, she invited her friends to join her and thus it became a fashionable social event for the upper class. Today, the British tradition of hi-tea and afternoon tea is enjoyed regularly and not just society women. Businessmen and women have opted to meet over afternoon tea as oppose to brunch or lunch. If you want to indulge and experience the best of this luxurious tradition as continued by Claridges, Dorchester, the Ritz and Savoy (to name a few), pop over to the Prince of Wales. I highly recommend the white vanilla blueberry tea!
And with an hour to spare before departing for Niagara Falls, we decided to walk around the old town. This is when I discovered Niagara-on-the-Lake 'Ghost Walks.' Unfortunately, we did not have time to add it to our itinerary but will make a point of experiencing this upon my return.
Another to-do item on my list is a trip to the Lavendar Farm approximately 20 minutes from the old town. They will be hosting their first annual "Taste of Niagara Lavender Festival" July 16, 2011 (one day only).
Finally, I would have engaged in the Niagara-on-the-Lake bicycle tour if not for the rain during our visit). Zoom Leisure offers bike rentals and tours with locations in both Niagara-on-the-Lake and Niagara Falls. With over 15 years experience, and the beautiful backdrop of the Niagara region, you are guaranteed a breathtaking experience.
Saturday night – Niagara Falls: Heading to The Old Stone Inn
Niagara Falls is recognized world wide as home of one of the natural wonders of the world and as the honeymoon capital of the world. According to the Niagara Heritage Portal, the first recorded honeymoon in Niagara Falls was in 1802 by the daughter of then US Vice president Aaron Burr, Theodosia. But it is more widely known that the Jerome Bonaparte, the brother of Napoleon honeymooned here as well.
Today, Niagara Falls is still a honeymoon destination. Combined with it's world-class casino, kitschy amusement and entertainment sector known as Clifton Hill, numerous restaurants and dinner theatre venues, you can engage in activities 24 hours a day!
As we drove into downtown Niagara, we settled into our hotel, the Old Stone Inn, Niagara Falls only historical boutique hotel. Originally a flourmill in the early 1900s it was transformed into an inn by a local developer in the 70s.
Today, this delightful inn with 69 rooms (suites and guest rooms), an indoor swimming pool, rustic dining room and lounge and conference and meeting spaces of over 5,000 sq ft, is a popular second home for tourists and businessmen and women. My stay was most comfortable and quiet considering we were situated in the Fallsview Boulevard district. Their sister property, The Riverbend and Vineyard is located in Niagara-on-the-Lake. It is a lovely restored Georgian mansion with 21 guest rooms and suites with its own vineyard.
4th stop: Oh Canada Eh! Dinner Theatre
For those in search of a little Canadiana, this dinner theatre is a must go-to destination. We attended the opening night of their 18th season. This award winning show does not miss a beat. The evening opens with a character dressed as a 'Trapper' with a distinct French Canadian accent who (along with his cast mates) reveals the evenings menu that include the traditional French Canadian pea soup, followed by salad, fried fish with lemon, roasted chicken, roast beef, potatoes and peas with carrot and cake with tea and coffee. The meal was delicious and it is actually served by the dinner theatre cast (who actually take your drinks too) because the dinner is a part of the show!
The seating is made up of very long family size dinner tables – our table seated ten. And each course is served as though you are at a family gathering – the meal is presented on a platter and you help yourself then pass it along to the next person. The show itself is a trivial pursuit theme evening covering geography, sports, arts and entertainment, our Canada and with over 40 songs from traditional maritime folksongs to current pop hits. And with multiple costume changes, the evening is a sing-along foot stompin' good time. And, if there is a flub, this cast is not afraid to take a moment to acknowledge it. Craig, an eleven-year veteran who plays the Mountie facetiously shared "We are at 3673 shows and we'll keep doing it till we get it right!" So, if you are celebrating a birthday or anniversary, let the staff know because they love to celebrate along with you. It truly is a good time and the atmosphere is fun and welcoming, an ideal evening for couples and families!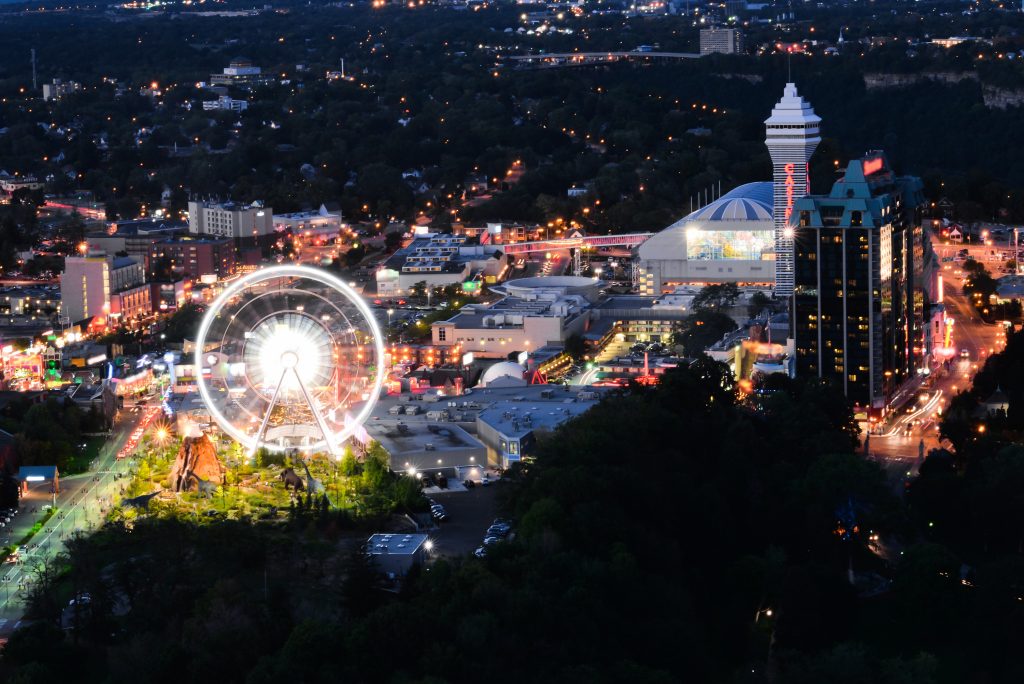 5th stop: Clifton Hill at night
O Canada Eh? Dinner show ended at 9:00 pm allowing us the rest of the evening to explore Niagara at night. It is a very different look and feel. Driving through Clifton Hills with its bright lights is a spectacle in itself. With hundreds of activities to engage in, we opted to visit Fallsview Casino before calling it a night. With another full day ahead of us, we wanted to conserve our energy…
6th stop: Fallsview Casino
…and, the oxygen pumping into the casino did just that. It gave us the boost we needed to get through an hour of ringing alarms and big crowds! Now, I am not certain that the casino actually pumps oxygen to keep people awake to remain in the casino; it is a myth I have heard about repeatedly.
Overlooking the Horseshoe Falls, this one billion dollar resort complete with theatre and conference center opened its doors to the public in 2004. According to the Government of Ontario, it remains to be their largest single investment in the Niagara region.
And, after a few pulls at the 25-cent slot machines, we called it a night and headed back to The Old Stone Mill.
Sunday: Niagara Falls
After a restful sleep at the Old Stone Inn, we toured around our host hotel and snapped up some lovely photos (see our Facebook page for additional photos). With a busy day ahead, we headed straight to Clifton Hill with a bagel and tea in hand. Our first stop was to collect our Clifton Hill Fun Passes at the base of the Niagara Skywheel.
1st stop:
Fun pass in hand, we decided to commence with an overview of Clifton Hill. The Niagara Skywheel is Canada's largest observation wheel offering a birds eye view of the American and Horseshoe Falls and downtown landscape. The fully enclosed, climate controlled and automated gondola allows the keen photographer perfect picture opportunities. No more than twelve minutes in length, this fun ride could also help you pinpoint the attractions you want to cover!
With a Fun Pass, you are able to visit five attractions: Niagara Skywheel, Movieland Wax Museum, Ghost Blasters Dark Ride, FX Ride Theatre (great for kids) and the Galaxy Golf Mini Putt (it also includes the Dinosaur Adventure Golf that is slated to be completed this summer. It is located next to the Skywheel).
The pass will keep you busy for a couple of hours allowing you time to visit numerous attractions lining the famous strip. To view a full listing, visit http://www.cliftonhill.com
2nd stop: Niagara Helicopter Tours
Another fabulous way to get an intimate look at our natural wonder of the world is a helicopter ride over the falls.
The Niagara Helicopter Tours Company began over forty years ago as a pilot training facility. It was not until the mid eighty's when the company was purchased and a sightseeing initiative was born. Today, the company is primarily a sightseeing operation having flown over 100,000 passengers from around the world.
Running daily from 9am through to sunset (weather permitting), the nine minute automated voice tour covers approximately 27 kilometers. As my photos will attest, the overhead view is phenomenal. The multi-lingual staff and award winning attraction commemorates your experience with multiple photos taken by their on staff photographer.
I had the opportunity to sit upfront next to the pilot on my first helicopter flight. It is an exhilarating experience that you should absolutely consider when visiting!
3rd stop: Skylon Tower
We tried to cover as much ground as possible but due to the chilly temperature, we found ourselves spending most of our time indoors. The great thing about the downtown area offers endless activities to keep you busy (and dry).
The seven million dollar construction of The Skylon Tower officially commenced in 1964 and officially opened to the public in 1965. The 160 metre tall structure (from street level) was where we opted to spend our afternoon.
We coordinated lunch at the Summit Suite Buffet Dining Room in the Skylon Tower. Along with the breathtaking view, Kim Alison and I took advantage of our time at Skylon Tower. You can honestly spend a full day there. From the ride-to-the-top observation decks, 3D/4D falls movie, family fun center, shopping, and photo opportunities with fun backdrops to lunch or dinner in the Revolving Dinning Room or the Summit Suite Buffet Dining Room, there is plenty to do and see. And the view of the Falls as mentioned, is fantastic! Great for photo opportunity!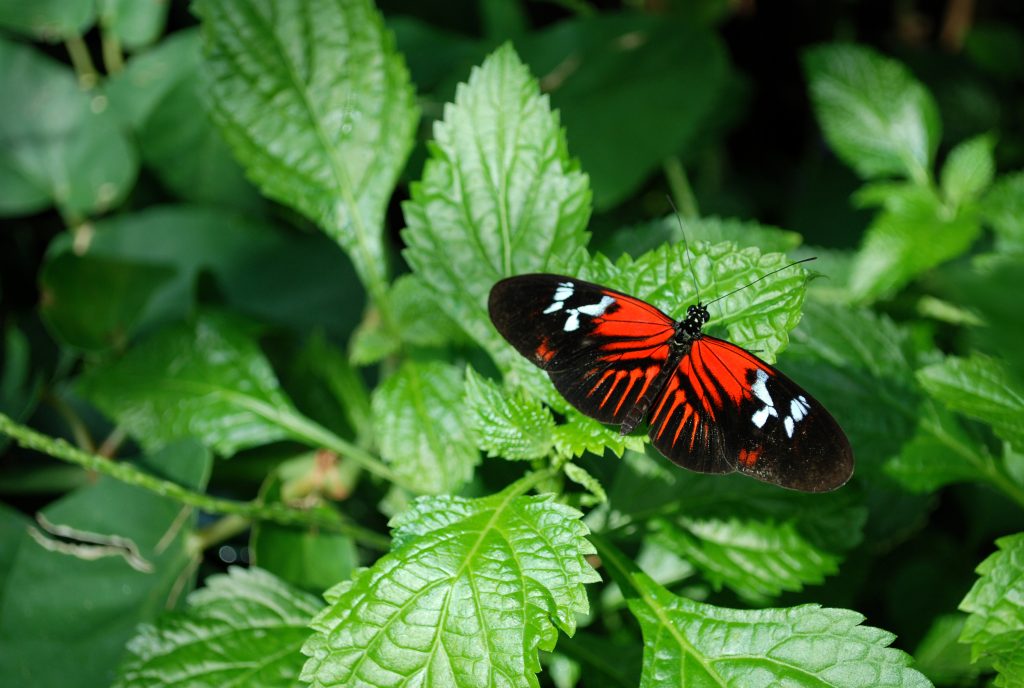 4th stop: Butterfly Conservatory
Located in the grounds of the beautiful Niagara Parks Botanical Gardens & School, the Butterfly Conservatory is a self-guided walking tour in a rainforest setting that is home to over 2,000 beautiful butterflies. The visit commences with a short informative video prior to entering the conservatory.
The conservatory offers lush greenery, waterfalls and the Emergence window (where butterflies exit their pupae and take their first flight). The intimate setting allows nature buffs an up close and personal look to capture photos. They even encourage it!
The Butterfly Conservatory is a part of Niagara Parks, home to a number of exciting destinations. Visit them online to collect your Adventure Pass to saving 33% on admission.
The Butterfly Conservatory was a perfect end our exciting Weekend Jaunt in the Niagara Region.
Believe it or not, we would have added a few more stops to our itinerary – weather permitting of course. So, if you are planning a trip to the Niagara region, you may want to consider the following destinations we were unable to visit:
Bird Kingdom

Great Gorge Adventure Pass from Niagara Parks that includes: Maid of the Mist, Journey Behind the Falls, Niagara's Fury, White Water Walk and two-days transportation on the People Mover.
And as we headed home, we decided to take wine route. I highly suggest this route, it is not only stunning, it is the perfect opportunity to sample some of Canada's finest wines.
Since Kim Alison missed my visit to my favourite winery, I took the opportunity to make a quick pit stop The Foreign Affair. Len suggested that I take her on a tour and I did reveling in every moment of it. We said our goodbyes and returned 'Olympia' our ZipCar.
The Niagara region is a an exciting weekend destination that can be planned as a spa getaway, a concert and casino weekend, a bed-and-breakfast retreat, a family-packed weekend on Clifton Hill, or whatever you want it to be—the opportunities and amenities are endless.
Enjoy your stay!
Feature image courtesy of Daniel Mennerich via Flickr.
SaveSave
Latest posts by Helen Hatzis
(see all)