In 1967, the song "San Francisco (Be Sure to Wear Flowers in Your Hair)" by John Phillips of The Mamas & the Papas (sung by Scott McKenzie) was an instant hit and became the official song of the city. Before that, crooner Tony Bennett recorded the song "I Left My Heart in San Francisco" (written by George Cory and Douglas Cross) in 1954. It would not only become his signature song but the official ballad for San Francisco.
So, what is it about the 47 square mile city that has everyone swooning? Well, I set off for a little Weekend Jaunt to find out.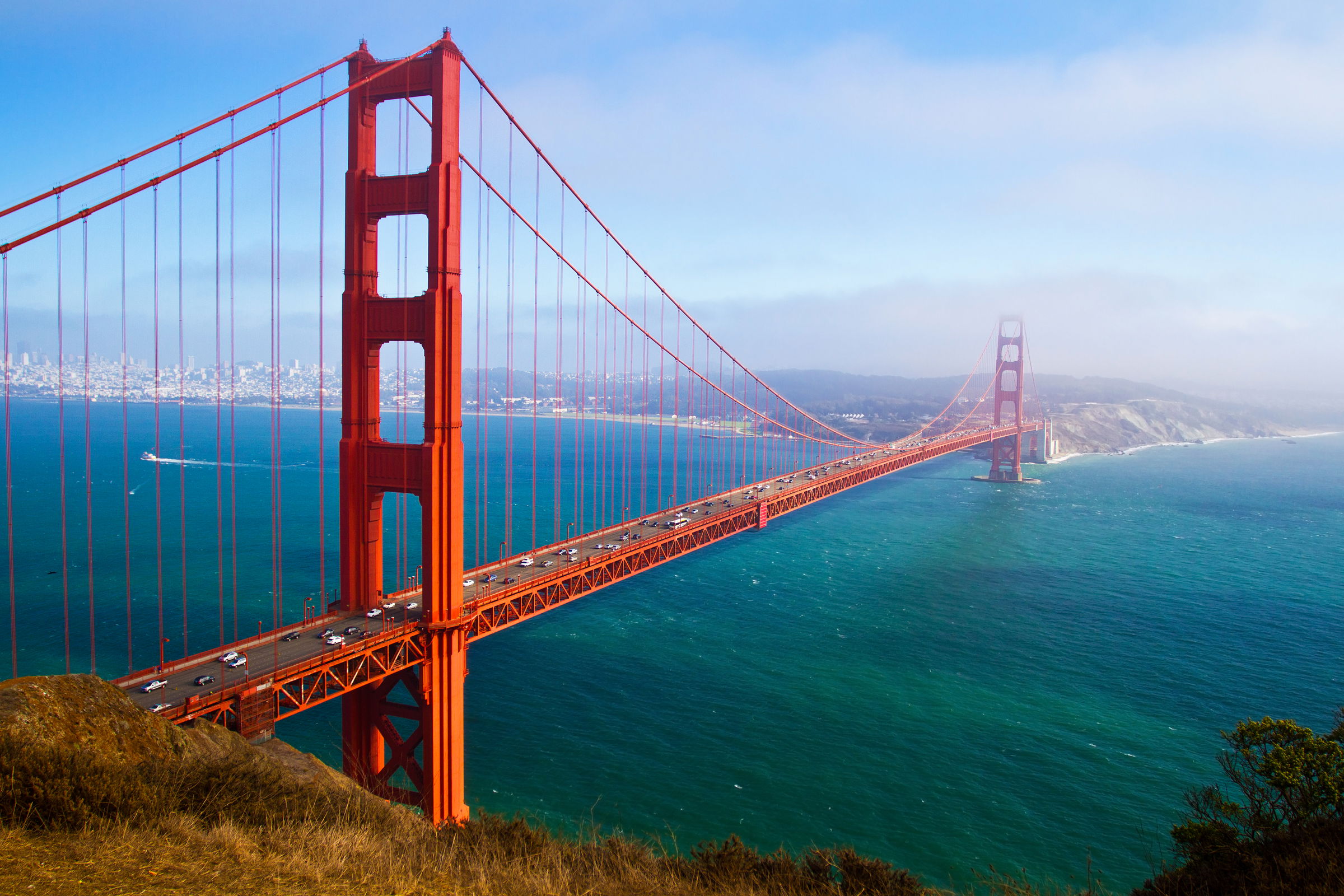 My travel partner (six-year-old daughter Bella) and I left in the wee hours of Saturday morning to discover our flight was slightly delayed. Luckily, we made up for time en route. Upon arrival, we welcomed the warmer temperature by peeling off our layers (it was snowing in Toronto). Having had only a few days in advance to plan, we wanted to get to the hotel straight away to commence our adventure or as Bella coined it "Helen & Bella's World Adventure!" We hopped on a bus shuttle and headed straight to the hotel. I highly recommend shuttles, the fee for an adult is $18 and $8 for a child as oppose to the $45 cab fee. Once you're in the heart of the city, traveling by cab is inexpensive (we never spent more than $10 for one trip).
Within 30 minutes of the airport, we arrived at our hotel, The Stanford Court Renaissance is situated in historic Nob Hill, one of the larger hills out of the 43 within San Francisco. The other major ones are Twin Peaks, Russian and Telegraph. Our location gave us clear views of the ocean, Fisherman's Wharf, downtown San Francisco and more. And was minutes away from shopping, galleries, restaurants and everything in between. The recent $35 million renovation made for a most comfortable stay with access to the famous cable cars just steps from the hotel entrance.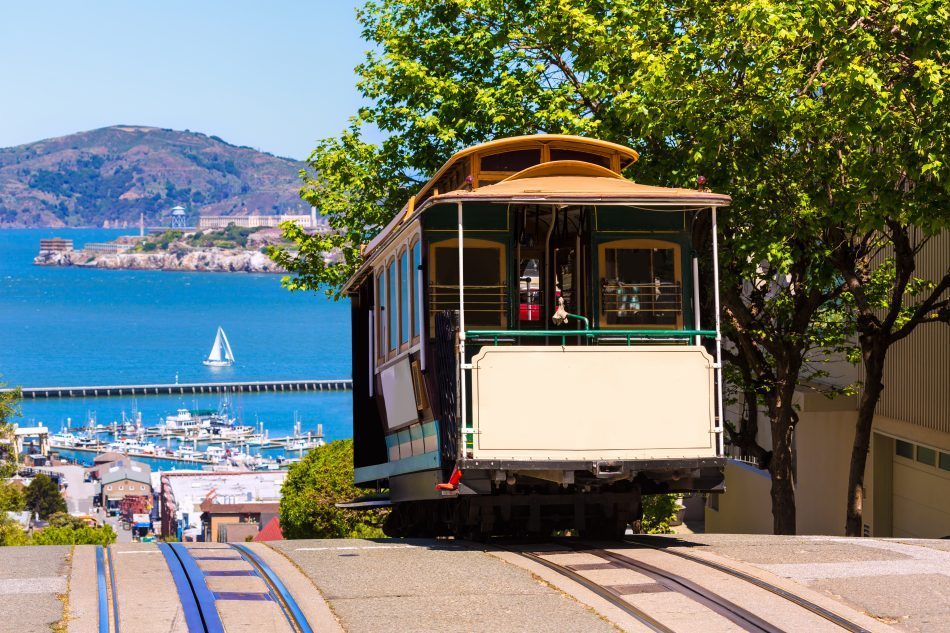 With 62 museums, 150 theatres, 39 piers, 11 historical districts and so on, where does one begin – in two days no less? As you'll gather from this and subsequent articles, with a little research, chatting up the locals and well just diving in is the best way to do it. I also enlist the concierge of our hotel for advice. On this trip it was Shannon and Ric. They were our trip advisors to help time our schedule out properly and this is what day one looked like.
Day one:
We commenced our day with a hearty brunch at the hotel restaurant, Aurea. The executive chef Werner Albrecht draws upon the Bay's area seasonal bounty into his creations. And with it being crab season, I savored poached eggs with crab and hollandaise sauce.
We settled into our room for a moment to quickly change and then headed out for the day. Our plan was to head to Fisherman's Wharf area considering we were starting just out just after noon. We took our first cable car ride. The fee is $5 per ride and it is free for children under five. And according to the locals, if you're hanging along the sides and fall off, you need to pay an additional $5 to get back on. There are also passes available should you choose to ride the cable cars often.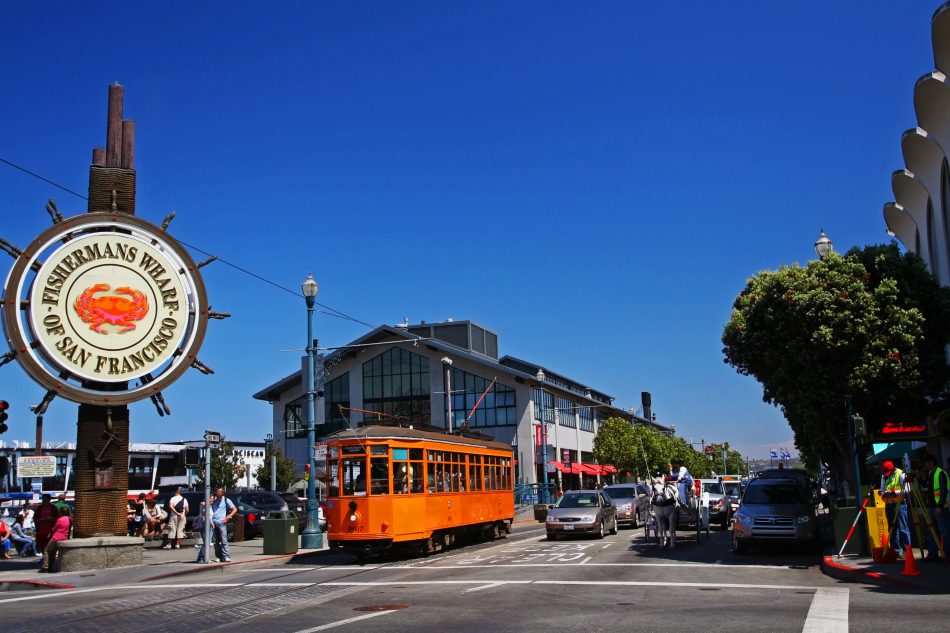 Our main mode of transportation was the City Sightseeing San Francisco tour company. I highly recommend this when you are traveling anywhere. It is the perfect way to see anything in two days because your 'hop on – hop off' tickets are valid for 48 hours. And with this particular company, you have a live tour host not only sharing historical facts but candidly offering up some interesting trivia as well. And the fact that you can ask questions or advice from a local who knows the city inside out is paramount. So, we headed via cable car to the City Sightseeing San Francisco tour office to collect our weekend pass.
And, since we were already at Fisherman's Wharf, we traipsed from Leavenworth (bus tour office location) to Pier 39. As luck would have it, we arrived ten minutes prior to the Red and White Fleet Bay and Golden Gate cruise departure. This is also a must. The cost is $24 for adults (18+) and the fee for children (5-17) is $16. This company is San Francisco's original sightseeing bay cruise adventure (since 1892). Within 90 minutes, we sailed across the bay taking in the waterfront, the Golden Gate Bridge and circled around the infamous Alcatraz Island. All the while, we took in the pre-recorded history. Bella enjoyed this experience and was searching for Great White Sharks in the bay. Not many have been sighted. According to locals, the last recorded sighting of one was early 2010.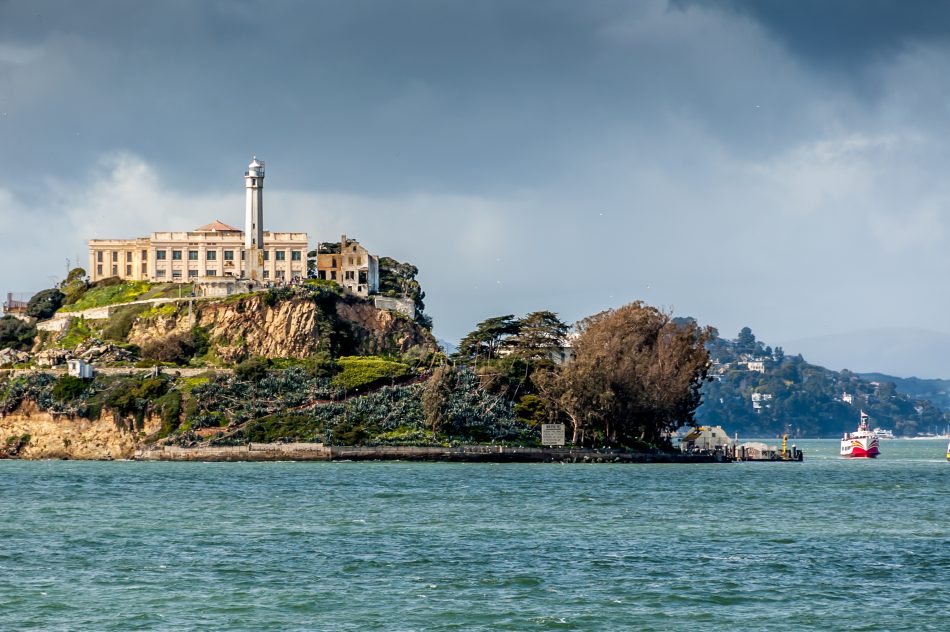 Once we disembarked the cruise, we headed straight to Aquarium of the Bay, also located at Pier 39. The fee is $16.95 for adults and $8.00 for children (3-11) and seniors (65+). They also offer family rates and a separate admission for a behind the scenes tour. When you enter, free manta hats (much like the Burger King crowns) are available for all guests. We opted just to visit the Aquarium, which can be done in less than an hour. Here, visitors can touch sharks, sea stars and rays. There is a crystal clear tunnel filled with 20,000 marine animals from the San Francisco Bay and nearby waters. Make sure to visit the seal lions that make Pier 39 their home.
At this point, we were ready for lunch and with over 3,489 restaurants in San Francisco, dining out is not an issue. In fact, you can eat three meals a day at a different restaurant every day for over three years without going to the same place twice! Thus, I wasn't going to stress about where to eat. However, there is Boudin's famous for their sour dough bread. They bake their bread at the flagship location and serve up a delicious soup in a sourdough bread bowl.
There are lots to see and do in this highly pedestrian area. Artisans line the strip. We had a couple of favourites: the violin player and the Bushman (see video). We spent a great deal of time at Fisherman Wharf before heading back for our 90-minute night tour of San Francisco with City Sightseeing. Our tour guide Nathan and driver Colin took us through the Chinatown, Union Square (chic shopping), the Financial District, Japan Town, North Beach (Italian neighbourhood), Alamo Square to view the famous "Painted Ladies" Victorian homes (as seen in the TV show "Full House") and Grace Cathedral (near our hotel in Nob Hill). Colin (bus driver) was so accommodating that he dropped Bella and I off at the front of our hotel. We accomplished quite a bit and needed to rest up for day two. The three-hour time difference didn't help either.
Day two:
Day two commenced early in the morning. Bella and I enjoyed buttermilk pancakes at Aurea's. We then quickly conferred with Ric (head of concierge) and hopped in a cab to embark on our morning tour. The cab ride from our hotel to the City Sightseeing office was $6. We started with the 9:00 AM morning Downtown Loop that covers (Fisherman's Wharf, Barbary Coast, Financial District, the historic Ferry Building, South of Market, City Hall, Union Square, Chinatown, North Beach, Lombard Street and Pier 39). We decided to hop off at Union Square and visit the legendary Lefty O'Doul's (sports bar). Locals shared that it was a zoo during the World Series in 2010 when their San Francisco Giants won the series 4-1 over the Texas Rangers. This was their first World Series win since 1954.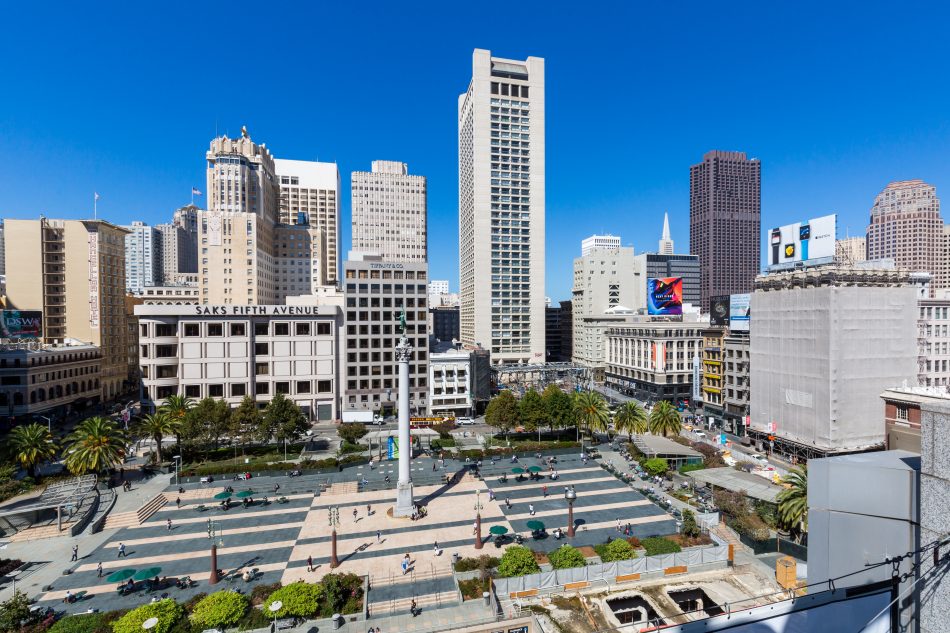 From there, we hopped on the Golden Gate Park Loop tour that departs from Union Square. This 90-minute tour covers the Civic Centre, City Hall, Tenderloin and famous "Painted Ladies" and Haight-Ashbury district before entering the park. The park is home to the De Young Museum, the Japanese Tea Gardens and the California Academy of Sciences. We decided to hop off at the Academy and subsequently spent four hours there. This 400,000 square foot structure is home to a 4-story rainforest, an aquarium, a planetarium, a natural history museum and a living roof. Children and adults can engage in activities all day long from daily penguin feedings to the live snake program and from swamp talk to films, this is a must see! Be sure to put aside enough time to take full advantage of this remarkable facility. Entrance is free for children under the age of three. Children ages 4-11 is $19.95, Youth 12-17, Students and Seniors: $24.95 and adults is $29.95.
Next up was a ride along the Golden Gate Bridge with a visit to the artsy town Sausalito. Here you can explore quaint boutique shops, fabulous homes and a lovely view of the San Francisco Bay.
We headed back to Fisherman's Wharf and took in the energy after dark before calling it a day. Back at the hotel, we enjoyed room service. Packed our bags and prepped for our morning flight. Sunk into our comfy bed and took in a film.
San Francisco is indeed an amazing city that has something do it within every square mile of it. Make sure you collect a Pier 39 Fun Pack for discounts. Your hotel should have it handy.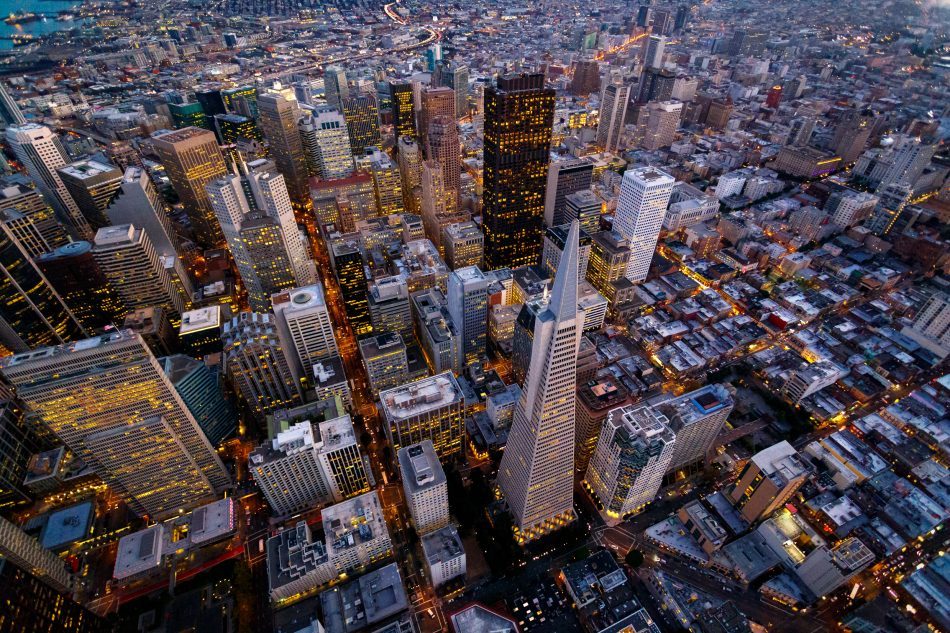 So, in a nutshell, here a checklist of the Top 10 list of things to see during your visit.
1. Cable Cars
2. The Golden Gate Bridge
3. Union Square (for high-end shoppers)
4. Fisherman's Wharf
5. Alcatraz
6. North Beach
7. Chinatown
8. Nightlife (for great Jazz and Blues music)
9. Dining (3,489 restaurants to choose from)
10. Golden Gate Park
Take a moment to drop into the Visitor Information Center at 900 Market Street to collect the 49-mile scenic road map pointing out 49 points of interest and the San Francisco Visitors Planning Guide to see what events are happening in the city during your stay.
Enjoy your time in San Francisco and be sure to drop me a line. We had a great time and will go back for more as there is so much more to do and see.
Feature image courtesy of Christian Arballo via Flickr.
SaveSave
SaveSave
Latest posts by Helen Hatzis
(see all)