This see-through kayak is a must-do experience for anyone who loves water activities. At Trip Jaunt, we love to surf and SUP (stand-up paddleboard) and do it as often as possible. The team has seen clear paddleboards in cottage country but hasn't tried it as yet.
We recently learned that there is an incredible see-through kayak experience in Arizona. We are adding it to our list when we can travel to the US again. Check it out!
Tell me more!
A half-day, four-mile / 6.4-kilometre excursion, the Emerald Tour starts and ends at the easily-accessible Willow Beach. Highlights along this route include paddling up the great Colorado River, refreshing dips in the crystal clear river water, hiking through historical ruins, floating in the bright jade waters of Emerald Cave, and relaxing on a scenic beach to enjoy your gourmet picnic lunch. Bask in the natural beauty of the Black Canyon as you float back downriver and spot the diverse desert wildlife, while your guides share the awe-inspiring history behind the creation of the great Hoover Dam.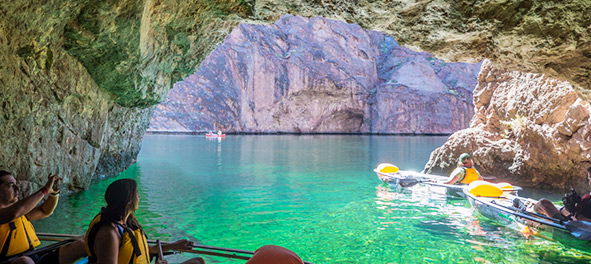 What else will you do and see
Enjoy stops along the way to view ancient petroglyphs
Brief hike and history lesson of Gauger home and worksite in Black Canyon
Explore the beautiful Emerald Cave
Stop for a custom-ordered gourmet picnic lunch on the beach
Return to Willow Beach after a leisurely paddle downriver
What's included
Crystal-clear Kayak/Canoe hybrid boat
Comfort-gripped fibreglass paddles
A knowledgeable and experienced guide
Las Vegas hotel pick up
Complimentary water
Recap
The Emerald Tour is 1/2 day long.
You launch at 10 am and return by 4 pm.
The entire paddle route is four-mile / 6.4-kilometre round trip.
The water is flat (glassy).
Perfect for a beginner and relaxing for intermediate/advanced paddlers.
To book your tour, visit the website.
If you want to explore more kayaking options, check out our eco-kayaking jaunt in the Florida Keys click here.
Travel responsibly taking only memories and leaving a near to zero carbon footprint. We are all visitors on this beautiful planet of ours. Let's treat it and all inhabitants with love and respect!
Latest posts by Helen Hatzis
(see all)