The town of Lidzbark Warmiński in the northern part of Poland has a glow-in-the-dark bike path. They are not the only country to have one. In 2014, in Holland, a Dutch designer created a one-kilometre path inspired by the Dutch painter Vincent van Gogh's famous painting The Starry Night. . And in In 2013, 1,614 square feet of the path in Christ's Pieces Park in Cambridge, England was sprayed with a glow-in-the-dark coating. It was named "Starpath", and was created by U.K. based company Pro-Teq Surfacing. Cyclists engage in a dreamlike ride.
In Poland, much like Holland, are cyclist-friendly countries. Cycling over driving is becoming the preferred mode of transportation for all ages. The glow-in-the-dark path uses a particular paint that relies on solar energy, although illumination itself comes from LED lights embedded in the road's surface – approximately 100 meters for now. The surface of the bicycle path prototype is made with a synthetic material called phosphor that can emit fluorescent light for ten hours in the dark after absorbing sunlight all day long.
The luminescent track was officially opened for use on September 23, 2016, and was designed by the European construction company TPA Instytut Badań Technicznych Sp. z o.o. The pavement is littered with synthetic particles called "luminophores" which collects its power from the sun, enabling it to emit light at night.
Igor Ruttmar, TPA President and CEO, shared: "The material we used for the track gives light for over ten hours. That means the road can radiate throughout the whole night and re-accumulate light the following day." This section of the bike trail isn't just beautiful, it was created to serve a bigger purpose: safety. "We hope that the glowing bicycle path will help prevent bicycle and pedestrian accidents at night," Igor said to ABC News. "It's a problem here in Poland, especially in the areas farther from the cities that are darker and more invisible in the night."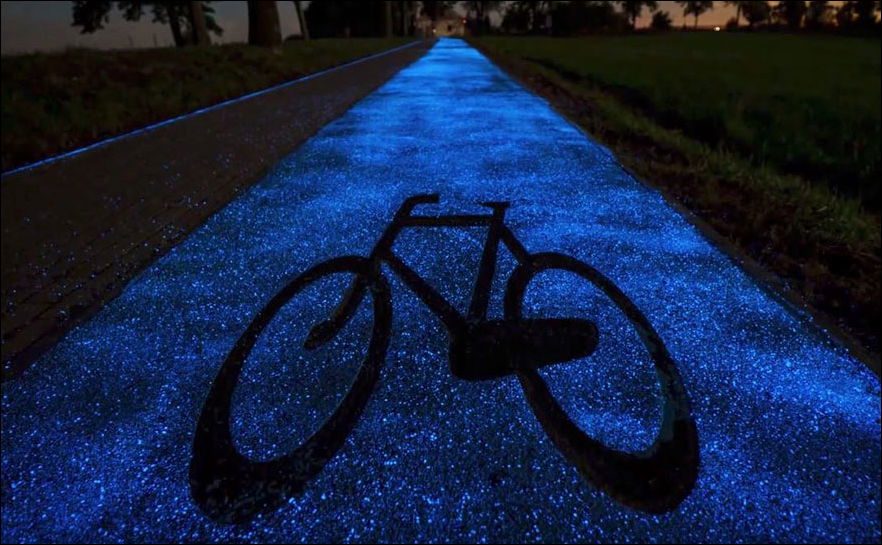 "It illuminates a very bright blue, which is gorgeous against the dark forest and river at night. The glow is a very nice complement to the area's beautiful nature, lakes, small hills, and countryside," Igor said.
Need more bicycle adventure suggestions? Click here.
Latest posts by Helen Hatzis
(see all)