I was recently in NYC and had the chance to watch a musical. Fortunately, working in the travel industry gives me access and insights into what's new and trending. By the end of this review of 'Here Lies Love', I'll provide a resource to ensure you have the optimal Broadway experience.
"Here Lies Love" is not just another musical; it is an immersive theatrical experience that invites us to dance, reflect, and question the very fabric of power and charisma. As I swayed and danced alongside the characters, I felt the ground shift literally and metaphorically beneath me.
The standing-room design of this production, combined with the malleability of its stage, becomes a playground for both actors and audience members. And although one might expect fatigue from an experience that demands such physicality, it's a testament to the brilliance of the production that standing feels natural and engaging.
At its core, this collaboration between David Byrne and Fatboy Slim explores the life of Imelda Marcos, the former First Lady of the Philippines, juxtaposing the energetic dance club ambience with the tumultuous narrative of Marcos's life. It's a stark contrast that invites deeper introspection on our part: Are we, as the audience, complicit in the celebration? Or are we meant to critique the very spectacle laid out before us?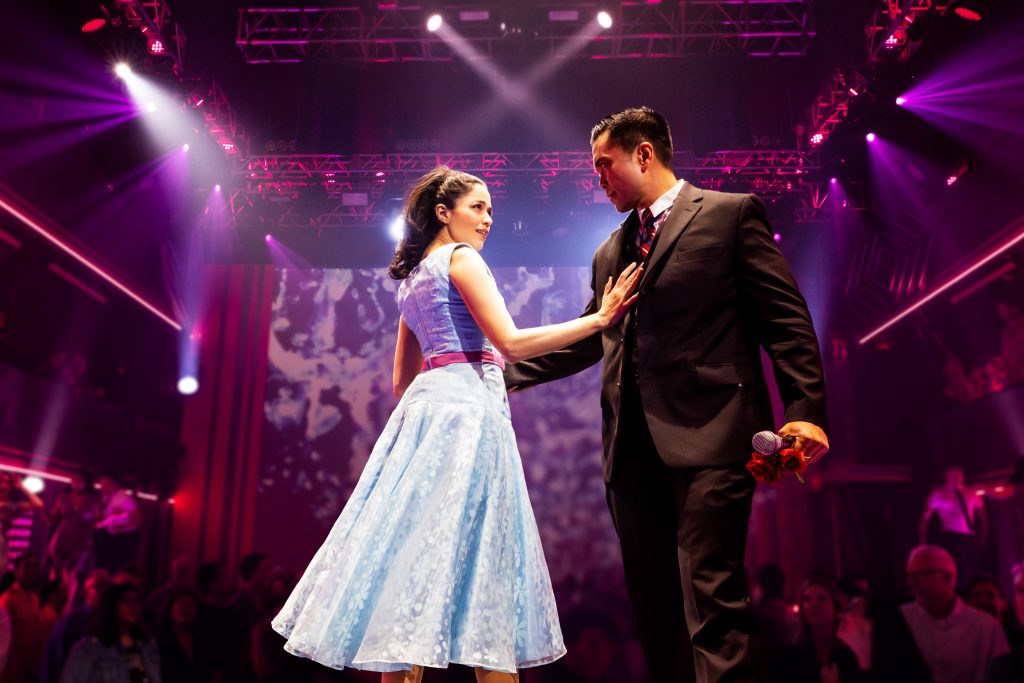 One cannot ignore the pulsating music, with Byrne and Fatboy Slim crafting tracks that, despite their vibrancy, carry a profound depth. The musical's songs draw inspiration from actual comments and historical events, bringing forth a tapestry of emotion – from the rise of the ambitious Imelda from humble beginnings to her befuddlement when her world crumbles around her.
The architectural overhaul of the theatre is in itself a marvel. The once grand seating of the Broadway Theatre has been reimagined to encapsulate a more intimate dance club atmosphere, reminiscent of the infamous Studio 54 – a venue where Imelda herself was known to frequent. But the set, with its lights and projections, isn't just about the glitz. It also subtly nudges us into the darker underbelly of a regime that dazzled while also creating despair.
The cast, an all-Filipino ensemble, brings fervour and authenticity to their roles, elevating the narrative with heartfelt and energetic performances. The portrayal of Imelda Marcos is nuanced, avoiding simple vilification or glorification, and instead offers a complex representation of a woman caught in the whirlwind of power and ambition.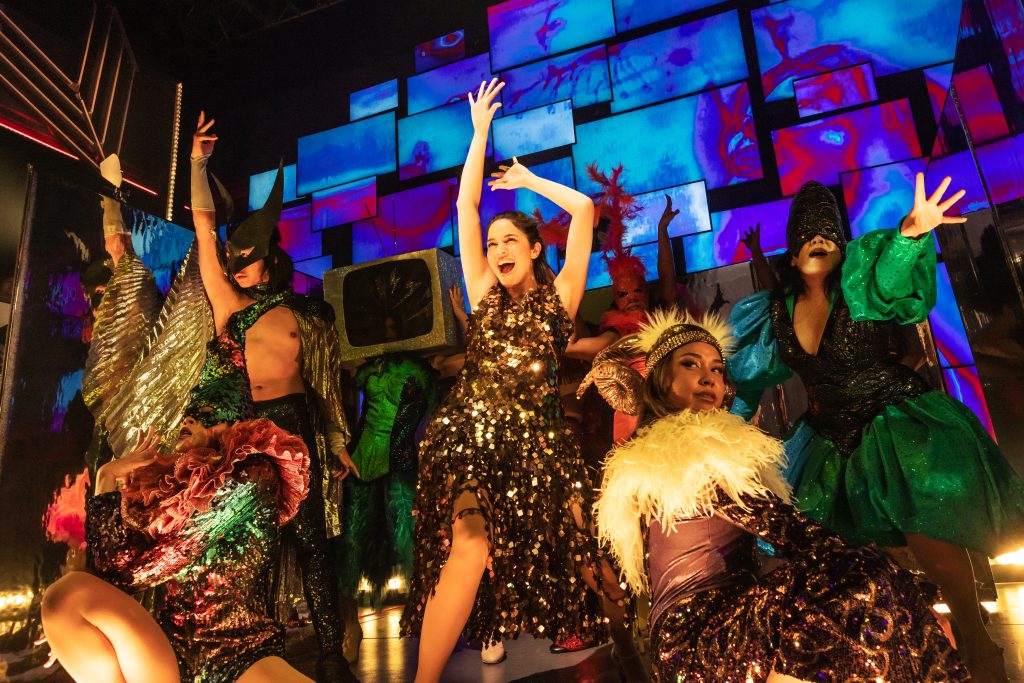 Director Alex Timbers, known for his innovative approach, masterfully steers this ship, ensuring that the narrative doesn't lose itself in the spectacle. The choreography, driven by hand gestures and grand motions, becomes a commentary on how societies move, revolt, and reshape themselves. It feels particularly resonant in today's climate, where global politics often feels like a dance, both delicate and destructive.
While "Here Lies Love" is undoubtedly a celebration of Filipino history and culture, reaching a milestone as the first all-Filipino cast on Broadway, it also serves as a universal commentary on the seductive nature of power and the often-blurred lines between leader and tyrant.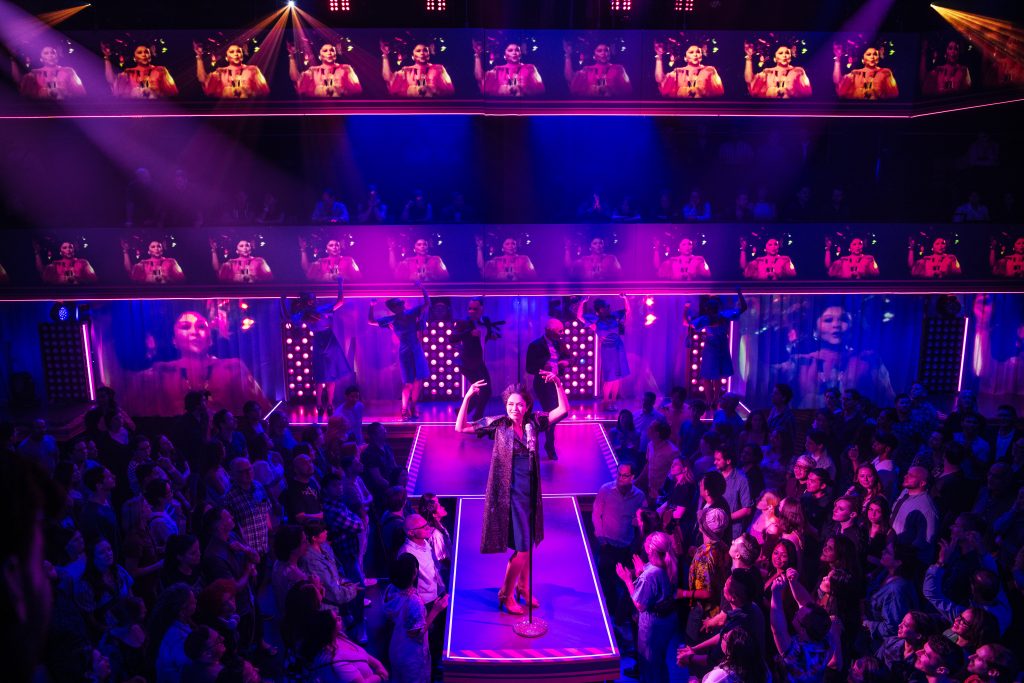 In essence, "Here Lies Love" is more than just a musical; it's a poignant reminder that stories, even those wrapped in layers of glamour and dance beats, carry weight. They beckon us to look closer, think deeper, and most importantly, to never forget. The climax, a homage to the real heroes of this narrative, the Filipino people, gives us permission to applaud, not just for the outstanding performances but for the resilience of the human spirit. This is Broadway at its most evocative.
Broadway tip:
If you're planning a trip to NYC and are eager to weave a musical — or two, or three — into your itinerary but are unsure which ones to select, I highly recommend turning to Broadway Inbound. With their team's deep expertise, they can tailor recommendations to suit diverse audiences, ensuring you receive the most enriching and memorable Broadway experience possible.
"When describing Broadway Inbound, The Broadway Collection, and all that we do, I begin with, we don't sell Broadway. We help people buy, we help people to experience Broadway, off-Broadway, the Opera, the Ballet, and more. A major component of that differentiation is working to match visitors with the most appropriate show to suit their unique tastes and preferences, no matter who they are, the kind of entertainment they like, or the amount of money they have to spend on tickets. There is a great diversity of entertainment available on Broadway. There is a show for everyone and within their price range — we just have to match you with the right one. Our team in customer service, operations, sales, and marketing are all NYC residents, theatre experts, and theatre enthusiasts with a love for travel. We see it all and use that knowledge to make sure that match is made, whether it's over the phone, via email, or online. We continue to develop our communication and tech skills for the benefit of the people we work with daily." Bob Hofmann, VP of Broadway Inbound.
Photos provided by Broadway Inbound.
Latest posts by Helen Hatzis
(see all)