Our emotional and spiritual connection with water can be very strong. The way that water influences us is an indescribable feeling. Some feel it's effects more so than others. There's actually some scientific reasons as to why people feel differently after visiting the ocean. The water plays a huge part in the way we feel about ourselves and the world around us. There's nothing more humbling than being so small compared to something so large and ominous. People travel all over the world looking for peace of mind. However, we believe these are some of the best places with the bluest water in the world that could change your life forever.
Read: The 9 Most Beautiful Fountains Worldwide
1. The Bluest Water In Samoa
The teal-blue water comes from lava tubes that connect this spot to the ocean. Allow for it to never dry out and maintains it's stunning natural color. To get to this beautiful hidden oasis, it's going to require some hiking. However, you'll find that the hike is more than worth it as it offers stunning scenery to the swimming hole. Located in the South Pacific, visitors are able to walk through the lava fields just outside of the Lotofaga village on Upolu Island. Once hikers arrive, there's a steep ladder for people to climb down. Additionally, if you want to skip the ladder, you can always jump in from the 100-foot cliff.
2. The Five-Flower-Lake In China
One of the most beautifully verdant places on earth is the Five-Flower-Lake. If you are ever in the Jiuzhaigou National Park, you'll definitely want to stop this place. The crystal clear water offers so much for onlookers. People are able to see the bottom of the lake where trees have fallen. With tree limbs that seem to weave, coil, and lace around one another. While the surface mirrors the surrounding nature including the blue sky above.
Read: 10 Waterfalls That Remind You How Awesome Nature Is
3. The Bluest Water In Greece
Greece is quite possibly one of the dreamiest places you could get away to. If you want to find the bluest water in the world, look no further. Egremnoi, Greece has a little hike for visitors to take. However, it's somewhat of a walk to get there, but once you are you'll never want to leave again. The shimmering white sand paired with the stunning blue water will take your breath away. Let the vacation begin!
4. Take A Trip To Belize
If you just want to immerse yourself with vast beauty of water, you'll love this place in Australia, Belize's Ambergris Caye. However, you're going to have to use a boat to get to this little piece of heaven on earth. This trip would be ideal for people that love to swim, snorkel, scuba and dive. You'll be able to explore the world's largest barrier reef paired with the world's bluest water. There's a lot for visitors to do other than just swim as well.
5. The Blue Oasis Of India
This incredibly blue oasis exists in Havelock Island, India. Considered to be one of the most isolated yet tranquil places a person could go. It's completely off-grid so you won't find a lot of people visiting this area. It also requires a boat in order for people to get to this spot. So if you want to get away from virtually everyone, this is the place you'll want to go.
Read: 5 Hidden Waterfalls In Bali That You Didn't Know About
6. The Bluest Water Of The West Coast, USA
Crater Lake, Oregon in USA will knock the wind out of your chest with it's natural beauty. The image of the lake hardly does this place justice. The water is so velvety-blue that it almost makes you want to cry. Of course, it's going to require a bit of hiking to get to, but it's definitely more than worth it. It's also good to know that this place is closed during the fall and winter due to the heavy amounts of snow the mountains get.
7. The Bluest Water In Vietnam
This is another hidden gem of stunning blue oasis's. Found in Con Son, Vietnam, the mesmerizing light blue water offers the perfect isolated vacation. If you don't want to be surrounded by a bunch of tourists this is the place to go. This is considered to be the only populated island out of the 16-island archipelago of Con Dao. The surrounding nature is in perfect condition from years of being a secret paradise.
8. Plitvice Lakes National Park
You'll be able to experience walking through this daydream just two hours away from Zagreb in Croatia. This National Park has a wooden bridge that weaves throughout the 16 different teal-blue lakes. The trail also leads to stunning waterfall overlooks. While others can take a boat ride deeper into the prismatic water. This is definitely worth a little day trip if you're in the area.
Read: Visiting a Beach Will Make You Happier
9. Relax In Devil's Bay
Devil's Bay can be found in Virgin Gorda, British Virgin Islands. People will have to travel to get to this little paradise. Additionally, this spot in particular is a favorite to those that love to snorkel and swim. It's also just a really incredible place to relax as the turquoise-blue water gently rolls onto the shore. You'll soon find all of your troubles slipping away into the ebb and flow of the soothing Caribbean ocean.
10. The Ethereal Peyto Lake
Although Canada might be considered a bit cold to some, the nature is worth all the traveling. In fact, the cold is part of the reason why Canada is so beautiful. Take Peyto Lake for example, one of the most ethereal places to exist in nature. You will not find a more stunning scene than the incredibly light-blue water that resides in the Banff National Park. The reason this water is so blue is due to the silt and ice-melt of the Peyto Glacier. Paired with the Wapta Icefields, the nature immerses you into another dimension you never knew existed. There's even a natural hot springs you can warm up in Banff.
Keep reading: Experience This Adventure in a See-Through Kayak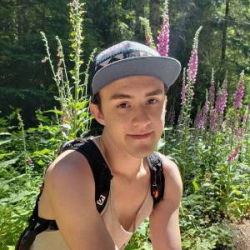 Latest posts by Cody Medina
(see all)